New magnesium alloys show great promise for aircraft seat frames, as evidenced by new test data.
Magnesium weighs 1/3 less than aluminum by volume, has significant advantages in density and stiffness, and has excellent elongation and ductility properties which determine whether a metal is brittle – all significant considerations for crash testing. In addition to the 16G force tests seat frames must endure, they must resist deflection and flex when the floor tracks seats are mounted on bend during the gyrations an aircraft makes in a crash.  This additional requirement is called "Pitch and Roll," as specified under SAE AS8049 Revision A, and the new magnesium alloys respond well to these requirements too. 
These alloys are already widely used on aircraft components such as jet engines, turboprops, gear boxes, and a variety of aircraft exterior items all over the plane. For interiors components, like seats, they have been expressly forbidden because of the undesirable flammability properties of legacy magnesium alloys.
As Tim Marker of the FAA's William J. Hughes Technical Center explained to us during a recent interview, TSO C127a (the applicable TSO for aircraft seating) references SAE AS-8049, which expressly calls out "magnesium alloys shall not be used". Previous tests, dating back decades and using different alloy combinations, were unsuccessful and were abandoned.
Enter Bruce Gwynne, VP divisional strategic development for Magnesium Elektron, leaders in the development, patenting, and commercializing of magnesium alloys in business since 1936. Magnesium Elektron already had a long pedigree in aviation, with their alloys in use in a wide variety of exterior aircraft components.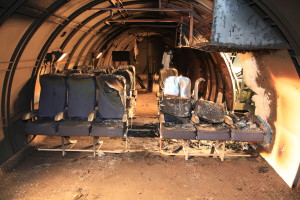 When the company decided to revisit the applications of new magnesium alloys for seating in 2006, they assigned Bruce to the task. In order to understand the ban, and to be able to address the flammability concerns, Bruce joined the SAE Workgroup dedicated to establishing processes, tests, and regulations for aircraft seating. There, he met with the engineering representatives of aircraft seating suppliers, and regulatory authority representatives who specifically work on relevant regulations and testing procedures, including Tim Marker.
Tim and Bruce, with the support of the SAE Workgroup members, began an extensive study of the new alloys, which required the FAA to generate test protocols which had not previously existed. The study has consisted of specialized full-scale tests to duplicate post-crash conditions, using 50 gallons of jet fuel and allowing fire to enter the cabin with direct flame for five minutes and a subsequent five minutes of after-burn before extinguishing.
In addition to conducting the full-scale flammability test, they ran "survivability model" tests which analyze data which predicts the time lapse before passengers reach incapacitation due to other hazards such as heat emanated, smoke, and toxic fumes. These tests demonstrated that the new magnesium alloys proposed by Magnesium Elektron performed well to direct flame and after-burn, and provided additional time for incapacitation (essential to determining the prospects for passengers evacuating an aircraft on fire). Legacy alloys yielded unacceptable results.
After years of developing and carrying out full-scale tests, with positive results, they established a protocol needed for ongoing flammability certification of these new alloys in practical use by the industry. They developed an oil-burner testing procedure which could be carried out by established industry flammability labs. See picture of magnesium bar being tested in this way: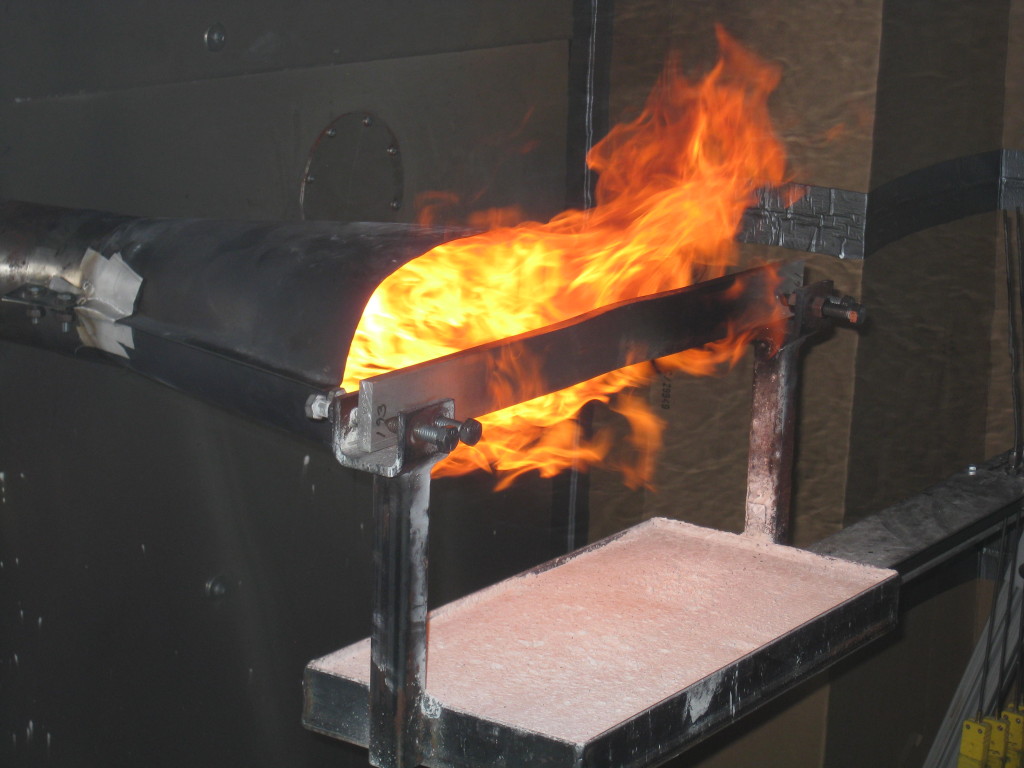 This test development has taken two years to complete, but the FAA will soon publish reports, detailing the positive results of these new materials in oil burner testing as well. The next step in the process will be to formally approve the alloys in the Fire Safety Handbook for FAR 25.853 with a recommended method for certification based on these oil-burner tests.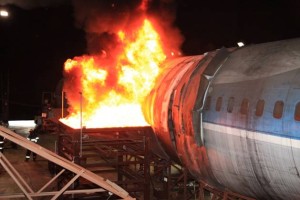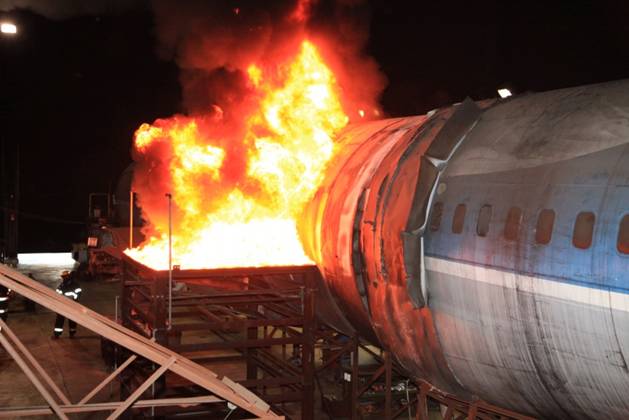 The process required for adoption of these materials into aircraft seats is still on-going, as the regulations must be revised for this application. Consistent positive test results of these materials will qualify these magnesium alloys for introduction on seats under special conditions in the short-term, until precedent is established and the regulations are revised.
Testing and evaluating these new advantageous magnesium alloys has been a long and arduous process. Bruce Gwynne has been proud to work with Tim Marker and the SAE Workgroup on it emphasizing that when safety is at stake, responsible validation of new products is required.
We asked Bruce to what he attributed his success on this project. He replied that suppliers wishing to introduce new developments must build trust with industry partners, get involved in the process of the workgroups, demonstrate leadership, and above all else have patience.