From Buy-on-Board (BOB) applications to creating a paperless cabin, more and more airlines are embracing the tablet as a game-changing inflight operations device. Airlines such as Delta Air Lines, British Airways, Emirates, Qatar Airways, Swiss and others have armed their flight attendants with tablets.
At Allegiant Air, some 700 flight attendants use an Apple iPad-based tablet solution called 'FlyDesk'. Developed by Allegiant Systems – a now independent technology provider created by Allegiant Travel Company, software firm Lixar and inflight entertainment and connectivity specialist Global Eagle Entertainment – FlyDesk has added another tool to its proverbial toolbox: customer relationship management (CRM).
A new application called 'ePIL' (electronic passenger information list) has been developed to provide cabin crew with vital passenger information such as seat assignments, special service requests (SSRs), meal preferences, loyalty program status, and history of past on-board purchases. And it can be fully integrated into an airline's departure control system, providing crew with up-to-date, real-time passenger information. "Using the ePIL application, cabin crew will be aware of any passenger pre-orders and can offer passengers the option to pay for their purchases with loyalty points. The ePIL application also allows crew to offer on-board upgrades integrated into the airline's reservation system," explains Allegiant Systems.
"Most importantly, the ePIL application enables the crew to be aware of each passenger's preferences and act proactively to accommodate them. For example, if a flight is delayed and passengers are going to miss their connecting flights, using the ePIL application on a connected aircraft, cabin crew will be able to advise affected passengers that the airline has changed their booking to ensure that they can take the next available flight."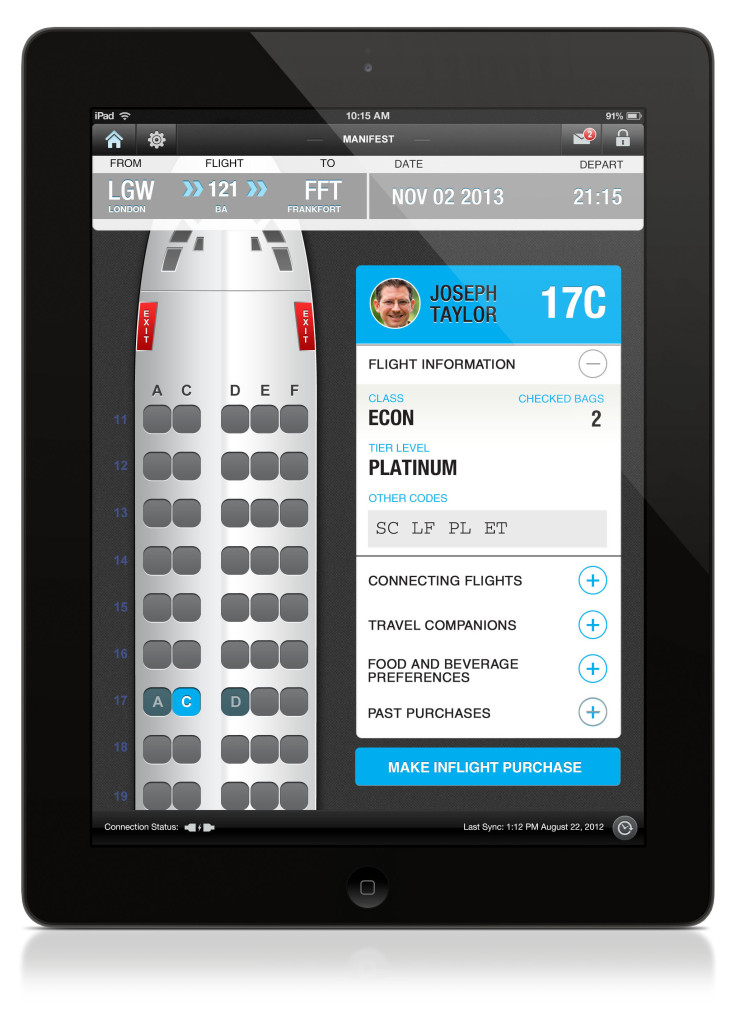 Allegiant Sytems CEO Brian Mooney notes that creating brand loyalty is about "making customers feel special and valued", and the ePIL application "makes this possible". The application can also be useful as a predictive demand tool, as it can help flight attendants determine which products are most popular on each route to enable more accurate order management, which in turn will lead to "a decrease in waste and an increase in ancillary revenue earnings for the airline", suggests Allegiant Systems.
Meanwhile, in addition to Allegiant Air, FlyDesk has attracted another, as yet undisclosed airline customer, and approximately 30 flight attendants are using it there. Allegiant Systems is in negotiations with other airlines. Connecting FlyDesk to the ground via inflight Wi-Fi is a natural next step for the product.