Global Eagle Entertainment believes it has just cracked the surface of the inflight entertainment and connectivity (IFEC) business it will secure in the coming years, saying the total market, though hard to define, is currently worth roughly $3 billion "and growing rapidly".
The figures presented by Global Eagle during this week's Citi Internet, Media & Telecommunications Conference in Las Vegas underscore the importance to passengers of being both connected and entertained while in-flight.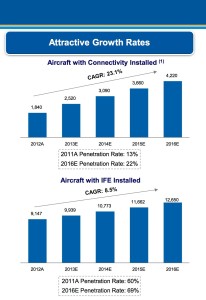 Global Eagle has three segments – Ku-band satellite-supported inflight connectivity provided by its Row 44 unit, content services and licensing for IFE hardware supplied by several different businesses including newly acquired Post Modern Group and IFE Services, and content creation from its inflight games leader DTI Solutions.
At present, Global Eagle's Row 44 unit provides Ku-band inflight connectivity systems to several airlines. Its largest customer, by far, is Southwest Airlines, which currently carries the system on 435 Boeing 737s.
Low-cost operator Norwegian has equipped 60 737s with the system, and a number of other carriers are in various stages of equipage – UTair Aviation and Transaero in Russia, Icelandair and South African carrier Mango. Global Eagle this week announced that UTair had added 60 aircraft to its contract, bringing to 69 the total number of aircraft earmarked for installation.
In total, Global Eagle is delivering connectivity via Row 44 on over 500 aircraft, and has over 300 aircraft in backlog that will be installed in the next couple of years.
The company estimates that only about 4% of the "non North American fleet" have some form of Internet on board, so it sees "a lot of opportunity" and demand for the installation of these types of systems, says Global Eagle CFO and managing director of Content Group Dave Davis.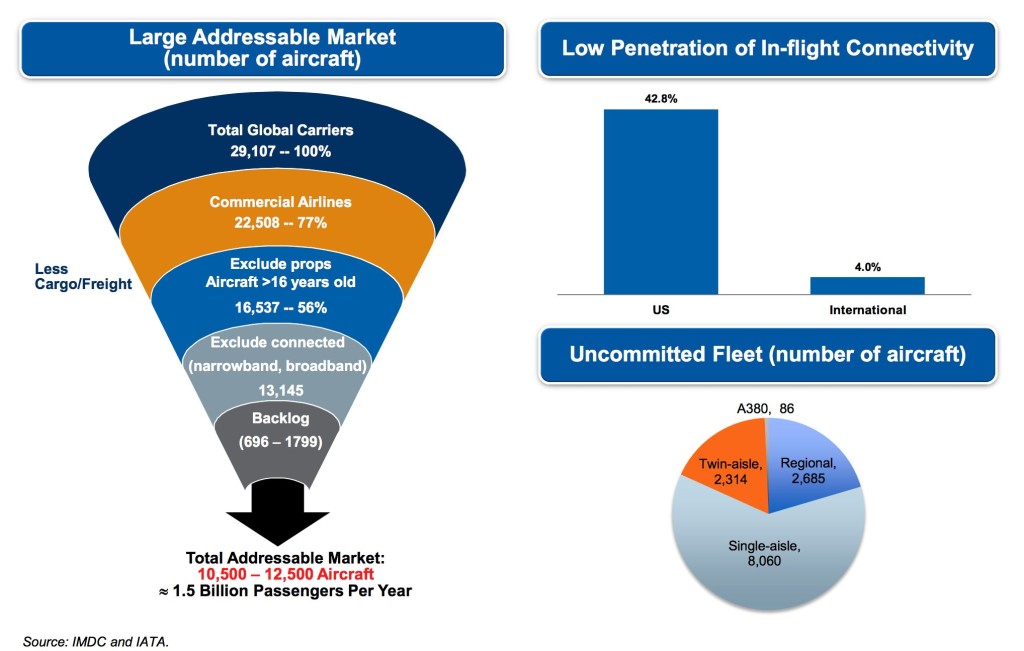 "Roughly 3,200-3,300 aircraft have some sort of connectivity system on them, mostly domestically now. We think the total addressable market today is between 10,500 and 12,500 aircraft – the vast majority of those international," says Davis.
He adds that, based on demand for connectivity, Global Eagle thinks the near 30% compound annual growth rate predicted by Frost & Sullivan in the chart below is "conservative", as there are "RFPs around the world interested in installing these types of systems".
Global Eagle's main focus is to grow its connectivity business in Europe and "in China and elsewhere in Asia", and it has laid the groundwork to do the latter by partnering with China Telecom Satellite Communications.
On the content side of the equation, Global Eagle provides content and services (including dubbing, editing, etc) to some "170-ish" airlines in the world, says the Global Eagle executive. Content is a more stable environment than connectivity, he notes. "What's good about content is that we buy the content and enter long-term agreement with the airlines." For example, a recent deal with American Airlines will run for five years.