JetBlue Airways is seeing take rates of over 60% for its new 'Fly-Fy' inflight high-speed Internet service, the carrier's LiveTV unit tells Runway Girl Network.
A total of five 150-seat Airbus A320s are currently flying with the connectivity system, which was installed at LiveTV's hangar in Orlando, Florida, and is powered by ViaSat's high-capacity 'Exede' Ka-band satellite service.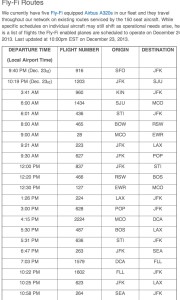 In the initial days after JetBlue's 12 December launch of Fly-Fi, it was common to see over 110 people use the service for a wide array of applications. "That was great, and even since then, on the longer flights – like Boston-Seattle and JFK-LAX – we're seeing consistent highs of 80 and 90 people on some of these flights," says LiveTV president Glenn Latta. See JetBlue's latest list of Fly-Fi routes to the right.
JetBlue is initially offering a two-tiered pricing structure – a free service plus a superfast connection for $9/hour. "It has been really tremendous to see the interest in an unconstrained world. Where cost isn't a driver, the usage is high. For me it's a validation of our service," says Latta, confirming that most people have opted for the free service. "A few people on each flight use the paid service, but the free is so good that I don't think most people are seeing the need to upgrade."
More services will find their way into that paid tier, and as they do, LiveTV believes more passengers will be inclined to shell out money for it. Talks are ongoing with JetBlue about what will ultimately go into the paid bucket, but the most obvious activity is video streaming, "and we're in dialogues now with companies around potential sponsorship with streaming services and things that would drive people to leverage the higher bandwidth service", says Latta.
"VPN services, which may not require substantive additional bandwidth, are perfect candidates for paid service because that's where price insensitivity is [amongst business travelers]. But for now, the free service is satisfying a substantial amount of the needs and desires of the passengers."
Beyond cabin connectivity, the concept of bringing "a real-time, persistently fat pipe connection to every aircraft in the fleet" is prompting myriad discussions about driving operational benefits at the carrier.
"In our minds we have a lot of opportunities to improve efficiencies of fuel and engine performance, traffic monitoring and medical services; we're working with a partner on a medical service device now. A diversion of an aircraft for a medical emergency is a $40,000 or $50,000 proposition. And if that is something that can be averted because you have the ability on the aircraft for flight attendants to be in contact with a medical facility and help them triage, there is value there," says Latta, confirming that there is also an opportunity to provide real-time applications to electronic flight bags in the cockpit.
"There are a lot of examples of things we're developing or partnering to create additional services that will drive additional ancillary revenues and also help the airlines save money. That will be a big push for us as we go forward, to help airlines with both sides of the equation."
Meanwhile, LiveTV has begun installing the same Ka-band connectivity system on the Boeing narrowbodies formerly operated by United merger partner Continental Airlines. Like JetBlue's A320s, the United aircraft are being fitted with a new General Dynamics-made radome that will house both a Ku-band DSB antenna for live television and the Ka-band antenna for inflight connectivity.
United last week told journalist – and Wandering Aramean blogger – Seth Miller that "about half-a-dozen 737s" have completed Ka Wi-Fi installation, but that they are not yet active.
"Yes, all systems are go. We have aircraft that have the system on it so I don't want to get premature in terms of announcing plans for launch, but everything is proceeding nicely and going great there as well," confirms LiveTV's Latta.