Defense companies are increasingly availing themselves of business opportunities in the 'passenger experience' (#PaxEx) sector of civil aviation, as they grapple with the impact of the federal spending cuts in the US known as sequestration.
During the Aerospace Industries Association's (AIA) annual forecast luncheon last week in Washington DC, president and CEO Marion Blakey said, "When I talk about next year's [civil] numbers being strong, I think that this [#PaxEx business] will be a contributing factor without a doubt."
General Dynamics is among the defense contractors benefitting from the surge of interest in – and equipage of – inflight connectivity on commercial aircraft. The company has provided the new radome that houses both Ku-band and Ka-band antennas to support JetBlue Airways' live television and new inflight Wi-Fi solution, Fly-Fi. The radome is also currently being fitted to some aircraft in United Airlines' fleet for the same purpose.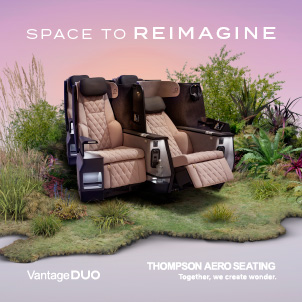 BAE Systems is also looking to gain a firmer foothold in the commercial space, and has developed an 'IntelliCabin' that is billed as a "smart and efficient way of staying connected in the sky because it optimizes power usage-distributing it to where it's needed by taking it from where it's not being used".
Asked by Runway Girl Network if AIA would steer other companies to embrace the #PaxEx industry boon, Blakey said, "I am very proud of how innovative and entrepenurial our industry is. General Dynamics is an example." And she noted that smaller companies "that have the machining and engineering in areas that can easily adapt" are also "looking towards trends". But, she added, one cannot assume that defense firms will be able to simply pivot in this direction.
At the close of 2013, the overall outlook for the aerospace industry is mixed, suggested AIA in a statement, "with substantial gains in the commercial sector largely offset by losses in the domestic military market, illustrating industry resilience in the face of significant challenges". The passage last week of a bipartisan budget deal "will help to reduce the negative impacts of sequestration during the next two years", said the trade group, adding, however, that it remains deeply concerned about the remaining cuts and the consequences of sequestration after 2015 if not addressed.
AIA forecasts that civil aircraft sales will rise by about 8% to $72.1 billion in 2014. Most pundits and consultants covering the #PaxEx industry now agree that virtually all narrowbody and widebody aircraft will be equipped with inflight connectivity in the coming years.