British Airways says it is not ruling out the possibility of retrofitting its aged Boeing 747s with a new inflight entertainment system.
While a firm decision has not been made, the carrier notes it is still upgrading the first class cabins of its 747s, so an interior upgrade to economy class is not out of the question.
On 13 October the legacy Rockwell Collins IFE system on a BA 747 sparked an electrical fire in-flight. Crew "are highly trained to deal with a wide range of incidents" and readily brought the situation under control and extinguished the fire, says a BA spokeswoman. The flight continued to London and landed safely. Rockwell Collins says the fire is "the first time this thermal anomaly has ever happened" on this particular IFE system, as reported by Runway Girl Network yesterday.
Even so, BA passengers regularly criticize the IFE – known as dTES – for its frequent system failures. And BA pays out thousands of air miles in service recovery as compensation. "BA seems to be unable to make a decision on replacing this [dTES] system. I think they probably felt that if they can hold on long enough then the aircraft will be replaced and the problem will disappear. Unfortunately, the delays in the deliveries of new aircraft have made this a very bad decision," suggests an industry expert.
The BA spokeswoman says the fire incident – coupled with passenger complaints about system failures – would not have any impact on BA's retirement schedule for its 747s, and certainly wouldn't precipitate accelerating that plan. But, she adds, IFE is very important to the carrier, and BA "listens to our customers".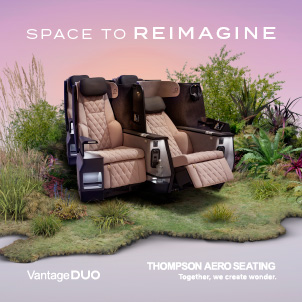 BA certainly has more options for retrofitting the 747s with lighter, less expensive IFE systems than it had in 2006 when the carrier opted to simply retain the hardware of its aged Rockwell Collins IFE and upgrade it with audio/video on demand functionality.
Some carriers that want to offer baseline IFE solutions on older long-haul aircraft – to carry them through retirement – are adopting new reduced power, reduced weight seat-centric IFE systems that offer solid-state storage in the monitor. For instance, Lufthansa chose Zodiac Inflight Innovations' RAVE seat-centric solution to replace the Rockwell Collins IFE on its Airbus A330s, A340s and 747s.
Thales has been bringing its TopSeries IFE system to BA's 777s, 787s and Airbus A380s. The company's latest iteration of TopSeries boasts a seat-centric architecture that, among other things, eliminates the seat box for greater passenger comfort.
Related Articles:
Photo above taken from the following video of BA's 747 economy class cabin: