It was a bleak and gloomy day in Vancouver with a slushy wintery mix of rain and sleet and snow and temperatures hovering just above freezing when Kymeta – the Bill Gates-backed manufacturer of new flat-panel satellite antennas – successfully demonstrated bi-directional high-speed Internet connectivity with a Ka-band high-throughput satellite.
This is the first time a metamaterials-based antenna has established an Internet connection over a satellite link, says the firm, and it confirms that Kymeta "is ready to move into commercial product development and production" of a VSAT- type product first, and later super-skinny antennas for aero that – if they live up to the hype – could have a significant impact on the inflight connectivity industry.
But the fact that Kymeta demonstrated transmit and receive capability during miserable weather was especially satisfying to chairman and CEO Vern Fotheringham. "Anyone concerned about us doing a clear sky link would have to back down because it was anything but a clear day," Fotheringham tells the Runway Girl Network.
The demonstration, which was held on 10 December at Telesat's teleport in Vancouver, using Anik F2 satellite Ka-band capacity, represents "a tremendous milestone for our company" he says. Kymeta is expected to have prototype units ready for field trials in 2014 with initial availability of commercial products in early 2015.
"So services like electronic news gathering, or government and civil first responders – we think there will be significant interest with the utility value we bring forward with automatic tracking that doesn't require someone to erect something or point something manually or even gimbal pointing. We think we'll have a tremendous advantage in the portable world, as well as the mobile world as we move into mobility," says Fotheringham.
Kymeta holds an exclusive R&D partnership with Inmarsat to develop a Ka antenna to enable business jets of any size to access high-speed broadband connectivity worldwide through Inmarsat's forthcoming Global Xpress (GX) service. Final deliverables are due in January 2015, and then the two firms will enter discussions about whether to enter a more formal arrangement.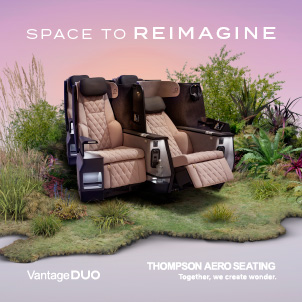 But Kymeta has made no secret about the fact that it is eyeing the commercial airline sector. "We think initially we will be very, very successful selling into mid-tier and smaller regional jets that certainly can't be addressed with large gimbaled apertures," says Fotheringham.
By the time Kymeta is ready to offer its antenna to the widebody market, most major airlines will have already installed mechanically steered antennas on their aircraft to support either Ku-band or Ka-band connectivity. "So ours will have to be linefit new builds or retrofits when those antennas come to the end of their useful life," he says.
For now, however, Kymeta is celebrating the completion of its successful first demonstration of bi-directional Internet connectivity and video streaming, which was made possible through collaboration with Telesat and iDirect – the latter provided the modem technologies used in the demonstration. After initial tests, the team also launched a bi-directional Skype video call from a laptop at the demonstration site to Kymeta's corporate headquarters in Redmond, Washington, where a team celebration was held.
See my recent interview with Kymeta president and chief operating officer Bob McCambridge at Satcon 2013: