Lufthansa is not throwing its support behind Airbus' campaign to make 18 inches the standard for seat width on long-haul aircraft.
With respect to "a focus of 18 inches or so, we cannot see that", Nico Buchholz, executive VP Lufthansa Group fleet management, said today at a media briefing in New York.
Buchholz says the carrier has studied a number of cabin seat scenarios, including looking at seat width. "Yes, we all know there is a certain limit on long-haul where [people] feel uncomfortable. But if you take, for example, the [Boeing] 747, and you sit in economy, is the seat width acceptable providing you have sufficient pitch? So it's not only [about] the width. So maybe on a night flight you want to stretch your feet in front of you, so maybe [this matters to you more than width]."
The Lufthansa executive acknowledges that people have gotten "bigger", even as seat width in economy class has trended smaller, but he notes in reference to Airbus' campaign for an 18-inch standard, "We all heard about Airbus' idea to improve the A380, 11-abreast, [which would be] much narrower of any of the Boeing seats."
Indeed, many industry observers believe Airbus' reason for pushing for an 18-inch standard is primarily driven by the competitive pressure it feels from Boeing's highly successful 777-300ER – which airlines are increasingly ordering in a 10-abreast configuration in economy class – as well as the threat of the forthcoming 777X to the A350, the latter of which can offer 18-inch wide economy class seats in 9-abreast configuration.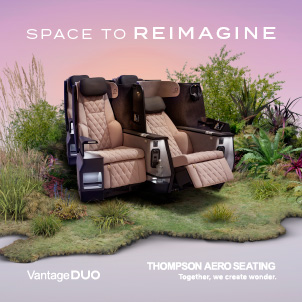 It is perhaps somewhat ironic that Airbus continues to advertise the option for airlines to order a "high-efficiency" A330 in 9-abreast configuration with a 16.7-inch seat width, as evidenced here, and a high-density 10-abreast A350, despite its call for comfort on long-haul aircraft.
Meanwhile, having the flexibility to configure its aircraft as it chooses is crucial to Lufthansa. For instance, notes Buchholz, the low-cost model for short- to medium-haul flying has spread throughout Europe. "We have been able to increase the seating without needing the floor strengthening," he says. This means that flexibility is "built into our specification" for airframers.
Buchholz adds, "We know the product will probably change over the life of the aircraft at least three times so the aircraft needs to be flexible. Lavatories, galleys, seat arrangements, entertainment systems, overhead bins, all of these elements need to be handled [as] flexible."
Lufthansa recently committed to orders for 34 Boeing 777-9Xs and 25 Airbus A350-900s, which will primarily serve to replace existing aircraft at the carrier. Buchholz reveals that Lufthansa refused to be limited to the Airbus A350 catalogue for seats. "We don't like the catalogue and we won't take the catalogue."
He says the company's Lufthansa Technik unit helps to serve as a "pressure point" in negotiations with airframers, as the carrier is able to tell them, "We could take aircraft bare and not use their seats."
Adds Buchholz, "I think we like standardization on the technical points, [but] we don't like standardization on the cabin. The differentiating factor of product is service, network, pricing and the cabin so we want to keep certain control of the cabin. So what we'd like manufacturers to do is [take a] hybrid approach. There are some smaller airlines that are happy to use the catalogues, and there are bigger airlines who don't like the catalogue because there are airlines that are ahead."