Media Carrier Solutions, a renowned digital media company, and Motus, a leading provider of Programmatic Advertising software, are proud to announce the successful completion of their collaboration to integrate and validate an advanced Programmatic Advertising Platform for airlines and airports. The new platform offers cutting-edge technology that will generate upside revenue for airlines and airports.
Airlines, Airports, as well as non-aviation lounge partners will be able to place ads via Media Carrier Solutions' White label Media Portals (Media Box) to target specific travelers, based on language and gender, and obtain usage reports such as origin, destination, class of travel, and frequent flyer association among other information.
"As the first and only Programmatic Advertising Platform for inflight media in the world, this collaboration brings synergies that benefit airlines and airports, and ultimately travelers, which consume relevant engaging ads," said Tammam Shaibani, Chairman of Motus.
The integration of Motus' Ad-serving software with Media Carrier Solutions' powerful digital media expertise will create a unique advertising platform that allows airlines and airports to serve their customers with relevant and engaging ads. The platform is designed to provide passengers with a seamless and personalized experience and will help airlines and airports create additional revenue streams.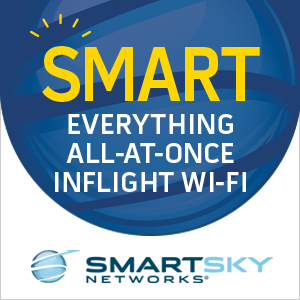 "The collaboration with Motus is a strategic move that demonstrates our commitment to providing the best digital media solutions for our clients," said Sandra Bardewyck, CEO of Media Carrier Solutions. "With this new platform, we will be able to deliver targeted and relevant ads to airline passengers. We are confident that this platform will generate substantial revenue for our clients."
The partnership with Media Carrier Solutions is a significant milestone for Motus. The integration of its Ad-serving software with Media Carrier Solutions' digital media expertise will create a powerful platform that will drive exceptional results for airlines and airports.
"As a leading provider of Ad-serving software for advertising, we are thrilled to partner with Media Carrier Solutions to bring airlines and airports a robust Ad-serving platform that will enhance their revenue streams and improve the passenger experience," said Dr. Haris Zacharatos, CEO of Motus. "We look forward to working with Media Carrier Solutions to expand this platform and provide even greater value to our clients."
Media Carrier Solutions and Motus have successfully tested the Ad-serving platform and are now rolling it out to airlines and airports worldwide. The platform is expected to generate significant upside revenue for the aviation industry.
About Media Carrier Solutions:
Media Carrier Solutions is a leading global provider of digital media that provides cutting-edge solutions to the travel industry worldwide. Through its digital media library "Media Box", it supplies the travel industry with digital publications and with other digital media products such as with podcasts. 
In addition to Lufthansa Group (including Lufthansa, Brussels Airline, Austrian Airlines, SWISS, Eurowings and Air Dolomiti), American Airlines, Singapore Airline and Virgin Atlantic, among others, the service is also used in around 1,250 hotels worldwide, on cruise ships or health and fitness sectors.
The company has over 10 years of experience in the industry, delivering innovative digital media solutions, ranging from in-flight entertainment systems to advertising platforms.
About Motus:
Motus is a leading provider in Programmatic Advertising, with its proprietary  SaaS Platform. It counts a cadre of clients it works with, with the most prominent one being the UGO platform from Display Interactive, which forms part of Inmarsat's OneFi connectivity platform. 
The company is dedicated to providing innovative programmatic advertising and analytics solutions to advertisers and publishers worldwide. With over 8 years of experience, Motus has gained a reputation for delivering exceptional results and driving ROI for its clients. 
Featured image credited to Media Carrier Solutions