Gogo Business Aviation today announced its Gogo Galileo product line with the unveiling of a second electronically steered antenna (ESA) form factor for use on its Low Earth Orbit (LEO) broadband solution.
Gogo Galileo now offers two fuselage-mount antennas – the previously announced "HDX" antenna, designed with a small form factor to fit on any size business aircraft, and today's announcement of the "FDX" antenna which is designed to fit on larger aircraft and will deliver best-in-class performance.
"With the introduction of the FDX antenna, our AVANCE platform now offers a complete portfolio of North American air-to-ground (ATG) and global LEO products to meet the unique needs of each segment of the business aviation market," said Sergio Aguirre, Gogo's president and chief operating officer. "We have solutions to fit any aircraft size, flying any mission, whether the owner is focused on value, high performance, or redundancy, all coupled with our award-winning customer support."
Gogo designed and engineered both antennas in close collaboration with Hughes Network Systems, an EchoStar (NASDAQ: SATS) company, and Hughes will be the manufacturer.
"Leveraging the research and development investment of the HDX antenna, we have successfully accelerated our roadmap of bringing a second, best-in-class antenna to the market," said Aguirre. "FDX will maximize the capacity and performance of the OneWeb network for nearly 8,000 global heavy jet operators."
The FDX antenna is a premier solution offering all the benefits of the more compact HDX antenna, while offering faster data speeds, higher throughput, and lower latency than current geosynchronous (GEO) satellite systems can deliver, supporting multiple unique VPN, interactive video, and gaming sessions simultaneously.
"We're proud to support Gogo as they continue to enhance their world-class inflight broadband system for business aviation," said Reza Rasoulian, vice president, Hughes. "Thanks to the dynamic partnership between Gogo and Hughes, combined with our engineering expertise and close collaboration with OneWeb, Gogo Business Aviation customers will soon realize an unmatched LEO connectivity experience worldwide."
When Gogo Galileo launches, Gogo will be able to offer the fastest and highest capacity inflight connectivity products in North America through a combined LEO and 5G superior solution enabled by the AVANCE platform's unique multi-bearer capability.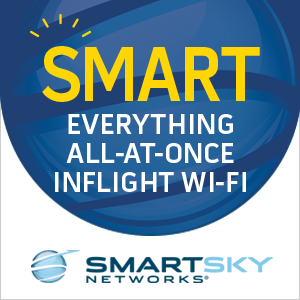 "We're excited to see Gogo's continued progress alongside the very tangible progress OneWeb has made in recent weeks with the completion of our LEO constellation, and the continued roll out of our ground infrastructure," said Jason Sperry, head of business aviation for OneWeb. "It's clear that together we mean business!"
The AVANCE platform has been intentionally designed to provide easy upgrade paths to new technologies and networks. In the case of Gogo Galileo, any aircraft with an AVANCE product installed (L3, L5 or SCS), will only need to add the FDX or HDX antenna to the fuselage to access the benefits of LEO network technology.
For EBACE 2023 attendees, Gogo invites you to attend a Gogo Galileo demonstration at our static display located at AD_04 to experience the evolution of global broadband connectivity firsthand.
About Gogo
Gogo is the world's largest provider of broadband connectivity services for the business aviation market. We offer a customizable suite of smart cabin systems for highly integrated connectivity, inflight entertainment and voice solutions. Gogo's products and services are installed on thousands of business aircraft of all sizes and mission types from turboprops to the largest global jets, and are utilized by the largest fractional ownership operators, charter operators, corporate flight departments and individuals.
As of March 31, 2023, Gogo reported 3,447 business aircraft flying with Gogo's AVANCE L5 or L3 system installed, 7,046 aircraft flying with its ATG systems onboard, and 4,485 aircraft with narrowband satellite connectivity installed.
About Hughes
Hughes Network Systems, LLC, an EchoStar (Nasdaq: SATS) company, provides broadband equipment and services; managed services featuring smart, software-defined networking; and end-to-end network operation for millions of consumers, businesses, governments and communities worldwide. The Hughes flagship internet service, HughesNet®, connects millions of people across the Americas, and the Hughes JUPITER™ System powers internet access for tens of millions more worldwide. Hughes supplies more than half the global satellite terminal market to leading satellite operators, in-flight service providers, mobile network operators and military customers. A managed network services provider, Hughes supports half a million enterprise sites with its HughesON™ portfolio of wired and wireless solutions.
About OneWeb
OneWeb is a global communications network powered from space, headquartered in London, enabling connectivity for governments, businesses, and communities. It is implementing a constellation of Low Earth Orbit satellites with a network of global gateway stations and a range of user terminals to provide an affordable, fast, high-bandwidth and low-latency communications service, connected to the IoT future and a pathway to 5G for everyone, everywhere.
Featured image credited to istock.com/JakeOlimb