The FlightPath3D and Latécoère partnership announced today sets a new standard of Flight Map application for corporate jet aviation with the launch of Smart LiFi Monitor, which includes FlightPath3D's market-leading 3D moving map. 
FlightPath3D President Duncan Jackson says, "We are delighted to be partnering with Latécoère on their unique premium Smart LiFi Monitor. As a leading provider of innovative systems to enhance the passenger experience and aiming to take the Inflight entertainment concept to another level, Latécoère deserves the most interactive, innovative and compelling map to complement this offering." 
Laurent Groux Director of Latécoère Systems Business Unit says, "The flight journey is captivating with our 4K Smart Lifi Monitors and FlightPath3D moving map. Augmented views and satellite imagery are crisp, clear and displayed with detailed visuals. FlightPath3D offers one of the most compelling and innovative 3D moving map experiences with customization potential from interest for corporate use." 
The Smart LiFi monitor technology was designed to be an easy plug and play solution. It is a multi-technology smart 4K monitor that uses light to transmit data. It can be interfaced with any IFE provider or can work standalone. FlightPath3D's moving map will be beautifully displayed on the Smart LiFi Monitor and will provide passengers detailed visuals of the aircraft in 360-degree views with flight progress and destination data. High fidelity satellite imagery is broadcasted throughout bulkhead monitors and passenger devices.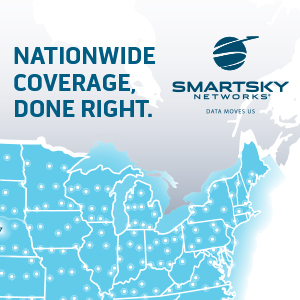 About FlightPath3D 
The Airline Industry's #1 Map Provider. Run your map with the map software experts building software that's integrated with all the leading IFE vendors. Any Device. Any Platform. Fast setup. Integrated. Personalized. Selected by more than 70 airlines in just 7 years. 
FlightPath3D has designed the most compelling and innovative interactive travel solution for both passengers and airlines. With augmented views and relevant flight information, the inflight journey is captivating. A smart immersive travel guide and route map enables passengers to explore in-destination experiences and inspires them to discover places to visit and research flights. Through their actions, searches, and map interactions, passengers provide airlines and airports with the knowledge of what interests them most about a location and what future destinations excite them for loyalty and strategic planning. 
Betria Interactive LLC (dba FlightPath3D) has the industry's largest specialized map team providing customized map software, application development, and maintenance.
About Latécoère 
As a "Tier 1" international partner of the world's major aircraft manufacturers (Airbus, Boeing, Bombardier, Dassault, Embraer and Mitsubishi Aircraft), Latécoère serves aerospace with innovative solutions for a sustainable world. The Group is active in all segments of the aeronautics industry (commercial, regional, business and military aircraft), in two areas of activity: • Aerostructures (46% of turnover): fuselage sections and doors, • Interconnection Systems (54% of turnover): wiring, electrical furniture and on-board equipment. As of December 31, 2021, the Group employed 4,764 people in 14 different countries. Latécoère, a French limited company capitalized at €133,912,589.25 divided into 535,650,357 shares with a par value of €0.25, is listed on Euronext Paris – Compartment B, ISIN Codes: FR0000032278 – Reuters: LAEP.PA – Bloomberg: LAT.FP
Featured image credited FlightPath3D