Inmarsat, the world leader in global, mobile satellite communications, today announced that the US Federal Aviation Administration (FAA) has approved and certified an advanced, next-generation terminal that will optimise further the performance of its market-leading GX Aviation inflight broadband solution.
The recently-awarded Supplemental Type Certificate (STC) authorises the powerful new Falcon 300 terminal to be installed on Boeing 737 aircraft, marking a significant milestone for the lightweight, low-drag solution. Developed with GDC Advanced Technology, a leader in engineering and technical services, modifications and electronic systems, the terminal includes GDC's dual modem manager (MODMAN), with components by Kontron, together with a proven, reliable flat panel antenna by ThinKom.
The certification was obtained under GDC's Organization Designation Authorization (ODA) programme from its facility in Fort Worth, Texas. STCs for additional aircraft types are now underway, in addition to linefit plans for Boeing and Airbus airframes, reinforcing Falcon 300's suitability for a wide range of fleets.
Demand for inflight connectivity has soared as passengers start returning to the skies after the COVID-19 pandemic. According to Inmarsat's recently released 2021 Passenger Confidence Tracker, the largest and most comprehensive global survey of its kind since the pandemic began, 41% of respondents believe that having Wi-Fi on their flights is even more important now than pre-COVID. Wi-Fi allows them to stay connected with friends and family and supports a touch-free environment.
To meet evolving passenger demands, airlines around the world can benefit from the ultra-high performance capabilities of the new terminal. Available today, it was selected recently by SAUDIA, the national airline of Saudi Arabia, as part of an agreement for GX Aviation to be installed and activated onboard its upcoming fleet of 35 Airbus A321neo and Airbus A321XLR aircraft.
In addition, the terminal is also available as part of Inmarsat's transformational new GX+ North America connectivity solution, which seamlessly integrates the extensive worldwide coverage and resilience of Inmarsat's Global Xpress High-Throughput Satellite (HTS) network with the unrivalled capacity of Hughes' JUPITER™ HTS constellation across North America. This brings unprecedented capacity, speed and reliability to North American airlines and their passengers, who will enjoy unconstrained bandwidth activities on flights, even when flying at full capacity over the busiest airport hubs.
Kurt Weidemeyer, Inmarsat Aviation's Senior Vice President of Technology, said: "Inmarsat has received a very positive response from the airline market since announcing our next-generation GX Aviation terminal with GDC Advanced Technology last year. We are now delivering on the promises made, not only achieving our first STC certification within such a short timeframe, but also completing extensive assessments and test flights that have demonstrated the terminal's ability to deliver consistently the highest levels of connectivity, even over the world's busiest airspaces.
"This is positive news for existing and new airlines customers, with SAUDIA the first of many more to come, especially at a time when staying connected onboard is even more crucial as passenger return to the skies. This terminal enables connectivity at greater speeds and even more reliably than ever before."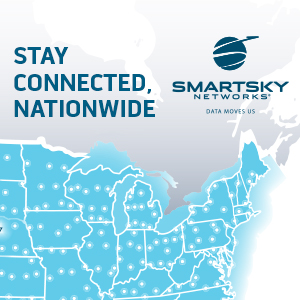 Tracy Trent, President of GDC Advanced Technology, said: "We are delighted that our ultra-high performance terminal for Inmarsat's GX Aviation are now authorised for installations on Boeing 737 aircraft. This supports our goal of providing a seamless, reliable, best-in-class solution that is certified for use by airlines worldwide, from the US and Europe to Asia and beyond, offering enhanced capabilities with fewer moving parts. Working with Inmarsat to achieve this has been a very rewarding experience.
"Airlines and their passengers will reap the rewards of this innovative partnership for decades to come. We are excited to see our Falcon 300 terminals on aircraft and will continue to work closely with Inmarsat to further the future of inflight connectivity."
Inmarsat yesterday celebrated the fifth anniversary of its award-winning GX Aviation solution, which entered commercial service in 2016. It has become the company's most successful passenger inflight broadband service, selected by more than 35 airlines with a total order book of more than 1,500 aircraft, approximately 550 of which have been activated.
Powered by the world's first and only globally available broadband network, GX Aviation has transformed the airline passenger experience, offering reliable, consistent and high-speed infight connectivity that is on par with mobile Wi-Fi on the ground. It unlocks a host of new ancillary revenue streams for airlines and ensures they meet rising expectations from passengers to stay connected, browse the internet, stream video and audio content, enjoy social media, shop online and more while on a flight.
GX Aviation's next-generation terminal will benefit from a number of major enhancements to the GX network, which currently consists of five Ka-band satellites. Seven further satellites are set to launch by 2024, starting later this month with the first Inmarsat-6, I-6 F1, the largest, most sophisticated commercial communications satellite ever built. This will be followed by four additional satellites in geostationary orbit – adding speed, capacity and resilience – and two in highly elliptical orbit, enabling the world's only commercial mobile broadband service for aircraft flying in higher elevations and across the Arctic.
About Inmarsat

Inmarsat is the world leader in global, mobile satellite communications. It owns and operates the world's most diverse global portfolio of mobile telecommunications satellite networks, and holds a multi-layered, global spectrum portfolio, covering L-band, Ka-band and S-band, enabling unparalleled breadth and diversity in the solutions it provides. Inmarsat's long-established global distribution network includes not only the world's leading channel partners but also its own strong direct retail capabilities, enabling end to end customer service assurance.
The company has an unrivalled track record of operating the world's most reliable global mobile satellite telecommunications networks, sustaining business and mission critical safety & operational applications for more than 40 years. It is also a major driving force behind technological innovation in mobile satellite communications, sustaining its leadership through a substantial investment and a powerful network of technology and manufacturing partners.
Inmarsat operates across a diversified portfolio of sectors with the financial resources to fund its business strategy and holds leading positions in the Maritime, Government, Aviation and Enterprise satcoms markets, operating consistently as a trusted, responsive and high-quality partner to its customers across the globe.
About GDC Advanced Technology

GDC Advanced Technology is a division of GDC Technics, a world-class aircraft modification and technology company with extensive expertise in MRO services, Modifications, Technical services and Electronics. GDC Advanced Technology develops next generation satellite connectivity solutions for aviation and other mobility applications.
GDC Technics is headquartered in Fort Worth, Texas with multiple locations across North America, Europe, Asia, and Africa.
Featured image credited to Inmarsat