Inmarsat, the world leader in global mobile satellite communications, today announced the first installation of its award-winning GX Aviation inflight broadband solution by Asia Digital Engineering (ADE), a wholly-owned AirAsia Group subsidiary and leading provider of engineering services in Southeast Asia.
The installation, completed onboard an AirAsia Airbus A320 aircraft, marks an important milestone that supports ADE's ambitions to become a GX Aviation installation partner for other airlines in Southeast Asia. The company will also establish a one-stop shop for airlines that want to operate a fully connected fleet, combining its vast expertise in end-to-end engineering and maintenance, repair and overhaul (MRO) with Inmarsat's market-leading connectivity solutions.
ADE was established in September 2020, after AirAsia Group consolidated its engineering and MRO assets to provide a centralised support service, not only for its own aircraft fleet, but also for other commercial airlines in the region. With a unique focus on data and technology, ADE has successfully leveraged, and continues to build on, AirAsia Group's 19 years of combined experience in operating and maintaining a large fleet of more than 250 Airbus A320 and A330 family aircraft.
Chris Rogerson, Inmarsat Aviation's Vice President of Global Sales, said: "AirAsia Group is the largest customer for our GX Aviation inflight broadband solution in the Asia Pacific region, and one of the largest in the world. Our partnership has been a hugely successful one, based on a common passion about the exciting opportunities that digitalisation and connectivity provide to passengers and the aviation industry, especially as airlines recover from the pandemic. We are delighted, therefore, to now collaborate on GX Aviation installations for AirAsia and other airlines in the region, bringing together the combined experience and expertise of Inmarsat, ADE and the rest of the AirAsia Group."
Mahesh Kumar, CEO of Asia Digital Engineering, said: "ADE has made significant progress since launching our services in the midst of the pandemic last year. We are delighted about the success of our first GX Aviation installation and look forward to continuing the rollout across AirAsia Group's fleet, as well as bringing our world-class engineering and MRO expertise to other airlines. By working with partners such as Inmarsat, we are building ADE into a market-leader that provides high quality and best value services, with a focus on using the latest technologies to increase satisfaction, productivity and efficiency."
ADE, based in AirAsia Group's RedQ global headquarters in Malaysia, has already received base maintenance approvals from the Civil Aviation Authority of Malaysia (CAAM) and Indonesia's Directorate General of Civil Aviation, with approval from five additional authorities expected before the end of 2021.
On 21 December, 2021 Inmarsat will add to its satellite fleet for the region, launching I-6 F1 from Japan. The satellite is Inmarsat's first dual payload satellite, with both Ka-band (Global Xpress) and L-band (ELERA) onboard.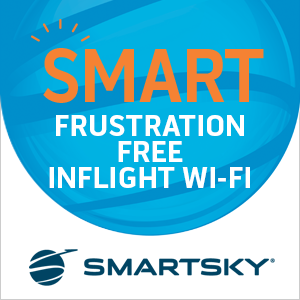 About Inmarsat

Inmarsat is the world leader in global, mobile satellite communications. It owns and operates the world's most diverse global portfolio of mobile telecommunications satellite networks, and holds a multi-layered, global spectrum portfolio, covering L-band, Ka-band and S-band, enabling unparalleled breadth and diversity in the solutions it provides. Inmarsat's long-established global distribution network includes not only the world's leading channel partners but also its own strong direct retail capabilities, enabling end to end customer service assurance.
The company has an unrivalled track record of operating the world's most reliable global mobile satellite telecommunications networks, sustaining business and mission critical safety & operational applications for more than 40 years. It is also a major driving force behind technological innovation in mobile satellite communications, sustaining its leadership through a substantial investment and a powerful network of technology and manufacturing partners.
Inmarsat operates across a diversified portfolio of sectors with the financial resources to fund its business strategy and holds leading positions in the Maritime, Government, Aviation and Enterprise satcoms markets, operating consistently as a trusted, responsive and high-quality partner to its customers across the globe.
About Asia Digital Engineering SDN BHD
Founded in 2020, ADE is a wholly owned subsidiary of AirAsia Group based in Klia2, Kuala Lumpur, Malaysia. ADE is a cast from AirAsia's Engineering Department best practices and experience. ADE offers a broad spectrum of aircraft services such as line maintenance, base maintenance, component repair and overhaul, warehouse management, technical and design organisation services along with digitally driven engineering solutions and engineering support services. With vast experience in airline engineering managing the world's best low-cost airlines, ADE aims to deliver the best value and customer experience by providing the highest standard of professional services in quality, reliability and safety.
Featured image credited to AirAsia Group