Inmarsat, the world leader in global, mobile satellite communications, today unveiled the Asia Pacific (APAC) findings of its Passenger Confidence Tracker 2021, the largest and most comprehensive global survey of airline passengers since the pandemic began, including results from India.
The research reveals that 91% of APAC airline passengers acknowledged that the pandemic has changed their long-term travel habits, consistent with last year's survey results. However, over half (51%) would be confident to fly by the end of the year and 20% would happily catch a flight in the next month.
Amongst Indian respondents, 63% are confident of taking their next flight in the next six months, despite being among the most cautious passengers in the world (78%), significantly higher than the UK (25%) and Australia (33%). In terms of what could airlines and the travel industry do to make them feel more confident about flying, 68% of Indian passengers believed mandatory proof of vaccination for all passengers would be key, whereas 65% also expressed a preference for all airlines to follow the same hygiene practices.
Air travel has undoubtedly faced a significant impact from the challenges of the past 18 months, as uncertainty around travel restrictions and quarantines have thrown holidays and business trips up in the air. However, when it comes to COVID-19 concerns, APAC passengers view some everyday experiences as riskier than air travel. A significant 32% of APAC passengers are less confident getting on the bus or coach than taking a flight, while 32% of passengers felt the metro or underground was risker than flying.
David Coiley, Inmarsat Aviation's Regional Vice President for Asia Pacific, said: "Since the start of the pandemic, the aviation industry has dealt with challenge after challenge. However, airlines have once again shown their resilience and stepped up to those challenges. Our latest Passenger Confidence Tracker reveals that travellers in Asia Pacific are the most confident towards pragmatic steps for travel and have positive attitudes about returning to the skies. With safety and reputation becoming even more important to today's flyers, there is a pressing need for airlines to embrace new opportunities and differentiate themselves to encourage passengers back onto their flights as travel continues to resume."
India's evolving passenger attitudes and behaviour
While the global level of satisfaction with airlines' responses to the pandemic has grown since October 2020, up to 72%, there are notable country-level differences at play. India leads the way with levels at 91%, while South Korea props up perceptions at 47%.
42% of airline passengers in India would fly with only specific airlines they trust.
Digital health passports (59%), personal protection packs (57%) and facial recognition security (53%), among other factors, are the new prominent aspects of the travel experience that should be kept in place in a post-pandemic travel setting.
Public toilets (68%), public transport (66%) and cinemas (60%) are considered to be higher-risk places for catching the virus in comparison to taking a flight.
Concerns remain, but customer experience boosts confidence
Despite the optimistic outlook, concerns regarding flying continue and primarily centre on the inconvenience and unpredictability of air travel. The research reveals the unpredictability of flying and the seemingly huge variation in rules and regulations is hampering confidence towards post-pandemic air travel in India the most. Quarantining and catching the virus abroad (both 54%) remain the main worries, among other reasons, that prevent Indians from traveling abroad.
When it comes to health and safety, the research suggests that greater importance should be placed on customer experience. Interacting with airline personnel was seen to help instil the most confidence for passengers, a key to the significance that an airline's personnel and its business reputation will likely have in restoring passenger confidence. Indeed, after cabin cleanliness (75%), airline reputation was regarded as the most important factor when choosing an airline (64%) for India passengers.
Flight timings and sustainability (both 63%) also remain critical factors for choosing an airline following the pandemic. The research also reveals 63% of Indian respondents are 'very satisfied' in terms of the attitude towards vaccine passports.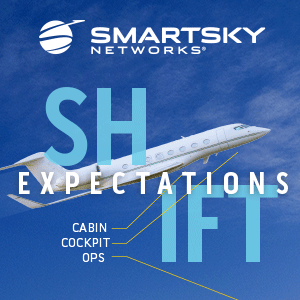 Technology helps to improve confidence and regional support for COVID-19 passports
Digital technology improves pre-flight confidence in a number of ways, such as providing up-to-date information and updates to help reassure passengers before a journey. Digital health passports (59%), thermal scanning (58%) and mobile booking verification (58%) were found to be pre-flight confidence boosters for India passengers in this year's survey. While onboard, digital technology was found to improve confidence by keeping passengers connected using inflight Wi-Fi and minimising their contact with others, including cabin crew and fellow passengers.
Philip Balaam, President of Inmarsat Aviation, said: "A digital transformation was already underway in the aviation industry, but the pandemic has undoubtedly fast-tracked its implementation.  As the trusted connectivity provider for Asia Pacific airlines, Inmarsat has experienced higher passenger usage for our inflight broadband solutions compared to pre-COVID levels, showing the desire to stay connected has only amplified. Airlines are also embracing innovating ways to enhance their onboard experience using connectivity, with a big focus on touchless experiences in keeping with today's passenger expectations."
For further insights from Inmarsat's 2021 Passenger Confidence Tracker, download the full report here.
Inmarsat is transforming global aviation by bringing complete connectivity to aircraft and flight paths across the world. Its market-leading technology allows passengers to browse the internet, stream videos, check social media and more during flights, with onboard connectivity on par with broadband services available on the ground. In addition, Inmarsat's flight deck solutions combine cutting-edge satellite technology with secure IP broadband connectivity for enhanced operational efficiency and safety.
Inmarsat recently unveiled plans for ORCHESTRA, the communications network of the future, which will bring existing geosynchronous (GEO) satellites together with low earth orbit satellites (LEO) and terrestrial 5G to form an integrated, high-performance solution, unmatched by any existing or planned competitor offering. ORCHESTRA allows capacity to be boosted in high-density areas such as at airports, eliminating congested network 'hot spots' and ensuring the connectivity needs of aviation customers continue to be met well into the future, with capacity scaled directly to match their requirements.
About the Passenger Confidence Tracker
The 'Passenger Confidence Tracker' is a global survey of airline passenger attitudes in light of COVID-19, commissioned by Inmarsat and carried out by market research company Yonder. It is the largest known global passenger survey since the outbreak of the pandemic. Yonder conducted an online sample of 10,110 online interviews among respondents who have taken a flight for leisure or business in the last 24 months. Invitations were sent out on a nationally representative basis. Respondents were surveyed across Australia, Brazil, Canada, China, Germany, Greece, India, Indonesia, Japan, Mexico, Singapore, South Korea, Spain, UAE, the United Kingdom and the United States.
About Inmarsat
Inmarsat is the world leader in global, mobile satellite communications. It owns and operates the world's most diverse global portfolio of mobile telecommunications satellite networks, and holds a multi-layered, global spectrum portfolio, covering L-band, Ka-band and S-band, enabling unparalleled breadth and diversity in the solutions it provides. Inmarsat's long-established global distribution network includes not only the world's leading channel partners but also its own strong direct retail capabilities, enabling end to end customer service assurance.
The company has an unrivalled track record of operating the world's most reliable global mobile satellite telecommunications networks, sustaining business and mission critical safety & operational applications for more than 40 years. It is also a major driving force behind technological innovation in mobile satellite communications, sustaining its leadership through a substantial investment and a powerful network of technology and manufacturing partners.
Inmarsat operates across a diversified portfolio of sectors with the financial resources to fund its business strategy and holds leading positions in the Maritime, Government, Aviation and Enterprise satcoms markets, operating consistently as a trusted, responsive and high-quality partner to its customers across the globe.
Featured image credited to istock.com/JakeOlimb