Travellers flying the network of cities and regional destinations across Australia served by QantasLink, the regional airline for the Qantas Group, can soon enjoy free wireless in-flight entertainment (W-IFE) on board.
Bluebox Aviation Systems has been selected by QantasLink to deploy its Bluebox Wow W-IFE system on QantasLink's fleet, initially on Airbus A320 aircraft, then expanding to its Fokker F100, Boeing 717, and Alliance Airlines' Embraer E190 aircraft. The Bluebox Wow system will enhance the regional airline's service on board, providing entertainment content directly to passenger devices over a captive wireless network.
The IFE content will include movies, TV, audio books and podcasts. Access to the Bluebox Wow system will be integrated with the Qantas Entertainment app to help facilitate a seamless flight-to-flight IFE experience, but will also be available app-free with simple browser access for anyone who does not have the Qantas Entertainment app loaded on their device.
The Bluebox Wow aircraft-powered option will be deployed, which will also have fully-automated PA Pause functionality. This is provided and fitted via an EASA STC, recently awarded for the A320 Family aircraft and which will be modified for use on the other aircraft in QantasLink's fleet.
"Recently receiving our STC on the Airbus A320 Family for our aircraft-powered version of Bluebox Wow system, and now being able to announce Qantas' selection of Bluebox Wow for its QantasLink network, are two exciting and very positive milestones for us to mark as our industry begins to emerge from the global pandemic," said David Brown, Business Development Director, Bluebox.
"It's not insignificant either that we're demonstrating that our W-IFE systems can replicate offerings of traditional aircraft avionics-based installed systems and proving the value of low-cost W-IFE systems across larger fleets. Just as Bluebox Wow expanded the market for IFE in its original battery-operated form, we'll now see it capture more of the W-IFE market, given its lower cost of deployment and digital platform scope for everything from entertainment to touch-free retail and to even more as digital in-flight services develop."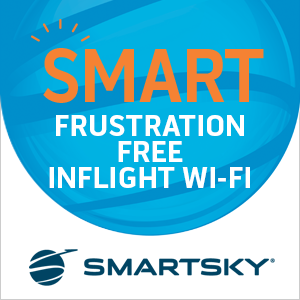 Bluebox Wow is a discrete, lunchbox-sized unit, typically stowed securely in overhead bins. With a remarkably low cost of ownership, it provides wireless content streamed to passenger devices in any aircraft cabin, including a wide range of film, TV, audio, games, and other digital content. These services can be offered to passengers on a complimentary basis or paid for via payment card or voucher access with no cabin crew interaction required. Bluebox also offers onboard retail services, including the ability to order and pay for products and services via passenger devices with full inventory synchronisation, in parallel to traditional sales from galley carts via cabin crew point-of-sale devices. In addition to onboard touch-free sales, Bluebox's retail solutions also enable pre-paid (booking path) purchases.
With battery- and aircraft-powered versions of Bluebox Wow, the linefit option for Bluebox's W-IFE platform available on Airbus OSP and retrofit on traditional avionics grade hardware, Bluebox's range of hardware options for its digital in-flight platform ensures the greatest choice and flexibility are available to customers, especially those with different aircraft types and fleets of any size. This also means that Bluebox can deploy a consistent customer experience across a fleet – whether that be to provide more traditional entertainment content, offer food & beverage or retail sales on board or through the passenger journey, or deliver other innovative services designed to engage passengers and build customer loyalty as well as increase ancillary revenue.
Bluebox Aviation Systems Ltd.
Bluebox Aviation Systems Ltd. specialises in software solutions for the aviation industry. The Bluebox in-flight entertainment (IFE) portfolio provides airlines the latest technology to enhance the passenger experience with cost-effective and revenue-generating alternatives to seatback IFE systems.
Bluebox wireless IFE software is available on a range of hardware platforms to provide services on passengers' own devices, including on-board retail and IFE content (movies, TV, audio, games and other digital content), in any aircraft cabin. As part of any wireless IFE deployment, Bluebox also provides user interface development, content integration, and highly-rated ongoing system support.
Headquartered in Dunfermline, Scotland, Bluebox has a global support network in Europe, the US, Australia and Singapore.
Featured image credited to QantasLink