Panasonic Avionics is open to offering its Arc 3D inflight moving map platform as a standalone product for airlines, after having secured a multitude of customers for the application when packaged with its own IFE hardware.
The company first unveiled Arc over two years ago, in a move that positioned it as a competitor to the aviation industry's two most prominent moving map providers, Collins Aerospace and FlightPath3D.
"We haven't pulled back or restricted access to any of the other maps," assured Panasonic Avionics vice president of digital solutions Andrew Mohr in reference to offering competitors' maps on its IFE hardware.
But he also revealed to Runway Girl Network that: "Airlines have asked if we would offer this [Arc] on other systems and we're certainly open to that."
As of 10 May 2021, Panasonic had confirmed Arc orders with 17 airlines globally covering over 300 aircraft. The product has already debuted on Vistara's Boeing 787-9s, and is being made available on the carrier's Airbus A321neo twinjets. Arc is very content driven and each region where it debuts has specific requirements. For Vistara, Arc needed to launch in the Hindi language.
Delivering the product to the Indian operator was not without its challenges. The core part of Arc is developed in Sweden at the Tactel AB facility that Panasonic acquired in 2015. The COVID-19 pandemic hit when Panasonic was in the middle of the home stretch of the project, but the firm was able to mitigate those challenges through virtual coordination between its Lake Forest, California headquarters, the Swedish facility and its Dubai development team, "and then with the customer", said Mohr.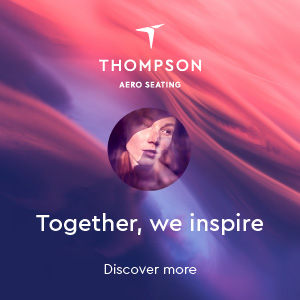 Noting that competitors offer "very good, very capable" moving maps for embedded and wireless IFE, Panasonic nonetheless saw an opportunity to bring what Mohr calls a "more advanced design sensibility" to the map sector.
In Sweden, the firm employs a lot of young gamers who bring a fun gaming sensibility to Arc. For instance, Panasonic's new 'Arc for Young Explorers' feature enables children to fly and explore the world as a Jurassic-era flying dinosaur. Points of interest are replaced by oversized dinosaurs, revealing trivia, fun facts, and animations about the beasts that roamed Earth millions of years ago.
Panasonic also recently announced an Arc integration with advertising platform OneMedia. The integration enables airlines to monetize their IFE by creating new advertising inventory across the range of Arc's map views, and tie-ins to cross-IFE advertising campaigns.
Regarding ROI for IFE, Mohr noted to RGN that airlines are "really sharpening the pencil" as industry emerges from the COVID-19 crisis. That's why Panasonic is looking to support their needs whether via advertising, e-commerce — i.e. driving revenue via onboard purchasing — or by purely improving service and net promoter scores (NPS).
He admitted that a lot of airlines have been looking beyond NPS at how they can bring a bit more monetization to the IFE experience.
Should Panasonic untether Arc from its IFE hardware, it will not be the first time the company has provided content to airlines in standalone form. Panasonic holds all international inflight rights to IMG's popular Sport 24 and Sport 24 Extra channels, enabling Panasonic to exclusively provide the channels to any airline, regardless of the IFE system or connectivity network they use. To wit, Panasonic is working with Viasat to bring Sport 24 to JetBlue's A321LR aircraft.
Related Articles:
All images credited to Panasonic Avionics