It's no secret that the Chinese inflight connectivity market is heating up, with multiple satcom solutions already in play, and various air-to-ground (ATG) projects on the horizon. As such, some stakeholders are getting more vocal about their work packages and prospects.
Take Carlisle Interconnect Technologies, for instance. The company today mostly provides China with larger integration components, radomes and satcom aircraft equipment kits, and to a lesser extent cable and wiring products, integrated.
In 2018, it forged a partnership with Kontron to provide turnkey cabin wifi system hardware solutions, installation kits and supplemental type certificates (STCs) to airlines, system integrators, connectivity service providers and software media companies in China.
During a wide-ranging interview with RGN, CarlisleIT director of product management, integrated products Jeff Behlendorf confirmed that the St. Augustine, Florida-headquartered firm still has a relationship with Kontron, and that the broader momentum we're seeing for IFC in China is real. And while ATG is grabbing headlines of late, satcom IFC work is indeed afoot.
He revealed:
Today we're building out satcom installation hardware for several customers in China. Unfortunately, I can't tell you who. Some of the deals are with silent partners, but we do expect a large portion of the China aircraft fleet to be connected over the next few years.

Several hundred aircraft are likely to be equipped with connectivity in the next 18 months.

The market in China strongly prefers a China-centric solution, with a China-centric satellite and ISPs. Obviously, we support the big primes and if they find customers in China, we're more than happy to provide for them. We're also supporting local Chinese companies that want to provide that service. In some instances, Kontron is involved to provide the cabin network component.
Because there is a strong incentive for the Chinese to do as much in-country as they can, it's fair to say that the market is a little complicated. In some cases, CarlisleIT is providing parts to local MROs which are then doing complete solutions. In other cases, CarlisleIT is supporting ISPs "so it's a mix", says Behlendorf.
"We will probably remain a silent partner. There are press releases that come out from the primes, but Carlisle's name will probably never show up. We want them taking the lead."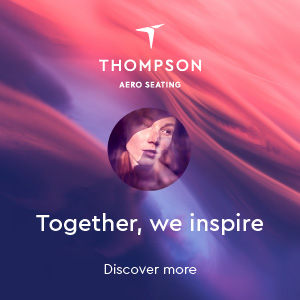 CarlisleIT fully expects to see ATG-based IFC solutions emerge in China. "There are several people that are pushing for that. We get the impression that the Chinese government is interested in rolling out 5G connectivity solutions with an airborne component," says the CarlisleIT executive.
"It's not at all clear who will provide it or who would own it. In terms of whether ATG or satcom will be more appropriate for an operator, it boils down to where they're flying and what are the economics."
China Telecom is reportedly running pilots on three domestic routes out of Beijing, in partnership with ZTE. But there are some technical challenges to ensuring ATG's non-interference with terrestrial 5G service. And, as readers are fully aware, China is large and mountainous. In certain regions, fiber for cell sites is quite difficult or simply not yet available.
This is the reason why satellite is so important in Northwest and Southwest China because of the lack of copper and fiber infrastructure, notes Ms. Jing Jing Li, head of IFC at Chinese satellite operator APT Mobile Satcom.
"The same is true for IFC, if you don't have terrestrial connectivity for ground stations/cell sites then ATG is not effective. This will not always be the case as eventually fiber will extend everywhere, however it will take many years. Short-term we see ATG could be a good option in the heavily populated area in Eastern China but not in Western China for many years," she tells Runway Girl Network.
Related Articles:
Featured image shows exploded view of CarlisleIT's FlightGear™ ARINC 791 Installation Kit; credited to CarlisleIT