As China's domestic travel and tourism industry shows signs of recovery, inflight connectivity service providers are looking to the world's most populous country as a growth market. After all, the lion's share of China's domestic airline fleet is still not fitted with IFC systems that support broadband Internet for passengers.
By the end of 2020, China's three largest carriers — Air China, China Eastern and China Southern — "had reported demand returning to 90 percent of 2019 levels, but that changed quickly. Fresh COVID outbreaks early this year prompted the Chinese government to impose new travel restrictions during the Lunar New Year holiday. Those have since eased," noted Airline Weekly in a 5 April 2021 report.
"All three airlines expect this year to be the inflection point and expect demand to rise, starting with national holidays in May," stated the publication.
Global Eagle
Inflight connectivity providers are likewise observing fresh momentum. While the opportunities for fitting IFC systems to Chinese aircraft largely went into hibernation amid the COVID-19 crisis, "we are seeing things start to wake up now," Global Eagle CEO Josh Marks recently told Runway Girl Network.
Global Eagle already has some experience in China. Years ago, it fitted a 9 Air Boeing 737-800 with its Airconnect Ku-band satellite-based IFC system in conjunction with Boeing Shanghai Aviation Services Co. In 2017, a planned stake by Chinese conglomerate HNA Group in Global Eagle fell apart, after the deal failed to secure regulatory approval.
As it looks to China again, "we think hybrid architecture is essential", said Marks — that is to use Chinese telco partners and assets in keeping with Chinese requirements, but to also "seamlessly integrate global capacity for aircraft going beyond the country's borders".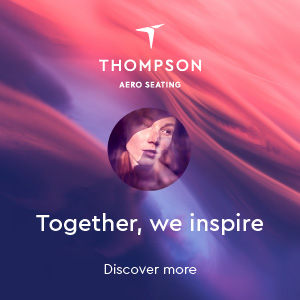 On the capacity front, the new APSTAR-6D high throughput satellite operated by China's APT Mobile Satcom (APSATCOM) is now supporting transmissions aboard aircraft fitted with Panasonic Avionics' eXConnect-branded Ku-band IFC system. The satellite was developed in partnership with Panasonic.
The Gogo commercial business, now owned by Intelsat, also has an agreement to leverage APSATCOM's Ku-band network, including APSTAR-6D. Will Global Eagle do the same?
As Global Eagle looks at local telco partnerships, that usually brings the space segment as well, noted Marks, "so we don't close off any options. We want to find the right partners and develop relationships."
Panasonic Avionics
For its part, Panasonic Avionics has invested significant time and capital in the market. It boasts partnerships with several of China's international airlines, including Air China, China Eastern and China Southern. Its Ku-band IFC system is linefit offerable on many of the widebody aircraft types that regularly plied international routes before the coronavirus pandemic.
Though it never wants to say it's in the pole position, Panasonic believes it is "positioned appropriately" to be long-term partners with its Chinese customers, as well as to secure new domestic customers, according to company vice president, connectivity solutions Jeff Sare.
He said the amount of throughput and capacity Panasonic can access with the APSTAR-6D satellite — on which it is anchor client — "is second to none, quite honestly". And Panasonic is confident the satellite will have the capacity it requires to do "exactly what airlines need" in terms of narrowbody IFC deployments.
FTS Technologies
China Satcom's ChinaSat-16 Ka-band satellite, meanwhile, is now supporting transmissions for Qingdao Airlines, which is a customer of China's FTS Technologies.
"The first Qingdao Aircraft trial was launched in July 2020 and had performed exceptionally well beyond expectations. We are working closely with the airline and partners to schedule retrofits on the entire fleet," a spokesman for FTS told RGN last month.
"Passengers onboard the FTS XstreamSAT equipped aircraft are getting [an] inflight experience comparable to the 4G mobile experience they are used to on the ground. Airline management and passengers are pleasantly surprised with the smooth streaming video and two-way video calls between inflight and the ground," he added.
Though the COVID-19 crisis has caused far-reaching and fundamental changes to the aviation industry, FTS believes airlines can better position themselves for post-COVID recovery by investing in digitalization and transformation.
"We see the more forward thinking airlines wanting to use connectivity for improving cabin experience, operational efficiency and grow ancillary revenue," said the FTS spokesman.
"Our trial flight analytics and research show up to 98% of China travelers express high demand for connectivity, even above seat pitch and in-seat power. We will also see more connected aircraft applications, such as cockpit flight operations, safety and crew operations."
Ku versus Ka
While many industry stakeholders would like to see the "Ku versus Ka" IFC debate relegated to the annals of history, it still rages, with more than a few Ka service providers insisting that Ka IFC offers a superior passenger experience (JetBlue's free streaming class of service, as supported by Viasat's high-capacity Ka satellites, is still widely seen as having set the industry standard. Viasat separately has a strategic partnership with China Satcom.)
"The frequency spectrum is a bit of a silly debate. It really is about the technology of the satellites you use, the technology of the terminal you use. And every new satellite has better technology," suggested Panasonic's Sare.
"I would argue our HTS, XTS [Panasonic's branding for the extreme throughput offered by nextgen Ku satellites] — the kind of stuff we're doing with APSTAR-6D — is as high tech as any satellite in all the constellations, Ka or Ku or anything else."
APSATCOM's head of aero business unit, Jing Jing Li, told Runway Girl Network: "As you note this debate has been going on for years. Really Ku and Ka frequency are both quite good for IFC. At APSATCOM we see significant growth from foreign and Chinese long-range aircraft because there is now such excellent global coverage and capacity in Ku band.
"Because there are excellent Ku band IFC avionics systems, and such excellent new [APSTAR-6D] capacity in China and the Asia region, we foresee a large quantity of domestic aircraft installations in Ku-band."
APSATCOM expects to support IFC trials on domestic narrowbody aircraft this year.
ATG wild card
As China rolls out a 5G network for mobile customers, air-to-ground connectivity could yet prove to be a wild card in aviation.
US firm SmartSky Networks is focused on launching its nextgen ATG service in the United States, but company CEO David Helfgott said, "We have multiple opportunities to take this business model and technology and work with partners internationally."
The company's value added reseller for the North American commercial sector, Honeywell, certainly sees the potential for SmartSky to offer its service outside of the US, including in China. Company vice president and general manager, aerospace and connectivity services John Peterson said: "You look at the China market and how they fly their routes, it's very point to point…we see places like that where [there is] potential for an ATG system."
Related Articles:
Featured image credited to istock.com/onurdongel