Eastern Airlines is just one tail away from having outfitted all ten of its B767 aircraft with AirFi's FASE (Fully Autonomous Semi-Embedded) wireless IFE solution. The airline sees this deployment as an important key to unlocking improved passenger experience, operational efficiency and revenue generation potential.
This successful installation effort, completed in Miami by AirFi America (MEKCO Group), marks the second North American deployment for AirFi.
"Eastern was looking for an onboard solution to both improve passenger experience and generate new cross-platform opportunities," said Steve Harfst, CEO Eastern Airlines. "AirFi allows us the achieve both while also giving our customers a touch-less entertainment experience onboard. We strive to do everything possible to make traveling a safe and enjoyable experience."
Eastern Airlines (which has an average flight length of 5-6 hours) is now offering a broad selection of inflight entertainment through AirFi and boutique CSP partner, West Entertainment. On their own personal devices, passengers can watch the latest Hollywood releases, award-winning classics and must-watch TV programs (comedy, drama, kids, documentaries, lifestyle). 90% of the content is also available in Spanish.
How does it work?
To create the onboard streaming solution, four compact and ruggedized AirFi Venus boxes (less than 2 kg/4.5 lbs each) are simply placed in overhead storage bin of each twin-aisle aircraft. They create a closed Wi-Fi network (sometimes called "Near-Fi" in industry circles), which passengers connect to, using any Wi-Fi enabled personal device such as a mobile phone, tablet or laptop. Once connected, they can begin streaming entertainment directly through the browser, without the need to download an app.
The FASE option for installation adds a layer of security because the boxes are physically "attached" to the plane, though still classed as carry-on equipment – meaning no STC is required. FASE also connects the boxes to aircraft power supply (so battery life isn't an issue) and automates the power on/off function.
"We've installed all our planes in as little as one day, while upgrading other aspects of the cabin," said Harfst. "Quick deployment and the quality streaming entertainment were probably the main reasons we wanted to work with AirFi, but we've also become very excited about the other ways we can use the AirFi platform to improve our customer experience."
What's next?
Eastern plans to install the AirFi solution its first two B777 aircraft and will soon use it to launch a new buy-on-board catalogue that passengers can use to browse, order and pay for food, beverage and comfort items right from their seats.
"Ancillary revenue is an important part of our strategy and allowing our team members to collect these fees and charges more effectively using AirFi will continue to be vital to our growth. Digitizing online sales significantly streamlines ancillary revenue," commented Harfst.
To ensure that passengers can enjoy all the features of the AirFi system and still have full a full battery charge when they arrive at their destination, Eastern is also working with MEKCO Group to retrofit its aircraft with in-seat USB power solutions for charging electronic devices.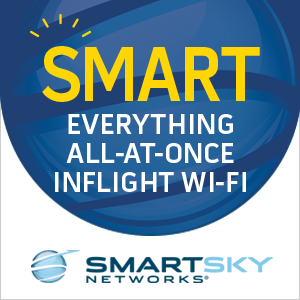 About Eastern Airlines
Eastern Airlines was originally founded in 1926. By 1930, Eastern grew to become one of the "Big Four" domestic airlines, where it would remain for the next several decades. As a carrier with a legacy of pioneering new routes, we brought Eastern Airlines back to the skies for its next adventure as the first scheduled carrier to be certified in the United States since 2007. Our mission is to bring back the sense of awe and wonder to air travel by providing underserved markets across the globe with direct, nonstop flights with the best value.
About AirFi  and AirFi America
AirFi is the provider of flexible, easily deployable onboard ancillary sales and entertainment solutions that improve the airlines' bottom lines and significantly upgrade the passenger experience. AirFi America is the regional sales and support division of AirFi in the Americas. It was created through a partnership between AirFi and Miami-based MEKCO Group, Inc., a global leader in professional and experienced aircraft cabin and connectivity innovations. In addition to offering AirFi's flexible, digital cabin solutions, MEKCO Group provides in-seat power options, digital cabin equipment, replacements and repairs of IFE, galley equipment, aircraft surveillance systems, and exterior lights.