SmartSky Networks announced today the appointment of cellular technology pioneer David Claassen to the position of Chief Technology Officer. Claassen will direct SmartSky's technology strategy and execution, including development and delivery of innovative technical solutions from its portfolio of patents, as the company moves forward to empower the growing connected aircraft market.
Claassen is no stranger to creating innovative nationwide mobile-IP networks. He holds multiple patents in mobile communications technology areas including modem development, and satellite and air-to-ground communications. Prior to joining SmartSky, Claassen served in a variety of senior roles in the cellular and satellite communication industries, including Telepad, WFI and Nextel Communications, where his leadership spanned technology strategy, IP engineering, and core R&D of both hardware and software for wireless broadband networks.
At SmartSky, Claassen has led the successful design, development and integration of many key aspects of the company's core technical capabilities, including subscriber devices, Radio Access Network, IP core, cybersecurity, voice and data services, all which ultimately led to the deployment of the aviation industry's first virtualized nationwide network architecture.
"As we move forward, David Claassen has the technical acumen and service-launch background to help guide us into our next stage as an operational ATG network services provider," said SmartSky CEO David Helfgott. "Under his focused technical leadership, SmartSky will push innovation in aviation communications for years to come."
"I am honored to be given this opportunity to lead the technology development team at SmartSky. 2021 will be a great year for the company and for the connected aircraft industry, as we launch and bring customers online on our next-generation network, hardware and digital services," said Claassen.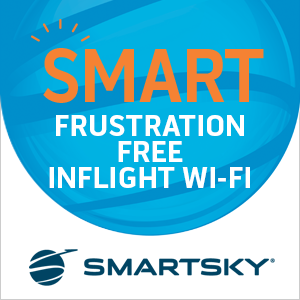 SmartSky is launching its advanced inflight connectivity service later this year. As part of its offering portfolio, the company is developing pioneering aviation data products through its open digital applications platform, Skytelligence®, to improve safety and efficiency while providing the industry with novel ancillary revenue sources. SmartSky's unique single-beam-per-aircraft inflight communications approach is backed by more than 200 patents and over 1,000 hours of flight testing.
About SmartSky
SmartSky Networks was founded to transform aviation through disruptive communications technologies and related tools. SmartSky is rolling out its innovative air-to-ground network in 2021. The network takes advantage of patented spectrum reuse, advanced beamforming technologies and 60 MHz of spectrum for significantly enhanced connectivity. SmartSky's network uniquely enables an "office in the sky" experience with unmatched capacity for data transmissions both to and from the aircraft. This real-time, low latency, bidirectional data link makes SmartSky the best in-flight user experience, and a key enabler for new and enhanced applications and services.