After grappling with delays, nextgen air-to-ground inflight connectivity provider SmartSky Networks this summer plans to launch service in the United States.
"SmartSky's high-speed, bi-directional Wi-Fi network will launch this summer covering over 90% of continental US business aviation flight hours," a SmartSky spokesman confirms to Runway Girl Network.
"We will fill in remaining coverage areas during the second half of 2021."
Based in North Carolina's Research Triangle, SmartSky has tested and demoed its low-latency ATG service on a Citation Excel testbed and other aircraft types for the last few years. But the company's launch schedule creeped to the right after it faced problems with a remote radio head at cell sites on its network. It has since traded lawsuits with its former radio contractor, WSS.
The COVID-19 crisis has also affected SmartSky's rollout, but the firm is initially focused on serving business aviation, which is proving more resilient than the commercial sector amid the pandemic. JSX, which operates flights from private terminals, is among SmartSky's customers.
SmartSky is also eyeing opportunities to support inflight connectivity on regional jets, and potentially hybrid ATG/satcom installs on other aircraft types down the road. The company will use value added resellers, including Honeywell, to provide the service to North American airline operators.
It will initially compete with Gogo Business Aviation, which holds a dominant position in BizAv IFC in North America and supports IFC on regional jets operated by US majors. Gogo Business Aviation is also rolling out its own nextgen ATG service.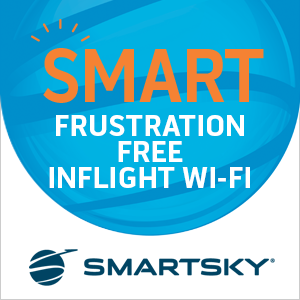 SmartSky's IFC is based on 4G LTE and emerging 5G technologies. It says its unique single-beam-per-aircraft inflight Wi-Fi approach is backed by over 1,000 hours of flight testing and 190 patents, including a patent that covers key features of a 5G network like beamforming and seamless cell tower handoffs.
Gogo Business Aviation last year requested an inter partes review of the SmartSky patent with the US Patent and Trademark Office. The review was denied.
"I'm grateful that they gold-plated our patent," SmartSky president Ryan Stone told RGN at the time, in reference to Gogo Business Aviation's failed attempt at the inter partes review.
Stone believes it will be "extremely difficult" for Gogo Business Aviation to roll out its 5G ATG offering without threading on SmartSky's IP.
Related Articles: