As business aviation appears poised to recover faster than commercial, there is a fresh focus on inflight connectivity for the BizAv sector, including for Ku and Ka-band high-speed Internet solutions as well as Iridium Certus-powered offerings such as the new terminal tabled by Skytrac, with availability in early 2021.
Collins Aerospace is among the service providers ginning up interest in broadband IFC for BizAv, with strong messaging around its new LuxStream-branded, exclusive-to-BizAv global Ku service, delivered in partnership with satellite operator SES, and boasting Vista Global as a launch customer.
During a recent Collins-sponsored Aviation Week webinar, Collins senior program manager, cabin connectivity services Bruce Quade noted that STCs have been secured by StandardAero for equipage of Collins' KuSAT-2000 satcom terminal on the Gulfstream GIV and GIV-SP.
STCs have also been completed for the Bombardier Global 5000 and Global 6000 through QCM of Switzerland, as well as the Challenger 850 through FAI Technik.
Strong STC progress has been made for Gulfstream variants. Collins in August announced that Van Nuys, California-based business jet maintenance facility Western Jet Aviation was in line to receive the first FAA STC to install the terminal on a Gulfstream G450. "The G350, GV and G550 aircraft will follow shortly behind, with their STCs slated to be complete before the end of the year," it said at the time.
The press statement was fully in sync with guidance provided during the Aviation Week webinar by Quade, who also revealed that the Challenger 300 series – which together with Global 5000/6000s are part of the Vista Global fleet – is at the "forefront" of the next round of STCs for KuSAT-2000.
However, aftermarket Challenger 350s still need a Ku-band antenna radome, he said. And consequently, Collins is "in the process of putting out the RFP for the Ku radome".
It's interesting to learn that tail-mount Ku radomes are a hold-up for some installs (in the past, RGN reported on how tail-mount installs of Inmarsat's Jet ConneX Ka-band solution on certain types were relying on Ku radomes until industry had the capacity and ability to catch up).
Collins is also "looking for a launch customer" for LuxStream on the Dassault Falcon 7X, said Quade. "We went out and are looking at the target aircraft and the 7X is the Falcons we're going after at this point. We want to equip any and all customers interested."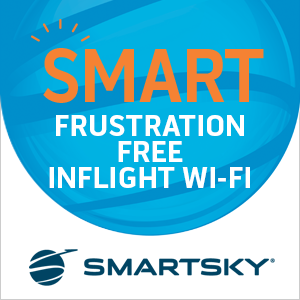 Notably, during the webinar, Oakland, California-based charter operator KaiserAir, Inc, recounted how it became an early adopter of LuxStream, and revealed why it selected the service over Jet ConneX.
KaiserAir director, maintenance marketing & business development Rick Brainard explained that in 2017, the firm installed a Ku tail-mount IFC system on a GIV-SP operated for a client who flies the Pacific regularly, runs his business out of the airplane, and needs to stay in contact with his team wherever he goes. But the service disappointed. And in 2018, after installing a fuselage-mounted Ku IFC system on an all first class-configured Boeing 737-800 that flies Oakland-Hawaii roundtrips every week, KaiserAir initiated conversations with Collins' ARINCDirect unit about becoming the service provider.
"And very quickly, we landed with a team of ARINCDirect and SES getting that system [on the 737] up and running, and it was shocking to me the difference in performance by the service providers from previous experience with the Gulfstream. We very quickly had the Boeing up and in network, and very quickly [were] able to push large amounts of data in the roundtrips." It almost passed 40 gigs of data on a 10-hour mission, he said. RGN revealed last December that Collins' excitement about LuxStream was buoyed by successful 737 test flights. It now appears that KaiserAir was the unnamed operator.
Brainard said KaiserAir was impressed with how SES and ARINCDirect worked together and addressed any issues that arose. "I naturally went back to ARINCDirect and put that system on the Gulfstream as well, and immediately it started performing the way we always wished it would perform." He noted that LuxStream has proven reliable, with fantastic coverage and that both systems – the tail-mount and fuselage-mount – "are working flawlessly". Passengers "use it for everything" and it makes them "feel like they're in their office or home" when crossing over into Hawaii.
Asked by the moderator why KaiserAir chose this service over Jet ConneX, Brainard said:
We studied that quite a bit. And we came to a couple of conclusions that were important to us. Number one, the Collins system in rough numbers is about half the price of what a JX system would cost, just as far as the physical installation, buying the system. So that's important right off the bat.

And the second thing was, it was a system we were familiar with, and we knew the potential of the system. We just needed to get to the right service provider…
RGN reached out to Inmarsat and asked it to address this claim about cost. Kai Tang, Inmarsat senior vice president, business and general aviation responded:
Our goal for Jet ConneX (JX) has never been to sell cheap hardware. Our focus will always be on delivering exceptional service and the best customer experience at the best value. Being the best for business aviation customers means not compromising with old technology or repurposed solutions.

Our best in breed partners like SD and Honeywell understand that, and invest continuously along with us to ensure JX remains the gold standard that customers expect.
RGN sought an update from Collins on how the new Astronics-made tail-mount antenna is performing. A spokeswoman said: "As far as performance, we have customers flying now with the Collins KuSAT-2000 and they have been pleased with the performance as well as the broadband speed that their passengers are getting. Collins Aerospace, SES and Astronics are all working very closely together to ensure a smooth entry into service for these first aircraft."
She noted: "For clarification, the antenna is referred to as the Collins KuSAT-2000 satcom terminal and is procured from Astronics." For its part, Astronics expressed satisfaction with the product in a recent press release.
When it comes to LuxStream, SES holds responsibility for the core Ku network, and Collins handles all aviation-centric components. Collins boasts to operators that it will be "your only provider for both the service and hardware, offer pricing options to meet your needs and monitors all data flow through our network 24/7/365".
While Collins and SES formally announced their LuxStream service in September 2019, it's clear they were working on the solution long before that. "We worked at length with SES before launching the solution to the market. The work was to ensure that when we did introduce LuxStream to the market, it met the needs of our customers –  a faster connectivity in the US, along with flexibility on how they paid for the service," said the Collins spokeswoman.
Brainard is certainly pleased, saying ARINCDirect and SES worked closely to address KaiserAir's needs "and we had never experienced that before".
LuxStream will compete rather directly in Ku BizAv IFC with Intelsat, which has promised a market update in the near-term, and is open to working with Gogo Business Aviation.
Those tracking this part of the industry are aware of its musical chairs in recent years, with Panasonic appearing to bow out of tail-mount Ku, Astronics pivoting from Intelsat FlexExec to LuxStream, and Gilat appearing to have hopes dashed for playing a role in a Gogo global Ku tail-mount solution, which has yet to come to fruition.
Main image credit, Collins Aerospace.
Related Articles:
Featured image credited to istock.com/Cavan Images