In what could be seen as a surprising win for a company that self-identifies as a "development stage service provider of inflight entertainment and connectivity solutions", US firm Aerkomm Inc. has forged an agreement with Airbus Interior Services (AIS), enabling its Ka-band IFC offering to be retrofitted to A320 family aircraft to facilitate onboard Internet for passengers. AIS CEO Joël Frugier tells Runway Girl Network that the Aerkomm K++-branded system is a generic Ka satcom solution, and not affiliated with the Inmarsat Global Xpress ecosystem.
Under the new pact, AIS will develop, install and certify Aerkomm K++ on an A320 test aircraft, to EASA and FAA certification standards. "Service Bulletins (SBs) and kits will be provided by AIS, applying Airbus expertise for A320 family customers. The agreement also includes Airbus support for the integration on aircraft, such as, but not limited to, the ARINC 791 structural reinforcements and engineering works," says Airbus in a statement.
"The Airbus Interiors Services Service Bulletin and Airbus kits for the Aerkomm K++ retrofit solution will be installed first on Hong Kong Airlines' fleet of 12 Airbus A320 aircraft," adds the airframer.
A five-year-old understanding with Hong Kong Airlines?
Aerkomm's principal operating subsidiary is Fremont, California-based Aircom Pacific, Inc. Its management team includes COO Georges Caldironi, a 25-year veteran of Airbus. "We are pleased that Hong Kong Airlines will be our first customer benefitting from this Airbus retrofit solution on their A320 fleet," says Aerkomm CEO Louis Giordimaina in a statement.
Panasonic and Thales each count Hong Kong Airlines as a customer for widebody IFC. An early batch of A350s, originally destined for Azul, carry Panasonic's Ku-band solution, while later deliveries feature Thales Ka (assumed to be Inmarsat GX service, as IFE and connectivity is coupled up on the A350). The arrangement with Aerkomm would bring another IFC provider into the mix at Hong Kong Airlines.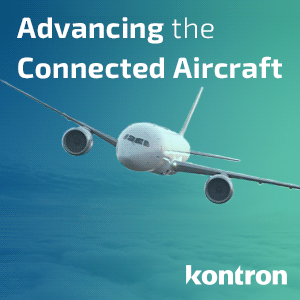 Runway Girl Network followed up with Airbus, inquiring specifically about whether the Aerkomm Ka-band system is intended to communicate with Inmarsat Global Xpress (GX) or if it would be a more generic Ka solution, able to communicate with various Ka providers outside of the GX ecosystem.
Joël Frugier, CEO at Airbus Interiors Services, explains: "The Aerkomm solution is from an independent system provider, with no connection to the Inmarsat GX ecosystem. It's a generic Ka-based solution. Airbus Interiors Services engineers and obtains certification for the integration of that solution on the whole Airbus A320 family."
Inmarsat GX connectivity – supported by Honeywell JetWave hardware and multiple value added resellers – has been linefit offerable across Airbus' commercial aircraft portfolio for years. Lufthansa is among GX's premier customers. While Viasat's Ka-band IFC hardware is not yet linefit offerable at Airbus, it has been retrofitted to Airbus aircraft by a number of airlines, including Finnair and SAS.
While the Aerkomm arrangement with AIS covers retrofits only, it shows a willingness on the part of Airbus to facilitate other Ka IFC solutions, and lend its expertise to the installs.
Cracking into inflight entertainment and connectivity
A read of Aerkomm's corporate web site – and that of its subsidiary Aircom Pacific – indicates that the company has been promising to deliver inflight entertainment and connectivity to industry for years. In a June 2015 announcement, it announced it would provide a dual Ku/Ka-band IFC system to Hong Kong Airlines.
For its part, Airbus first agreed to work with Aerkomm on the Ka-band IFC system for ACJs and "commercial" aircraft in 2018, according to an Aerkomm statement dated 29 May 2018. Aerkomm announced a firm agreement with Airbus in December of that year.
Given the volume of Aerkomm announcements, Airbus' formal statement about the partnership to bring the Aerkomm K++ system to Hong Kong Airlines' A320s is notable.
Exploration with Telesat
The Aerkomm K++-branded system is billed as being compatible with the "next-generation of satellites". Those satellites could include Telesat's forthcoming Telesat LEO constellation, as Aerkomm's Aircom Pacific subsidiary in June inked a cooperation agreement with Telesat "to assess the technical and commercial viability of incorporating the Telesat LEO network capacity into Aircom's portfolio and network". The cooperation agreement is subject to negotiation of a definitive agreement.
In a recent interview with Telesat director, product and commercial (global) Manik Vinnakota, RGN sought color about the arrangement. Vinnakota says Aircom Pacific is "creating a new integrated terminal" and wants to make sure it is compatible with both GEO and LEO satellites. "And once they get onto the aircraft, what's the retrofit required to make it as frictionless and minimal as possible?" So it is in this context that they are working together, he says.
The Telesat executive adds that Aircom Pacific is thinking about how IFC should be monetized, and "advertising, etc".
"We have become part of the Seamless Air Alliance since we last spoke and these are the questions we're trying to answer to make sure the passengers get connected," he says. Airbus is a founding member of Seamless, which wants to see industry pursue a modular platform architecture for IFC.
Aerkomm could not immediately facilitate an interview.