SmartSky Networks has filed a preliminary response to Gogo Business Aviation's challenge of 20 claims in its Patent 9312947. The patent covers a terrestrial based high-speed data communications mesh network – a key part of SmartSky's system – and is one of 170 patents now held by SmartSky.
Morrisville, North Carolina-headquartered SmartSky and Gogo are each working to bring their own brand of a nextgen air-to-ground inflight connectivity solution to the US market. Among the claims made by Gogo this spring, the Chicago-based firm said the figures and text of SmartSky's patent application did not depict or describe software defined radios for beamforming or multiple reuses of a same frequency "as recited in each of challenged claims 1-20" of the patent.
But in SmartSky's response, filed with the United States Patent and Trademark Office (pdf: Patent Owner's Preliminary Response) last month, its lead counsel made the case for why the firm believes Gogo's argument is based on a faulty premise and its request to the USPTO for an inter partes review (IPR) is without merit.
SmartSky president Ryan Stone tells Runway Girl Network: "While there are various specifics in our filing as to why the patent was validly granted and should remain valid, the crux of our argument is one key point. Gogo made a misguided attempt to redefine a commonly used industry term, a Software Defined Radio, in order to then argue that our patent should not be valid."
SmartSky's filing states:
… in all of these grounds, an element of the claims of the '947 patent is missing from all of the cited references. Petitioner's only attempt to address the missing element is to offer a proposed meaning for the missing element that essentially reads the missing element out of the claim entirely. The failure of all of the cited references to teach or suggest at least one feature of all of the claims of the '947 patent clearly establishes that institution of inter parties review should be denied.

In this regard, by proposing a meaning for a claim term that reads the missing element out of the claim, and then only building its case to establish unpatentability for a hypothetical claim that lacks the missing element, the Petition fails to establish a prima facie case of obviousness relative to the actual claims of the '947 patent, and the proposed grounds based on anticipation are also clearly baseless on their face.

Accordingly, the Board should deny institution of inter partes review since Petitioner has not shown a reasonable likelihood of prevailing with respect to at least one of the challenged claims in the Petition.
Stone says SmartSky believes that in order for Gogo's case to hold water "they had to first, and incorrectly, redefine a common industry standard term to suit their purpose".
"Our response provides the clear and compelling evidence that Gogo's redefinition is wrong, we provide ample evidence of the industry standard definition of a software defined radio, which when applied to this case proves why our patent was, still is, and should remain valid," he adds. "Gogo's misguided redefinition of a software defined radio could apply essentially to any radio made after the 1960s. We believe that is the wrong way to look at our patented invention, which is representative of advanced, modern technology."
RGN sought comment from Gogo. Company CEO Oakleigh Thorne says: "After reviewing SmartSky's response with our intellectual property counsel, we find their arguments contradictory, conclusory and unpersuasive. We continue to believe that the patent is invalid and expect that the IPR will be instituted."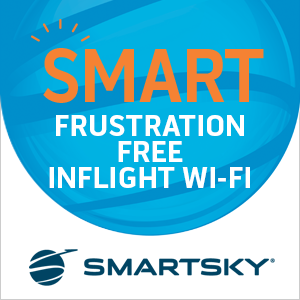 In a spring 2019 interview with RGN, Gogo's Thorne did not seem bothered by SmartSky's patent portfolio, saying: "We are very comfortable with our position and the technology we have and do not feel that they [SmartSky] have any patents that apply to us and are valid."
He tells RGN he believes his statement made last year "is completely consistent with our filing this petition. If we were not comfortable with our position, we would not have filed it."
SmartSky expects the USPTO to decide in September to either decline to initiate further action and effectively stand by its issuance of the SSN patent (similar to a summary judgment); or initiate the IPR and effectively move things to a formal proceeding in which each side presents its case. The process typically takes about a year before a decision is reached.
Stone reiterates that SmartSky is confident its intellectual property is unique and will stand up against any challenge. "We have invented a next-generation WiFi system that is substantially better than what Gogo has on the market," he states.
Related Articles: