There is no shortage of predictions about how inflight entertainment will evolve in a post-pandemic world. Will airlines grow to favor wireless-only solutions, and ultimately eschew seatback touchscreen monitors? Or will in-seat IFE be seen as an ideal mechanism for imparting new safety protocols to passengers on long-haul flights? Whichever way the landscape evolves, popular inflight moving map software provider FlightPath3D says it is positioned to support its airline customers' needs, and is setting the scene for them to drive fresh ancillary revenue streams.
Most major airlines don't have a single IFE vendor or architecture. For instance, Air France offers different generations of embedded IFE solutions from Panasonic and Safran (formerly Zodiac) on its long-haul aircraft. And the airline features Global Eagle's inflight connectivity and streaming entertainment service on short-haul aircraft. But FlightPath3D provides a moving map tailored for the Air France experience on all of these IFE systems. So it's accustomed to providing a consistent look and feel across a diverse fleet.
As airlines begin the road to recovery, their appetite for significant aircraft overhauls is low. But whichever way IFE systems go in the long-term, says FlightPath3D VP of marketing Jon Norris, it's "exciting for us in terms of opportunities". That's because FlightPath3D built its inflight moving map software to run on LINUX, iOS or Android and on any inflight entertainment system.
"We're now probably about 60/40 in terms of seatback and wireless, respectfully, and wireless has full functionality now of the seatback map," says Norris. "We can expand functionality and innovate on both platforms so we're trying to do whatever we can with the customer base to help them out."
Big data meets the moving map
The moving map is the most popular channel on IFE. Little wonder, then, why FlightPath3D has been cranking out new map software, even during the COVID-19 crisis. "A challenge is when we're integrating new software into OEM hardware, but we're getting around that, and continuing to supply software and will do whatever we can when it comes to supporting our customers," says Norris.
To wit, FlightPath3D has created a crisp new native 4K map, which is truly 4K and "not HD content upscaled to 4K", notes Norris. But it has also released new "Flying Over Places" map functionality, which auto-plays historical facts about over 50,000 points of interest (POI) as the flight progresses, and a new "Big Data Dashboard" to deliver insights to airlines about their passengers' content consumption within the moving map. These tools give airlines a window into where their passengers want to fly next, enabling them to predict demand for specific routes, and to ultimately serve up offers that might appeal to their passengers.
For example, says Norris, the platform sees a passenger is interested in San Francisco "and starts serving up more personalized content for San Francisco because it sees you've looked at that. And by the way, you can book a tour this afternoon."
Some offers could be exclusive, he says, "where a special deal is agreed between certain destination attractions and the airline; there's a wealth of possibilities on how to put this together. We're putting in place the mechanisms and platform that allows the airline to share this … and to use the data to a make a more attractive offer to passengers."
He adds:
We're trying to gather more data around what services passengers are interested in. Overwhelming, passengers want to see different transport systems, but tell me about trains and buses, tell me about other ride share services, so we're starting to look at how we combine that information and also making that easier.
This will help airlines maximize the "inflight wallet", i.e. what passengers are prepared to spend in-flight, enabling them to take a larger share of the travel wallet, which is what passengers usually spend when they arrive at their destination.
Indeed, capturing a greater share of the travel wallet in-flight will be "a big focus for the industry going forward", predicts Norris. "There are only so many fees that an airline can charge. It's a finite amount. You've got to look outside that and see what more can be done, see how that unfolds."
He urges airlines to "never underestimate the value you're offering to the customer who is sitting on your plane for 12 hours."
Ultimately, transactions could be processed in real time over inflight connectivity, but crucially, the passenger would not need to pay for an Internet session. So, in essence, the moving map would become a sort of soft walled garden where airlines can make attractive offers to customers, use a kiteline of connectivity to support the transaction and get a share of the revenue of what is sold.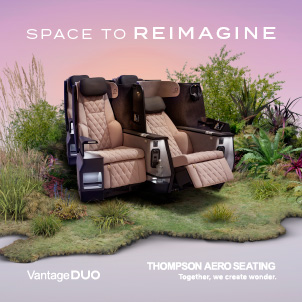 To be clear, this sort of e-commerce functionality via moving map is not yet happening, but it's "certainly an opportunity", says Norris.
Interestingly, while FlightPath3D also offers dynamic advertising as a feature, it is not seeing a vast number of airlines advertise against their content.
"We don't prescribe whether advertising should or shouldn't be included," says the FlightPath3D executive. "It's there if an airline wants to use it. It depends on an airline brand and how they want to communicate with passengers. Many airlines don't want to dilute and saturate the passengers' time on board with adverts. Some do, some don't, some have house ads, some have a selection of partner ads, it varies. All of it is possible," he says.
Related Articles: