Nextgen air-to-ground inflight connectivity provider SmartSky Networks has received $25 million from funds managed by the Global Credit Opportunities team at BlackRock, after surpassing what it is calling "an important network deployment milestone on its way towards beginning commercial operations during the second quarter of 2020".
Funds managed by the Global Credit Opportunities platform at BlackRock previously committed to a $75 million credit facility, with $50 million drawn initially. The final $25 million was contingent upon the company making "substantial progress" on its nationwide network rollout, which it achieved in November, according to SmartSky.
At that time, SmartSky president Ryan Stone told Runway Girl Network that the company had already deployed its equipment on over 200 cell towers and that the sites were either complete or just getting one final component – a remote radio head.
Based in North Carolina's Research Triangle, SmartSky has tested and demoed its low-latency ATG service on a Citation Excel testbed and other aircraft types for the last few years. During trials, passengers have been able to play the Fortnite video game in tandem with other high-bandwidth applications via SmartSky IFC, which is based on 4G LTE and emerging 5G technologies and is aimed at both the business aviation and commercial aviation markets.
"Customers have a huge pent-up demand for a fully capable airborne network that provides a phenomenal 10x better experience in the sky while also opening significant possibilities for advancing aviation in maintenance, environmental, operational, financial, and other areas," said Stone in a statement issued today.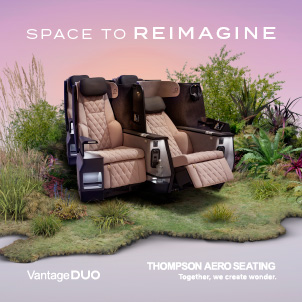 While SmartSky is focused on its rollout in the continental United States, including with launch customer JSX (formerly JetSuiteX), the company is fielding a lot of interest on the international stage, as there is "increasing awareness of the benefit of air-to-ground" connectivity, according to Stone.
Its Skytelligence digital solutions platform, which enables advanced applications and services, will help support the International Air Transport Association's crowdsourced effort to mitigate and avoid turbulence in real time. The results are expected to lower turbulence-related injuries, provide smoother flights, and save costly aircraft repairs for both business and commercial aviation.
Referencing the additional funding sourced through American global investment management corporation BlackRock, SmartSky chairman and CEO Haynes Griffin said in a statement: "SmartSky has consistently been able to attract capital from top companies because there is strong support for our technology in aviation connectivity. We appreciate the continued confidence from a respected and sophisticated firm such as BlackRock."
Related Articles: