A few years away from launching Ku-band aero service over a Low Earth Orbit (LEO) constellation of satellites, OneWeb is working to secure linefit approvals from airframers, and is finally nearing an announcement concerning which electronically steerable antennae (ESA) will support its aero service.
At the Aviation Festival in London and later at the APEX EXPO in Los Angeles, Runway Girl Network sat down with former Inmarsat executive Ben Griffin, who now serves as OneWeb's vice president for commercial aviation to get an update on OneWeb's aero initiatives.
Airbus in January said it is internally considering offering OneWeb connectivity on its aircraft, a natural extension for Airbus, whose OneWeb Satellites JV is building the satellites in Florida. While not yet at liberty to share specific details about OneWeb's progress with the European airframer, Griffin confirms that OneWeb is pursuing linefit approvals at both Airbus and Boeing, as well as other aircraft OEMs.
Says Griffin:
The OEMs are equally important to us because getting on linefit is clearly the important thing. Airbus have an interest in various parts of what OneWeb does, but we are active with both OEMs, trying to understand what their forward-thinking policy is and to make sure that we can leverage their working relationships.
OneWeb is eyeing both cabin and cockpit applications for its Ku-band LEO connectivity, with Griffin effectively confirming what Airbus' then-CEO Tom Enders said in January. "So, we don't really close the door at anything, as far as that's concerned," says Griffin. "So we're very keen to have a look at the whole breath of connectivity for the aircraft."
"Satcom guru" Peter Lemme insists that Airbus has absolutely no designs on ever considering OneWeb for safety services, specifically, saying publicly: "I assure you Airbus staff responsible for safety comms are at the front of the crowd dashing any connection between Ku/Ka and safety comms. Literally stamping out any talk of or even consideration of. 791, PP848 prime examples. Airbus prohibits any inclusion of ACD." So RGN sought clarity from Griffin. 
The OneWeb executive says:
I think it's safe to say on the Ku-band that true safety [services] is not an immediate aspect that we're looking at, although as safety standards or as the industry evolves of course, we'll stay right next to it and see what we do. But absolutely, anything we can address in the cockpit and the cabin, even the peripherals, the components of the aircraft, we've very keen to connect and derive the value from it.
At both shows Griffin also provided an update on the firm's (rather secretive) aero hardware selection process. While the company is still open to exploring new technologies, it has already made progress and assures that a hard announcement will be made soon.
RGN and indeed other journalists covering the space hope for serious clarity on this front, as Rockwell Collins (now Collins) in 2015 inked an MOU with OneWeb to be the "exclusive" provider of terminals in aero, and to serve as a VAR. In 2017, Rockwell unveiled a new dual-band phased array antenna to support OneWeb and other networks. But in 2018, Rockwell admitted it no longer expected to be the exclusive terminal unit provider for OneWeb. Since then, the firm has remained in stealth mode about its phased array antenna development.
"You know, we really try to keep certain things close to the vest," explains Collins head of connectivity strategy Richard Nordstrom. "And I would say that process is moving along very nicely. We're very pleased with it. We're in a good position. We're just not being, how can I say, talkative about it. We're not making noise in the market over it. We're waiting until we can not just talk about it, but prove it and show it. And I think that's what's important, something that we sometimes don't have in the industry. There's a little too much noise, but where's the beef shall we say. So we're bringing the beef,."
Technology-wise, OneWeb's terminal and service partner philosophy "is fairly open minded", Griffin says. "We are talking to a number of service providers both about leveraging existing or future terminal equipment – and I can't be more specific than that at the moment – but that could be anything from reusing existing technology to developing and integrating new electronically steered antennae."
He adds, "We're fairly open to people who want to talk about integrating what they have or what they are developing, but we are down a mature path with a number of providers. We are not far off being able to announce some of those. It's a matter of months." That seems like a reversal from the "exclusive" MOU approach taken years ago.
Indeed, Griffin does not discount the possibility of receiving new proposals from would-be partners. "The door is not closed and we want to make sure that what we take to the market represents choice and simplicity for potential customers, so we will entertain discussions as long as they take us down the right path of where they want to be," he says, but the focus now for OneWeb is on gaining a technical advantage for hardware as well as for the service.
"There's a complete difference in terms of design and specification for the onboard terminal [for LEO compared to GEO]. They have to be able to handle high throughput and have to be able to handle many multiples of satellite hangovers. Unlike the geostationary world, where on a long-haul flight here may be two or three or four satellite handovers, in the LEO world we're looking at a satellite handover every few minutes," Griffin notes. "There's more complexity and more pointing to be done. That's why we're looking at electronically steered vs mechanical. Mechanical antennae will struggle to keep up with the continual re-pointing."
Among the reasons why ESAs make sense for OneWeb aero service, says Griffin, is that it will "always be a constant service, across the poles as well. The other element is that the mechanically steered antennas tend to have significantly lower mean time between failures, so trying to maintain them, resource the maintenance of them, is simply unserviceable, from a passenger perspective. You can't offer connectivity for days, weeks or longer periods of time. Electronically steered antennas get away from that current situation so you should get significantly enhanced service." Indeed, on 4 September, OneWeb announced it will deliver 375 Gbps of capacity above the 60th parallel North. OneWeb boasted that there "will be enough capacity to give fiber-like connectivity to hundreds of thousands of homes, planes, and boats, connecting millions across the Arctic".
ThinKom Solutions has long suggested that its mechanically steered phased array architecture – which forms the basis of Gogo 2Ku – is suited to support OneWeb aero service, with CTO Bill Milroy telling RGN that one of the misperceptions about phased array is that it can only work in low latitudes. But ThinKom's antenna is "closing links pretty routinely at 5-degree elevation angle. These are flights going polar up into 77 North, generally from Asia to London Heathrow or into Scandinavia, very high."
OneWeb's Griffin notes that terminal size is an important consideration for the firm. "We're looking to reduce the impact of the size of the terminals as much as we can without losing performance. The beauty of electronically steered antennas that we are currently looking at have low profiles about two inches, including the radome on the fuselage. And we're very interested in discussions over where antennas are going from fuse mount to other types of installations. We're watching the technology very closely."
"The form factor [we're looking at] is standard ARINC 792 for the ones on the near-term horizon, anything else beyond that will be standardized. The ESAs that we're looking at for near-term activations when the service is ready, fit a form factor that is already endorsed and standardized."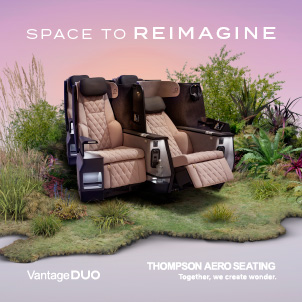 Griffin would not discount the possibility of selecting antennae that support hybrid LEO/GEO services where appropriate, saying that will be up to airlines, but the company's focus is on the power of its own network. OneWeb claims it will offer a whopping 25% of all global satellite capacity by 2024 and believes that its low-latency, high throughput, and pole-to-pole coverage will make OneWeb an effective stand-alone connectivity solution.
The OneWeb network, comprising 650 satellites, will be ready towards the end of Q4 2021, Griffin says, and he expects the availability of terminals, and the certification, to follow closely at the end of 2021 or beginning of 2022. "We fully expect the terminals to be linefit at Airbus and Boeing and potentially other OEMs, depending on the demand, and we expect to have STC readiness on a number of platforms for retrofit opportunities," he adds.
RGN's video interview with Griffin at the APEX EXPO is below. Additional reporting by Mary Kirby.
Related Articles: