Several years ago, when Lufthansa committed to orders for Boeing 777-9Xs and Airbus A350-900s, the carrier refused to be limited to the A350 catalogue. "We don't like the catalogue and we won't take the catalogue," Lufthansa Group's then executive vice president of fleet management, Nico Buchholz declared in 2013. Yet, even though the company's massive maintenance, repair and overhaul (MRO) unit, Lufthansa Technik, helps to serve as a pressure point in negotiations with airframers, Lufthansa Group airlines don't always get exactly what they want in terms of factory-fit #PaxEx hard product. As such, Lufthansa Technik is accustomed to modifying aircraft post-delivery.
Lufthansa Technik was certainly pressed into service on the A350-900 program. After taking delivery of its first -900 at the end of 2016, Lufthansa flew the aircraft to Munich where Lufthansa Technik executed a series of interior modifications, including installing premium economy and self-service racks in business class. A supplemental type certificate (STC) was issued by Europe's EASA to Lufthansa Technik, and Lufthansa launched A350 revenue service in 2017.
The STC process all sounds very straightforward – a national aviation authority approves a modification to an existing type-certified aircraft and an MRO firm makes said modification per the approved specifications. But the truth is that operators often face a number of hurdles when seeking to retrofit their aircraft with new cabins, inflight entertainment and connectivity systems, and avionics. For some, the airframers' catalogues simply aren't cutting it and they want to bring non-catalogue or customized solutions to their aircraft. "At the moment the modification product catalogue from the OEMs is exactly the same [as] the linefit catalogue so if you forgot to order a connectivity solution you can buy it afterwards. But that is the only solution. The need from the customer to customize the aircraft, it's not fulfilled by the OEMs at the moment," Lufthansa Technik senior director aircraft modification Henning Jochmann told Runway Girl Network.
If an airline opts to use a third-party STC, there may be questions about how the modification affects the warranty of the aircraft. And if the aircraft is leased, then the lessors' requirements need to be taken into consideration, as all retrofit decisions affect the asset and must be tracked. Describing the present complexity around simply documenting STCs, Jochmann said, "If you look to a bank or lessor that lease the aircraft, there are, for example, ten STCs on the aircraft and there's a transfer from one operator to the next operator. You have to talk to ten different companies and maybe two of them don't exist anymore so that's a headache for them. So that's why they like the OEM solution so much because there is only one channel with all documentation … So you can transfer very easily, your aircraft."
Yet if industry could agree to common standards for the documentation and quality of STCs, and establish a secure documentation platform for airline customers and aircraft owners using STCs, it is believed that some of the headaches associated with the process could be alleviated. That is why Lufthansa Technik recently established a task force of sorts with French retrofit specialist EAD Aerospace, Middle Eastern MRO Etihad Airways Engineering, and Envoy Aerospace, which assists clients in obtaining approvals for product development and retrofit programs, and is designated to act on behalf of the US FAA under what's known as Organization Designation Authorization.
The so-called Independent Aircraft Modifier Alliance (IAMA) is now in talks with and courting OEMs, airlines, suppliers and lessors as members because it is convinced that a transparent retrofit market will benefit everyone. EAD Aerospace and Lufthansa Technik "were the biggest competitors, so they would not have even sat together at one table a year back", Nicole Noack, aircraft modification – head of IAMA told RGN this spring at the Aircraft Interiors Expo in Hamburg. "We think that the challenges that the retrofit market brings to all of us we can face even better together in combining the strengths of the companies and future members to face those challenges." 
If IAMA can bring more confidence to the equation, it reckons it will also be able to drive additional interest in STC-approved solutions, and ergo business for its members. This effort should not be an entirely uphill battle for the group because, as Noack stressed to RGN, whether an aircraft operator opts to go with an OEM Service Bulletin (SB) or an STC by an independent company, the certification and the approval side is the same. "It is the same base; it is always going via an authority, EASA, FAA, you name it, and that is the minimum level you have to ensure there, and that is to put a safe retrofit modification in place." Moreover, between the four members "we have a lot of engineering, and reengineering capacity in-house" already, said Noack.
Indeed, it could be argued that Lufthansa Technik, alone, knows nearly as much about certain aircraft types as the airframers themselves. For instance, Lufthansa has operated the Airbus A320 for over 30 years, with its oldest A320 (MSN 69) having only recently been retired. "And so we see everything in this aircraft," said Jochmann, as the MRO has been reengineering for the type for decades. "So reengineering for this aircraft is very easy for us."
That's particularly important given that airframers can be reluctant to share their IP in support of STCs, especially on brand new aircraft. "That is a big discussion at the moment because there are different standpoints," said Jochmann in reference to IP sharing. Understandably, airlines believe that once they've acquired an aircraft, they should be able to modify it as they see fit, "and of course the OEMs have a different opinion about this. It is the same with the data of an aircraft."
Noack agreed, saying it is a "challenge" faced by all IAMA members. "So it's not only on the brand new aircraft, it's also on the other ones. So all of the IAMA members respect the IP coming from the OEM … as they respect the IP of each other. Otherwise those guys wouldn't sit on one table right. So, of course we seek solutions together with the manufacturer OEMs. Hopefully, with a better STC standard, they feel that they can really have a reliable source also for STCs."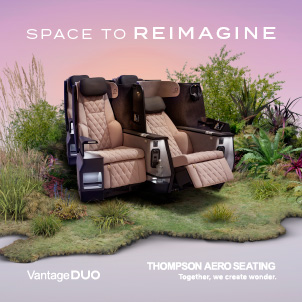 IAMA is optimistic that the major airframers will come on board as members, but if they do not, "that is not a killer argument", said Noack, as they'll still benefit from IAMA's work. Stressing that IAMA's goal is to improve security, safety and integrity of the STC process – i.e. directly addressing airframers' fears about third-party STC work – Noack said IAMA "will still receive all the demands coming out of the lessors and operators' side" and draw on its rigorous engineering base to meet their needs.
In short, IAMA members can offer a broader product catalogue to the market that fulfills airlines' unique needs, whilst ensuring that the alternative STC solutions are "on the same level, like the SB", said Jochmann. And they'll address the documentation side via a secure platform.
Admittedly, said the Lufthansa Technik executive, it is easier to simply have the IP. "Of course it is easier; you have the document and everything is there. But we don't need it. That is important to know. It takes a longer time. We have to do some things, absolutely, but with our experience – with all four members – we are able to do this."
Notably, IAMA's formation comes at a time when Airbus is bringing more and more cabin upgrades in-house, with an eye on the lucrative MRO market. Given the fact that each IAMA member has vast knowledge of systems design and certification, it seems smart for them to build this alliance at this time.
As EAD Aerospace head of airworthiness office Romain Mbwang Seppoh told RGN: "We develop all the environment of the aircraft, how it is flying, how it is behaving, what is the structure of the aircraft, we develop all of this – we are building our own environment." And at the the end of the day, IAMA members are "answering to exactly the same regulation" as the OEM airframer.
"It's a lot of work," admitted Noack, "but it's the magic of engineering."
Related Articles:
Image at top credited to Lufthansa Technik