As the planet confronts an environmental crisis, airlines face increasing scrutiny and public pressure to improve their environmental credentials. An anti-flying movement which started in Sweden is gaining momentum in other European countries, bringing attention to aviation's contribution to climate change. The phrase "flight shame" is now on the International Air Transport Association's radar. The group is responding with concrete plans to cut CO2 emissions, adopt new aircraft technologies and sustainable fuels, and address infrastructural issues.
During this week's IATA AGM in Seoul, airlines signed a resolution calling on governments to implement ICAO's CORSIA carbon offsetting scheme for carbon neutral growth for international airlines by 2020. IATA members also repeated their commitment to cutting emissions by half by 2050, using 2005 levels as the baseline.
"Aviation is the business of freedom. For 4.6 billion travelers it is their freedom to explore, build business, or reunite with friends and family. The economic benefit of this is 65 million jobs and a $2.7 trillion boost to the global economy," said IATA Director General and CEO Alexandre de Juniac.
"Aviation is growing responsibly to meet this demand. From 2020, for example, the industry will achieve carbon-neutral growth. And that is on the way to the much more ambitious goal of cutting emissions to half 2005 levels by 2050. We are determined to deliver sustainable global connectivity through aviation."
Airlines have been calling on their governments to help advance development of alternative sustainable fuels and invest in more efficient infrastructure. Many operators have also expressed a commitment to new technologies, including the development of more fuel efficient aircraft and a focus on weight-reduction.
Cathay Pacific chairman John Slosar believes new, more fuel-efficient aircraft are key. "Aviation efficiency goes up about 15% every ten years. So if you're two generations behind [with your fleet] you're 30% behind in terms of eco-efficiency," he said last week during a Wings Club luncheon in New York.
Slosar also pointed to the efforts of Fulcrum BioEnergy, which is turning municipal solid waste into jet fuel. Cathay Pacific has both invested in the business and committed to a long-term jet fuel supply agreement. Slosar noted that a Nevada plant is set to open next year, and the firm is "trying to prove there is a scalable technology" because one of the big questions around biofuels is – how do you scale it and prove its efficiency?
IATA director, aviation environment Michael Gill said at the IATA AGM that sustainable aviation fuels, which are already being used on certain commercial flights, will have the potential to cut emissions by up to 80%. "Airlines have been investing in lightweight seats and cabin equipment and even replacing heavy pilot manuals with tablet computers."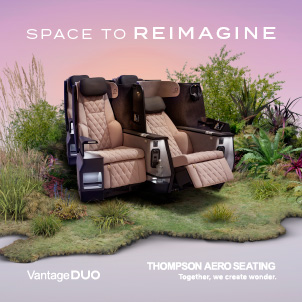 Gill also called on governments to ensure that airlines have infrastructure "which relates mainly to navigational improvements, making better use of airspace and streamlining the routes taken by aircraft to cut down on flight time, and optimizing airport layout to improve throughput".
Some of this is already in progress, including the adoption of satellite-based navigation, the FAA's own NextGen program, and similar initiatives. But there are some notable gaps, especially in Europe where the airspace is constrained by multiple jurisdictions. IATA claims that implementation of the long-delayed Single European Sky ATM Research program could help cut 18M tonnes of CO2 annually in Europe.
Cabin waste was also on the environmental agenda at AGM. In 2018, airlines generated around 6.1 million tones of cabin waste of which 20-30% was untouched food and drink.
"IATA has developed cabin waste recycling guidance for international flights to ensure airlines are able to meet the requirements of the most stringent regulatory regimes globally, is flexible enough to accommodate a wide variety of airline operating models and incorporates best waste management practices from within the aviation industry," said Gill.
While generally supporting the reduction of single-use plastics, IATA raised concerns that alternatives should not add weight to operations, reversing progress on fuel-savings. "Environmental impacts to take into consideration include increased enter by and water consumption from cleaning and return logistics, water pollution from washing, as well as CO2 emissions that result from heavier materials carried onboard aircraft," said Gill.
Airlines also hope that new aircraft designs will help further cut fuel use. During Airbus Innovation Days, SAS and Airbus announced a project to study hybrid electric propulsion for commercial aircraft.
Also during the AGM, KLM and TU Delft revealed a design for an alternative "Flying-V" aircraft (pictured at top), which would be more fuel efficient.
Some airlines expressed an openness to multi-modal transport as part of long-term industry sustainability. KLM CEO Pieter Elbers said that, if Europe were to offer more efficient high-speed rail systems, he would support intermodal alternatives, even if it meant curbing some short-haul flight routes.
He suggested that a greater reliance on rail for shorter journeys may be necessary to address airport and air traffic management infrastructure constraints on growth.
The environmental movement is also putting pressure on low-cost airlines to address the impact of their operations too. Today, Ryanair became the first airline in Europe to commit to publishing monthly CO2 emissions statistics, reporting an average of 66g CO2 per passenger/km for May 2019.
Related Articles: