ThinKom Solutions, Inc. today announced the completion of successful live demo tests of its ThinAir® Ka2517 antenna with Newtec next-generation satellite modems over Avanti's HYLAS 4 satellite.
ThinKom confirmed that the on-air tests achieved data rates up to 260 Mbps downlink and 50 Mbps uplink error-free at elevation angles from 27 to 57 degrees.
The tests were conducted May 1-2 at Herndon, Virginia as a collaborative effort by ThinKom, Newtec, COMSAT and Avanti. ThinKom's phased-array antenna was integrated with Newtec's MDM6000 modems operating in SCPC mode to Avanti's Gateway Earth Station in Cyprus. The communication link was coordinated and overseen by COMSAT using one of Avanti's high-throughput steerable beams operating off its HYLAS 4 geostationary satellite. COMSAT can offer direct downlink from European and African theaters by way of the Avanti anchor beam to the U.S. East Coast in either commercial or military Ka-band frequencies.
"The high throughput rates over Avanti's network exceeded those we have previously achieved with the Ka2517 and Newtec's modem technology," said Bill Milroy, Chief Technology Officer, ThinKom Solutions. "The combination of our proven compact phased-array design with Newtec's modems and Avanti's high-throughput Ka-band satellites provides a capability that significantly outperforms other flat-panel products."
"ThinKom's antennas have proven themselves in a variety of environments and use cases in air, on land and at sea," said Andrew Faiola, Newtec's Head of Mobility. "Combined with Newtec Dialog, throughput performance exceeds all expectations, opening up many exciting new opportunities for reliable high-speed connectivity for aeronautical and land-mobile communications."
The Ka2517 antennas are available in both military and commercial Ka-band variants and are in production with units in active service aboard several U.S. government aircraft.
About ThinKom Solutions, Inc.
ThinKom Solutions, Inc.  is a leading provider of innovative, highly affordable, compact broadband antennas and products for aeronautical, vehicular, user terminal, gateway, satellite and man-portable applications. The company's primary products uniquely enable near-term worldwide availability of high-data-rate connectivity in the X-, Ku-, Ka- and Q-bands. ThinKom offers a range of reliable, proven technology solutions for the consumer, enterprise, first responder, civil, military and intelligence communities.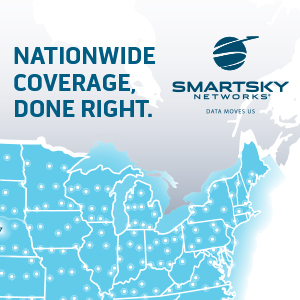 About Newtec
Newtec is specialized in designing, developing and manufacturing equipment and technologies for satellite communications. As a pioneer in the industry, Newtec is dedicated to creating new possibilities for the broadcast, consumer and enterprise VSAT, government, cellular backhaul and trunking and mobility, offshore and maritime markets. Newtec's products and technologies can be applied in a wide range of single and multiservice applications from DTH broadcasting, video contribution and distribution and disaster recovery and backbones for cellular backhauling, to small and medium enterprises, SCADA and oil and gas networks, aircraft and vessels. Newtec is a European company headquartered in Sint-Niklaas, Belgium. Through additional commercial offices in Dubai (UAE), Singapore, Beijing (China), Sao Paulo (Brazil) and Stamford, Connecticut (USA) as well as an extensive network of over 100 certified partners, Newtec can meet customers' needs worldwide.
About COMSAT
COMSAT, Inc. is a leading operator of customized, secure end-to-end satellite communications services. We deliver a full portfolio of fixed satellite solutions (C-Band, Ku-Band, Ka-Band, X-Band and UHF) and mobile satellite solutions (Inmarsat, Thuraya and Iridium) to aeronautical, land-mobile and maritime users in multiple markets, including U.S. government and military, global governments, educational institutions and commercial maritime. COMSAT owns and operates two teleports located in Southbury, Connecticut and Santa Paula, California that provide various communications and data center services to commercial, government and educational institutions worldwide including end-to-end connectivity, co-location and research efforts, critical data backup and recovery, satellite and terrestrial network data center, cloud and cybersecurity services.
About Avanti
Avanti connects people wherever they are. Through the HYLAS satellite fleet and partners in 118 countries, Avanti's network provides ubiquitous internet service to an end market of over 1.7bn people. Avanti works together with like-minded people and organizations to go the extra mile, developing new, innovative and pioneering satellite solutions that help to liberate the potential of people, businesses and government departments across EMEA. Avanti has invested $1.2bn in the latest Ka-band satellite technology and shaped it to meet customers' aspirations. Avanti Communications is listed in London on AIM (AVN: LSE)
Photo Caption: Demo tests with ThinKom Ka2517 phased array revealed extremely high throughput rates over Avanti HYLAS 4 Satellite