The FAA has published its 20-year Aerospace Forecast for fiscal years 2019-2039, predicting steady growth in commercial aviation, despite economic softening in certain global markets. For air traffic control infrastructure in the US, this growth will pose a challenge especially in cities that are already congested.
"Activity at FAA and Contract towers is forecast to increase at an average rate of 0.9% a year through 2039 from 51.8 million in 2018 to close to 62 million in 2039," the FAA states.
The highest demand at these ATC facilities is expected from commercial operations, including airlines and commuter/air taxi services, which are forecast to increase at a rate five times faster than non-commercial operations.
The FAA believes that commercial operations will increase at a slower rate than US passenger numbers (1.5% annual rise in flight traffic versus 2.0% annual rise in passenger traffic). To avoid adding flights, the agency expects airlines will increase seat capacity per airplane by increasing cabin density and operating larger aircraft.
It also predicts airlines will keep high passenger load factors, peaking at around 86.6%.
Demand at towered airports will vary, with a concentration of flying through the country's 30 large hubs and 31 medium hub airports; these primarily serve commercial flights and account for the most passengers (88% in 2018).
"Given the growth in airline demand and most of that demand is at large and medium hubs, activity at the large and medium hubs is forecast to grow substantially faster than small towered airports including small FAA towers and FAA contract towers," the FAA states.
"The forecasted annual growth is 1.6% at large hubs, 1.3% at medium hubs, 0.5% at small FAA towers and FAA contract towers between 2019 and 2039."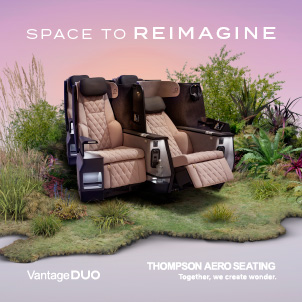 Weather disruptions and seasonal disruptions will continue to trouble a larger number of passengers as high demand routes remain unchanged.
"Among the 30 large hubs, the airports with the fastest annual growth forecast are those located along the coastal sections of the country where most large cities are located," the FAA states. "Large cities have historically shown to generate robust economic activity, which in turn drives up the airline demand. On the other hand, the airports forecast to have slower annual growth tend to be located in the middle of the country."
Additionally, it states, "FAA Tracon [Terminal Radar Approach Control] Operations are forecast to grow slightly faster than at towered facilities. This is in part a reflection of the different mix of activity at Tracons. Tracon operations are forecast to increase an average of 1.1% a year between 2018 and 2039. Commercial operations accounted for approximately 59 percent of Tracon operations in 2018 and are projected to grow 1.5 percent a year over the forecast period."
The FAA also expects En-Route Centers will handle a greater number of Instrument Flight Rules (IFR) aircraft, increasing from an estimated 26,692 aircraft handled in 2018 to 41,097 in 2039.
Commercial space flights will also put a strain on US ATC infrastructure over the next 20 years.
The FAA takes what it describes as a "conservative" approach to commercial space activity forecasts, rather than rely on what the agency calls "an inherent bias by industry to be optimistic about their business prospects." Even with a cautious forecast, the FAA expects significantly higher launch activities ahead, and is planning for those.
"This includes an increased presence at the Air Traffic Control System Command Center and other locations to assist in the strategic and tactical planning of launch and reentry operations, as well as to provide support during these operations," the FAA states.
"Further, FAA will continue the development of technologies to facilitate safe and efficient integration of commercial launch and reentry operations into the NAS [National Airspace System], including technologies to improve the integration of launch and reentry data into FAA air traffic control systems and technologies to improve the timely and accurate development and distribution of notices of notices of aircraft hazard areas."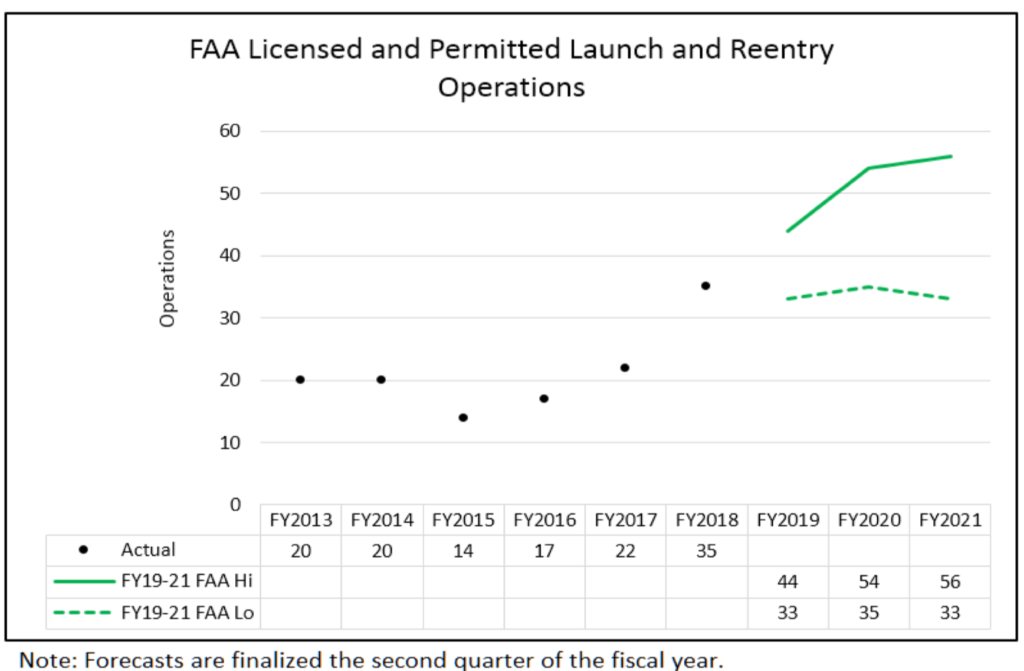 Related Articles: