ThinKom Solutions, Inc., today announced the successful completion of in-flight connectivity trials of its ThinAir® Ka2517 phased-array antenna mounted on the Proteus high-altitude long-endurance aircraft.
The Proteus satellite data communication package was developed as a joint effort involving ThinKom, Inmarsat Government and Scaled Composites. The trials included initial tests in Chantilly, Virginia and the Mojave Air and Space Port, California, culminating in a series of demo flights at White Sands Missile Range, New Mexico.
The ThinAir antenna delivered a 25 Mbps return link and a 5 Mbps forward link operating at over 50,000 feet altitude through an Inmarsat Global Xpress Ka-band satellite in geostationary orbit. The phased array maintained connectivity to the satellite each flight, including during take offs, in-flight maneuvers and landings. Further, the ThinAir antenna was able to send the full 25 Mbps from the aircraft at an elevation angle of 25 degrees, while providing data rates of 12 Mbps at elevation angles as low as 15 degrees.
ThinKom supplied the Ka2517 phased-array antenna in a low-profile 7.8-inch high radome, along with an adaptor plate, antenna controller and transceiver electronics. Scaled Composites designed and built a custom fairing to mount the radome on the aircraft's fuselage and integrated the ThinKom system with the payload on the aircraft.
Inmarsat Government developed and provided the system's modem manager, PRO-MODMAN, designed specifically for the Ka2517 to operate on Inmarsat Global Xpress Ka-band steerable beams. The PRO-MODMAN integrates the capability of a DVB S2X modem with the flexibility of an OpenAMIP configurable system controller.
"These successful in-flight demonstrations further validate the ThinAir Ka2517's capability to provide uninterrupted broadband connectivity with near-zero aerodynamic drag – an important consideration for many classes of UAVs and long-endurance missions flying at extreme altitudes," said Bill Milroy, Chief Technology Officer of ThinKom Solutions. "I would like to thank the superb engineering teams from Inmarsat Government and Scaled Composites who worked with us to achieve this important milestone. This was truly a team effort."
"Inmarsat Government was pleased to support this important joint demonstration using the Inmarsat Global Xpress capability. The results of the trials proved, once again, that highly mobile government customers can rely on Global Xpress – a globally-available high-throughput, flexible and interoperable connectivity solution that provides coverage wherever and whenever required," said Steve Gizinski, Chief Technology Officer, Inmarsat Government.
Proteus is a twin-turbofan tandem-wing aircraft originally developed and built by Scaled Composites in 1998. It is currently owned and operated by Scaled Composites. The experimental aircraft is designed to carry payloads up to 2,000 lbs. at altitudes from 50,000 to 63,000 feet and remain on station more than 14 hours. It is intended to support the demonstration of piloted and UAV missions, including telecommunications, reconnaissance, atmospheric research, commercial imaging and space launch.
Photo Caption: ThinKom Ka-band phased array antenna mounted on Proteus aircraft.
About ThinKom Solutions, Inc.
ThinKom Solutions, Inc. is a leading provider of innovative highly affordable compact broadband antennas and products for aeronautical, vehicular and man-portable applications. The company's primary products uniquely enable near-term worldwide availability of high-data-rate connectivity in the Ka-, X-, Ku-, and Q-bands. ThinKom offers a range of reliable, proven technology solutions for the consumer, enterprise, first responder, civil, military and intelligence communities.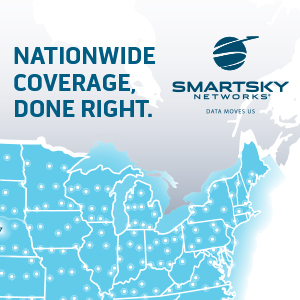 About Inmarsat Government
The U.S. government has relied on and trusted Inmarsat satellite services since 1979. Inmarsat Government continues to deliver the world's most advanced global, mobile satellite communication services to U.S. defense, intelligence, homeland security, public safety and civilian agencies, with highly reliable, secure and affordable connectivity. Built with government users in mind, Inmarsat Government provides resilient, flexible capabilities to augment government satellite resources, anytime, anywhere. Leveraging an industry-leading scalable multiband network infrastructure, Inmarsat Government offers a suite of managed network services and end-to-end communication solutions to support users on land, at sea and in the air, even in the world's most remote regions. Headquartered in Reston, Virginia, Inmarsat Government is a wholly-owned subsidiary of Inmarsat plc.
About Scaled Composites
Scaled Composites is an American aerospace company founded by Burt Rutan  that is located at the Mojave Air and Space Port, Mojave, California. Founded to develop experimental aircraft, the company now focuses on designing and developing concept craft and prototype fabrication processes for aircraft and other vehicles.