Inmarsat, the world leader in global mobile satellite communications, has certified Smart4Aviation's Electronic Flight Bag (EFB) application, Smart MOBILE, for use on its award-winning SB-S digital aircraft operations platform.
Smart MOBILE is a unique solution that allows pilots, cabin crew and other airline employees to access, complete and submit documentation quickly and efficiently on their mobile devices via a single portal, helping to increase productivity, operational awareness and efficiency. It also enables peer-to-peer communication, ACARS messaging and provides instant access to briefing packages and important flight-related information, such as up-to-date weather reports and potential load, fuel and hazard alerts.
The application can be tailored to match each airline customer's exact requirements to deliver tangible cost savings. Benefits include a reduction in the frequency and duration of flight delays, together with improvements to on-time performance. In addition, increased automation and real-time information translates to a reduction in workload, resulting in less bottlenecks for both flight and cabin crew.
Smart MOBILE is the latest in a range of value-added operational and safety applications to be certified via Inmarsat's Aviation Certified Application Provider (CAP) programme for SB-S. Other available applications include flight profile optimisation, weather information, digital navigation charts, and aircraft diagnostics and performance monitoring.
Mike Lewis, CEO of Smart4Aviation, said: "We are excited about this partnership, as it allows us to take another major step forward and enhance our products within a connected aircraft environment. Inmarsat is a leading provider of satellite communications solutions to airlines, operators and passengers worldwide, keeping people and systems connected at thousands of feet in the air. Together, we will be able to provide real time situational awareness to flight crew during all flight phases. These benefits will result in more efficient decision making, leading to less disruption resulting in increased cost savings and enhanced flight safety. Together with our new partner, we are ready for the future."
John Broughton, Senior Vice President of Aircraft Operations and Safety, Inmarsat Aviation, said: "Smart4Aviation is a global industry-leader in proving best-in-class EFB technology to airlines. With the launch of Smart MOBILE on Inmarsat's SB-S, we look forward to bringing Smart4Aviation's innovative solutions to our commercial airline customers, driving operational efficiency and enhancing safety with a cost-effective, tailored offering."
The SB-S digital aircraft operations platform is powered by Inmarsat's advanced global L-band satellite constellation, which has underpinned safety services for 40 years. Inmarsat is scheduled to launch two additional L-band payloads in 2020 and 2021, further cementing its long-term commitment to offering highly reliable services over this spectrum.
PHOTO CAPTION: Smart MOBILE is now available on Inmarsat's award-winning SB-S digital aircraft operations platform
Smart4Aviation's Smart MOBILE application includes the following components: BRIEF (Pilot Briefing, Navlog and Fuel Ordering), BRIEF CABIN (Cabin Crew Briefing), CREW INFO (Calendar & Roster), DOC (Operational Manuals), eFORMS (Electronic Forms) and COMM (Communication & Alerting). Learn more about Smart4Aviation and Smart MOBILE here.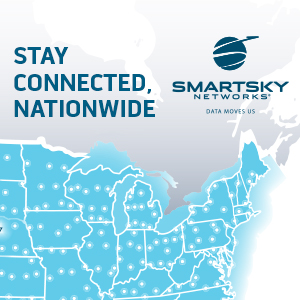 About Inmarsat
Inmarsat is the world leader in global, mobile satellite communications. It owns and operates the world's best global portfolio of satellite networks, specifically designed for customer mobility, and holds a multi-layered, global spectrum portfolio, covering L-band, Ka-band and S-band, enabling unparalleled breadth and diversity in the solutions it provides.  Inmarsat's long established global distribution network includes not only the world's leading channel partners but also its own strong direct retail capabilities, enabling end to end customer service assurance.  The company has an unrivalled track record of operating the world's most reliable global mobile satellite networks, sustaining business and mission critical safety & operational applications for 40 years. It is also a major driving force behind technological innovation in mobile satellite communications, sustaining its leadership through a substantial investment and a powerful network of technology and manufacturing partners.   Inmarsat operates across a diversified portfolio of sectors with the financial resources to fund its business strategy and holds leading positions in the Maritime, Government and Aviation satcoms markets, operating consistently as a trusted, responsive and high quality partner to its customers across the globe.
About Smart4Aviation
Smart4Aviation is a company founded to provide web based and mobile products and services to optimize, simplify and improve airline operations. The company is committed to the delivery of single, modular solutions which create a unique IT ecosystem, supporting all domains of aviation operations. Web-based applications are accessed through modern, light-weight technologies and endpoints, with the intent of providing the best possible user experience and operational benefit to S4A customers. S4A goal is to provide tools that airlines can use to solve problems, generate productivity and efficiency gains, and increase levels of operational awareness and communication for both operational staff and flight crew. Smart4Aviation is headquartered in Amsterdam, the Netherlands with its development offices located in Gdansk and Krakow, Poland. It also conducts business activity in Toronto, Canada and New York City, USA.