Philippine Airlines (PAL) is soaring towards a 5-Star flying experience, as the award-winning Filipino flag carrier equips its long-haul fleet with SITAONAIR's high-speed inflight connectivity (IFC) services over GX Aviation.
PAL understands that enhanced passenger experience is the key to its product offering, now and into the future, hence the decision to let PAL passengers enjoy speedier and more user-friendly Wi-Fi service through myPAL Wi-Fi Hi-Speed available on US, Canada, and London flights. This new milestone, following a series of innovative product and service upgrades rolled out in recent months, demonstrates why PAL was voted the No. 1 Most Improved Airline in the World by airlineratings.com for 2019.
PAL now offers complimentary Wi-Fi to all passengers. This improved Wi-Fi product also allows passengers to stay connected longer with an affordable renewal plan.
This latest move by PAL comes at a time when demand for IFC continues to accelerate. Inmarsat's 2018 Inflight Connectivity Survey – Global Whitepaper found an overwhelming 86% of Asia-Pacific flyers would use inflight Wi-Fi if available on their next flight, with 78% declaring themselves more likely to rebook with an airline if high-quality Wi-Fi was available.
SITAONAIR has now activated GX Aviation's high-speed broadband network, and its best-in-class IFC portal Internet ONAIR, aboard PAL's new-generation aircraft. SITAONAIR's solution is empowering PAL to deliver the promises of the connected aircraft, with 'at home' connectivity services to satisfy passengers' growing digital demands.
SITAONAIR's associated rapid-fire installation of GX Aviation for Philippine Airlines also represents a fantastic feat, with new techniques reducing the associated aircraft ground time by up to 70%. Previously, installing inflight connectivity services typically took about 15 days per aircraft to complete, but SITAONAIR achieved this in just 4 days – a dramatic reduction.
Philippine Airlines President and Chief Operating Officer, Jaime Bautista, said: "We are delighted to have long-term partner SITAONAIR join us on our journey towards achieving the coveted 5-Star Skytrax rating. We are taking our inflight passenger experience to the next level with SITAONAIR's nose-to-tail inflight connectivity services over the high-speed capabilities of GX Aviation. We have high hopes that our partnership will help us achieve our mission of enhancing the total passenger experience while achieving operational efficiency. Our message to our passengers: 'Fly on PAL's long-haul routes and enjoy inflight connectivity at its finest'."
Katrina Korzenowski, SITAONAIR Vice President, Asia Pacific, added: "With our customizable Internet ONAIR portal, Philippine Airlines will be equipped to provide its most enhanced, brand-defining, personalized passenger experience yet, from the forefront of the connected aircraft age. PAL is a highly-valued customer, and we are of course incredibly proud to be supporting the Philippines' flag carrier as it drives forward its ambition to achieve a 5-Star Skytrax rating.
"SITAONAIR's work with PAL is just one example of its mission to deliver end-to-end, future-proof connected aircraft innovations that incorporate the latest, best connectivity technologies to our airline customers' unique specifications. We are truly a one-stop-shop with the expertise to empower airlines to achieve their bespoke connectivity ambitions, whatever their fleet or avionics preferences."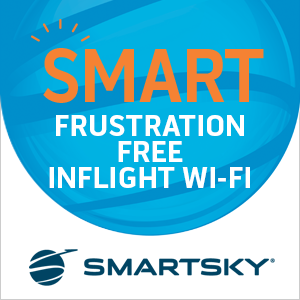 About SITAONAIR
SITAONAIR is the air travel industry's trusted connected aircraft service expert, powering innovation with recognized expertise and future-proof solutions. With our unrivalled industry-backed heritage, SITAONAIR delivers the promises of the connected aircraft, empowering 400+ airlines, 60+ ANSPs and 17,000+ aircraft to navigate the complexity of connectivity with our best-in-class solutions and services for passengers, cockpit and cabin crew, flight operations, aircraft big data and air traffic management. We believe that embracing a digital shift will reinvent the operation of aircraft, flight and on-board experience – making it safer, more efficient and enjoyable.
SITAONAIR is a subsidiary of The SITA Group, the communications and IT solution provider that transforms air travel through technology for airlines, at airports and on aircraft.