The preliminary report published last week by Ethiopian investigators that Flight 302 crew followed the MCAS fault recovery procedures tabled by Boeing and approved by the FAA in the wake of the Lion Air Flight 610 crash sent Runway Girl Network journalists into overdrive at the Aircraft Interiors Expo (AIX) in Hamburg.
Firstly, as noted by RGN contributing editor Marisa Garcia, "It's a time of great uncertainty, but the most important thing to remember is that there was loss of life, and that cannot be happening, period. There's a zero tolerance policy on safety in aviation, so whatever it takes at this point to be able to tell the flying public, 'You're okay to get back on this aircraft, we can promise you you're going to be fine', and for everyone to feel comfortable with that, including people within the industry, do it, whatever it takes. They have to."
Passenger experience (#PaxEx) suppliers to the Boeing 737 MAX are already re-evaluating sales targets, with some stakeholders lamenting at AIX that their near-term forecasts for MAX content have fallen off a proverbial cliff. And investors are wondering if Boeing's ability to sell the 737 MAX will be impacted in the long-term.
"We do products for the MAX, if there are programs cancelled, yes [this will affect us], because we have forecast out up to 48 months and we have won new business based on confirmed orders," a MAX #PaxEx supplier told RGN at AIX. "We looked at all of that before we came here. The exposure [for us] is minimal because other things will slot in."
But with the FAA under scrutiny for its certification oversight, fears are mounting that safety regulators around the globe – many of which have operated in lock step with the FAA – will slow the pace of system certifications out of either an abundance of caution or necessity. So, there are broader questions to ask about the knock-on effect to certification protocol, including the Supplemental Type Certificate (STC) process followed by industry for certifying and installing new-design aircraft seats, inflight entertainment and connectivity (IFEC) systems, stowage systems and other #PaxEx products.
Those questions are valid. Daniel Welch, who works as senior research consultant at UK-based market intelligence firm Valour Consultancy, told RGN at AIX:
I've been looking at it quite closely. From our side, the big interest has been from India and China; there is a vast amount of aircraft on order for the 737 MAX, and what that means for like Jet Airways and other airlines that have huge backlogs. Particularly in China where you've got the Comac [C919] aircraft soon to come out, whether that plays into the hands of the Chinese regulators, who have been working quite closely with the FAA on rushing through certification of Chinese-based Boeing 737 aircraft or Boeing aircraft. So, that could have a massive implication for just the way in which the regulators communicate, and the hierarchy, the reputation of the regulators. That could have a big impact.
He later continued, "It will have ripples worldwide, without claiming to be an expert in this bit [certification], I certainly see ripple effects across the market … There's obviously a lot of people that are looking at this very closely now because what that will do is it might prolong the whole process from an STC standpoint, and that's obviously one thing that would have a massive affect across [the industry]." That includes the inflight connectivity sector, a market that Valour monitors closely. IFC providers could face "a massive delay potentially on the rollout" of connectivity if regulators slow the pace of certifications, suggested Welch.
Global Eagle's Ku-band satellite-powered IFEC solution is already linefit offerable on the MAX, and flown by MAX operator Southwest Airlines. The company last month suggested that it expects to see 40 to 50 MAX aircraft installed with its hardware this year, with most installs occurring in the latter half of the year. RGN has since sought an update from Global Eagle management, given Boeing's announced production cut.
Acro Aircraft Seating, whose Series 3ST seat is linefit offerable on the A320, has been speaking to Boeing to gain catalog offerability after successfully rolling out the seat on the 737 on a retrofit basis. Asked by RGN if Acro is concerned about certification work being pushed back, Acro key account manager Jermone Lawler said: "Not so much concern from us. I mean, obviously, it's a big problem for airlines now, especially guys who've ordered the MAXs. But obviously, there's a lot of 737s out there and I think a lot of those guys will swap their orders in the short-term. And ultimately, [they'll need] seats."
He said Acro has "spoken to a number of customers who have orders in the book with Boeing who are looking to swap that potentially with Airbus. So I won't mention any names, of course."
After hearing from Acro and others that some airlines are eyeing a pivot to potential Airbus orders, RGN immediately reached out to Recaro Aircraft Seating, a major supplier of economy class seats to A320 customers. Given Recaro's status as an exclusive supplier of a 'supplier-furnished-equipment' (SFE) seat on the A320, does it stand to gain from these deliberations?
"I'm not sure because we have really equal share on Airbus and Boeing. That is also something they're aiming for, not being biased to the one or the other," said CEO Mark Hiller. "For sure, with the SFE, but the SFE covers a portion of the market, I would say. It only covers small airlines, short lead times for sure, therefore it could be a benefit, we can go down to four months with the swift or SFE process, so there could be some benefit, but I wouldn't doubt that it's really much of a benefit."
Hiller also shared a common sentiment from #PaxEx suppliers on the AIX show floor:
Overall, I think it's not good for the industry in general that there is, I would say, a focus on the topic and that there is a lot of uncertainty.
Their willingness to address the question is appreciated. Perhaps understandably, most suppliers approached by RGN on the topic wanted to speak off record or on background, and not be quoted.
"This is crisis comms at its best, and actually every company would be now scrambling to [understand] what happened, how did it happen, who did what, when, how, why, and they'll know how it's impacting because it's impacting the bottom line, and how do they come back from that," explained one public relations expert at the show.
"What do you do above the line, what can you say, what can't you say, what [are the] legal repercussions? And obviously because you've had so many deaths in the mix, obviously, if there is an issue there, they're open for liability and so on."
In the near-term, Boeing's decision to cut 737 MAX production from 52 per month to 42 per month – as the world fleet is grounded – does not necessarily have a significant impact on #PaxEx-specific suppliers, with one Boeing supplier noting that kit would simply be placed in storage as was done when Boeing encountered protracted delays with the 787 (by the time the 787 entered revenue service, some #PaxEx hard product was already considered outdated by passengers). Moreover, noted the supplier, Boeing will owe airlines for every delayed delivery so it's not incentivized to bring the supply chain to a screeching halt. But multiple stakeholders posited they expect resumption of MAX deliveries to take as much as 3-6 months.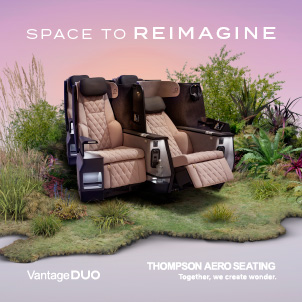 Airbus has a sizable backlog for the re-engined A320 family of aircraft, and production was hindered by supply chain issues last year. Any 737 MAX customers seeking to acquire the A320neo may be challenged, unless they tap the aftermarket. Nonetheless, Welch believes there is real opportunity for vendors that are linefit offerable at Airbus. "And also I know that Garuda are the first to come out publicly and say that they're cancelling or well, they're in discussions, so it's not confirmed but – they're still committed to Boeing, as far as I can understand – but I know there's many other airlines, like Chinese in particular, that are perhaps maybe looking at their orders and perhaps looking at the Comac arrival, which I mean we're not sure when that will be exactly. But I know that it's around the 2023/2024 year and for those airlines that have aircraft coming out around that timeline, it's maybe worth the wait given what's happened."
The South China Morning Post reported that China Aircraft Leasing Group Holdings (CALC) has put its order for up to 100 MAX twinjets temporarily on hold, and stopped payments because the matter is being worked out with the manufacturer. But CALC is rebutting that report, saying its chairman was misquoted, according to Reuters.
Should the MAX issue drag on, the overall impact to industry would be painful, with a MAX supplier noting: "We were very burned after 9/11, when everything just stopped where nobody was doing anything, and the whole industry ground to a halt. It has an impact on cash flow, it has an impact on everything."
Additional reporting by John Walton
Related Articles: