Christina Foerster, the CEO of Brussels Airlines, credits her success with lessons learned from her parents while growing up in the Canary Islands. Now she's urging other women to "go for it" in their careers.
"My father ran a small soccer club, and we always went to the bar after games. When talking to the team, you had to fast with your words and quick-witted," recalls Foerster in an interview with Runway Girl Network. "My mother is a feminist and believed she could always get things done. She taught me not to think about gender, but about who you are and always go for it."
Though her parents divorced, the experience didn't hold her back. Foerster earned her B.S. at Cornell University's School of Hotel Administration in 1997 and an MBA from The Wharton School at the University of Pennsylvania in 1999. She started her career as a strategic consultant for Boston Consulting Group in the trade and tourism industry and also did a stint at Sheraton Hotels. This led her to Deutsche Lufthansa in 2002, where she became a project manager, handling duties including asset allocation and privatization of ATC in Germany.
Foester moved up the ranks, becoming Lufthansa's vice president of network and fleet development in 2011. In 2014, she took over the job for all the major and regional airlines under Lufthansa. "I worked with the asset management team to look at our aircraft portfolio to decide what our airlines would need in the future," she explains.
Under her watch, the group placed Lufthansa's largest ever order of Airbus A320s in September 2013. "These aircraft have become a staple of our business and are performing well," notes Foerster.
After promotions to senior vice president of network, group & alliance development, and SVP network & partner management, she was named Chief Commercial Officer for Brussels Airlines in September 2016. The carrier is owned by the Lufthansa Group.
"On the one hand, I had been in Frankfurt for awhile, so I wanted to move to a different city and shake things up," says Foerster. "On the other hand, I wanted a job with more corporate responsibility. Being CCO gave me a much wider scope of duties, from product sales to cargo, to innovation to marketing. It let me further increase my knowledge of the industry."
Foerster credits Lufthansa for its focus on developing talent. "It allowed me to integrate everything I've learned in past jobs that helped me in the future," she says. "Doing things like forging strong teams and achieving amazing things were all learned in past jobs. So I was able to handle similar issues, but on a bigger scale at Brussels Airlines."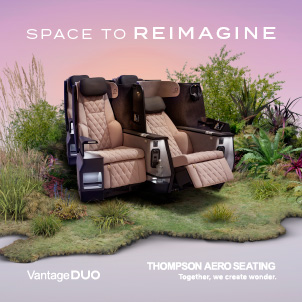 Appointed as CEO of Brussels Airlines in April 2018, Foerster says her biggest achievement so far is creating a stronger synergy with parent Lufthansa Group. "We've now fully integrated our sales and cargo operations, so we're now using the power of the entire group. We're no longer just focused on Belgium," she notes. "We also just launched our new long-haul product on the Airbus A330 fleet."
As one of a handful of female airline CEOs, Foerster says she has delved into the topic of women in aviation, and has served as a mentor to others in the industry. She feels there are different reasons why we don't see more women represented in airline C-suites.
"One thing is I think women question themselves too much and it hinders them. Taking over an executive role is like having a child. You can only say 'yes' or 'no' and move forward. And you don't know what the future will hold," she says.
Another issue is work/family balance. "In Europe, there's the question of how you bring a family and being an executive together. I see a lot of mothers and I completely understand the lack of time for networking because they have to balance their responsibilities in life. I think all of these things are contributing factors."
But Foerster says she sees a climate where diversity is being taken more seriously. "I think that has contributed to more representation."
Her advice for women at the beginning of their aviation careers is to take a chance and join an "incredible" industry. "[Aviation] is so varied and really exciting. It bridges the world, which I think is great. I think young women should just jump right in."
In the pioneer days of aviation, men and women both contributed equally, notes Foerster. "But as aviation became bigger and there was more relevant technology after [World War II], that's when participation by women got reduced. It's a pity that the pioneering spirit is not there. I hope it comes back."
Related Articles: