Toulouse-based Atmosphere has announced it is part of a team awarded a prestigious Group Achievement Award by NASA for ground-breaking research into interval management.
The premise for the interval management research was to study new methods to enable the expected doubling of aircraft passengers within the next twenty years. The current air traffic management process is very manually intensive and relies on less accurate radar data, a technology that originated in the 1940s.
Interval management uses more precise ADS-B data from nearby aircraft to allow avionics in the cockpit to automatically calculate the speed needed to achieve and then maintain a set spacing interval behind the previous aircraft. This spacing interval is assigned by the controller, and varies based on traffic density, type of aircraft, and the speed of the aircraft.
The result is that controllers can space aircraft more precisely at a safe and efficient interval, thereby increasing the number of landing slots available at the runway, and reducing the need for additional fuel consumption. Ultimately, it improves the passenger experience by reducing delays, particularly when traffic is very heavy, or during bad weather.
ATD-1 project
The Air Traffic Management Technology Demonstration-1 (ATD-1) project was headed by NASA's Aeronautics Research Mission Directorate, with the cockpit technology developed at Langley Research Center in Virginia and the controller technologies developed at Ames Research Center in California.
The contracting team was led by Boeing Research and Technology, with participation from Boeing Commercial Aircraft, Honeywell, Atmosphere, Jeppesen, and United Airlines. Honeywell and Boeing provided the expertise to write the interval management software and develop the cockpit avionics for the flight crew, while Jeppesen designed the en route and arrival procedures for the aircraft to fly. Honeywell provided two aircraft and flight crew, and United Airlines provided one aircraft and flight crew.
Atmosphere's crucial contribution was the software used to create traffic and situation awareness, called PLANET. It used inflight connectivity to transmit ADS-B data from the three test aircraft and all surrounding aircraft, creating a real-time display of aircraft position, all relevant information about that aircraft, location of airspace and route structures, as well as weather and wind conditions.
Editor's note: The connectivity link used for the two Honeywell aircraft – the Boeing 757 flying testbed and the Falcon – was Inmarsat SwiftBroadband. For the United 737-900, it was the Thales cabin connectivity pipe (which is powered by Viasat Ka service), according to a spokesman for Atmosphere.
The most critical use of PLANET was by the Flight Test Director, who was aboard one of the aircraft and had the responsibility of coordinating the correct sequence of test runs between the three aircraft and the air traffic control facilities.
Brian Baxley, the NASA Principal Investigator of the experiment, said, "Without the real-time and constant traffic and situation awareness that PLANET provided, the Flight Test Director could not have conducted the flight test in the safe and efficient manner that it was."
The PLANET display was also used aboard all three aircraft by flight crew and researchers, and in the flight test coordination room set up at a Boeing Commercial Aircraft facility. Additionally, it was used by observers at NASA Langley and Ames Research Centers, as well as the NASA and FAA Headquarters during the two-month flight test campaign.
Jean Marc Gaubert, CEO of Atmosphere, said, "Interval management is one of the ways technology is being used to make air transport more efficient, which is going to become essential as the number of aircraft flying increases. ATD-1 was an important project and it is a real honour to be recognised by NASA for our contribution. The Ground Achievement Award is fully in line with Atmosphere's team spirit, and we are happy to share this honour with major players like Honeywell, Boeing, and United Airlines."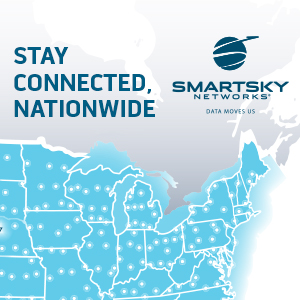 PLANET allows reliable data exchange for maximum operational efficiency, using mobile communication on the ground and in the air, based on both terrestrial and satellite networks. It provides worldwide in-flight services, including, flight tracking, health monitoring and telemetry. It also provides collaborative tools, such as multi-channel chat, file transfer and geomarkers, and weather and aeronautical information services.
Joe Duval, Chief Test Pilot at Honeywell, explained PLANET's role: "We use PLANET to provide a common communication and situational awareness tool for our test flights, whether they be single ship or multi-ship programs. The server is normally connected to our lower bandwidth satcom system due to the low data requirements. We control access with specific campaign logins so each user can connect and have real-time chat and flight info. Users will range from flight test engineers and pilots, operations control/ground station, system engineering at Honeywell and our partners, and program management.
"In multi-ship operations, we will highlight each participating aircraft which helps with things like deconfliction and timing control. We have added specific display items with .kml files like restricted airspace areas to enhance crew situational awareness."
About ATMOSPHERE
ATMOSPHERE is an engineering company with a core expertise in aeronautics, satellite telecommunication, networking and weather science. Founded in 2008, the company has its main base in Toulouse, in the heart of the French Aerospace Valley. In addition, ATMOSPHERE has had an office in Munich since 2010 to support German users. We perform aerospace systems research and development and operate network-enabled applications for Aeronautical Users. Our expert team, composed of 10 dedicated engineers, strives to develop the right solutions to support flight operations, ranging from general aviation – including scientific missions – to commercial air transport and helicopter missions. Technical excellence, flexibility, trust and team spirit belong to our core corporate values. ATMOSPHERE operates within a rich ecosystem that includes industry leaders, major research institutions, meteorological institutes, academia, SMEs, financial actors and professional associations. For more information, please go to www.atmosphere.aero