It wasn't so very long ago that Panasonic Avionics seemed to be gunning to equip potentially hundreds of Southwest Airlines Boeing 737s with its Ku-band inflight connectivity system. Whether or not this opportunity is still available to Panasonic – or indeed if Panasonic is pursuing such – is difficult to ascertain, as Southwest Airlines remains cautious with its messaging about inflight connectivity service providers, and the carrier's service providers are very cautious about divulging specifics to journalists, more often than not sending us back to Southwest.
But after listening to Global Eagle's recent third quarter earnings conference call – during which CEO Josh Marks revealed that the IFEC firm has secured "an unplanned opportunity to increase the number of planes with a top customer by more than 50 aircraft installing quickly over the next year", this journalist felt compelled to reach out to Southwest to ask if the low-cost carrier could confirm a meaningful enhancement to the Global Eagle contract (to the tune of 50 aircraft), and if it is pleased with what it's seeing from Global Eagle in terms of meeting service level agreements (SLAs).
I also asked Southwest if it intends to continue to work with Panasonic in the medium- to long-term, given that Panasonic has announced it is focused on selling Inmarsat GX to new customers (though Panasonic has repeatedly assured it will service current Ku customers – of which Southwest is one – and bolster its Ku network with XTS capacity).
Like others in the industry, we've heard about hiccups with the rollout of Panasonic Ku at Southwest. A new Business Journal report broadly suggests that Southwest is struggling to rectify inflight connectivity issues, which saw the carrier deactivate a portion of installed systems this past summer, though Panasonic is not specifically fingered in the Business Journal report.
But if Southwest is in fact the "top customer" adding Global Eagle IFC to 50 more aircraft in its fleet, then it's certainly possible Global Eagle is benefitting both from Panasonic's shift to GX for new IFC business, and the passenger experience on Panasonic Ku-fitted Southwest aircraft is not be as solid as hoped.
A Southwest spokeswoman was not at liberty to say much to Runway Girl Network, but, importantly, she confirmed the carrier is evaluating "what service is offered on what aircraft" in its fleet, and that this evaluation "does take into account Panasonic's recent announcement in regards to the Ku system", i.e. it's decision to focus on GX for new business rather than Ku.
Her full quote is as follows:
We're not in the position to confirm additional fleet plans with Global Eagle Entertainment or Panasonic at this moment, but I can say that we are working closely with both inflight Wi-Fi providers as we evaluate what service is offered on what aircraft. That does take into account Panasonic's recent announcement in regards to the Ku system. It takes a pretty robust system to equip our fleet of nearly 750 aircraft. We're working diligently to allocate the appropriate resources necessary to keep up with demand and to provide a product that performs to our customers' expectations.
In a world where speculation is rampant and even celebrated by certain journalists, RGN remains eager to hug extremely close to facts verses reading tea leaves. But some of Global Eagle CFO Paul Rainey's remarks during the firm's earnings call struck your writer as notable.
Specifically, Rainey said Global Eagle's supply chain and service delivery teams are under pressure given the "ramp up for this previously mentioned new install at the existing customer on top of the complex program deliveries with Air France, Norwegian and others" and consequently, Global Eagle has elected to delay certain cost reductions that could have negatively impacted its ability to facilitate timely delivery to customers. Given that the new order is "on top of" what Global Eagle is doing for Air France and Norwegian, per Rainey's remarks, it seems likely we can rule out Norwegian and Air France for the 50 additional aircraft.
Moreover, Southwest is in fact Global Eagle's top customer, representing a substantial portion of Global Eagle's connectivity revenue. Global Eagle pins the percentage at 34% for the first nine months of 2018 in its 10Q. Notably, Southwest also has hundreds of orders with Boeing for the 737 MAX – on which Global Eagle Ku is linefit offerable – and this spring topped up its order by converting options for 40, and accelerating some deliveries.
In taking a dual-source approach to connectivity, Southwest has been able to keep its main service provider on its toes in a bid to improve #PaxEx. And if this was the intended strategy, it is working. As a regular flier of Southwest out of BWI, and as reported in the past, I've observed meaningful improvement to Southwest's inflight connectivity service on the Global Eagle Ku-fitted aircraft I've flown. That hasn't happened by chance, Southwest's onboard customer experience "has been a priority for us in terms of making sure we're offering our customers the products they have come to expect while traveling with Southwest", stated the Southwest spokeswoman via email. And of course, Global Eagle has bolstered satellite capacity.
"I will say that the SLAs are getting much better, as we migrate more of the Southwest network onto SES-14 and SES-15, which are the high throughput satellites that deliver really outstanding performance across the network," said Global Eagle's Marks during the firm's earnings call. "So we're simply getting performance benefits now coming both from scale in the installation and from the simplification of the satellite network, as we bring the newest technologies online."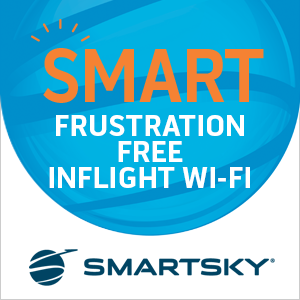 Whatever the future of Panasonic's footprint at Southwest, one thing is clear – Global Eagle's positioning with Southwest now seems stronger than in prior years (financial analyst Paul Penney calls Global Eagle's positioning "excellent with huge potential to grow with their fleet expansion"), with the company this fall launching free messaging and free movies on Southwest.
"Our investment in their product and their willingness to innovate with us signals the strength of our relationship. They have hundreds of Boeing 737 aircraft on order, so it's very important that we're going to be investing to support their growth and passenger experience so we can serve those aircraft," said Marks.
"Southwest continues as our flagship partner and we're thrilled to see the impact our investments are having on Southwest passenger experience. Their connectivity experience is now among the best in the industry and we're proud to be the partner that powers that experience."
Related Articles: