Inflight Dublin, a leading IFE provider, has launched Everhub (Inflight Dublin's end-to-end wireless IFE system) across the full flynas fleet, as part of a 2-year contract with the Saudi carrier.
flynas is the leading low-cost carrier in Saudi Arabia and has a fleet of 30 aircraft, operating over 1,000 scheduled flights every week. The airline flies to 17 destinations within Saudi Arabia and 53 international destinations.
Inflight Dublin's collaboration with flynas aims to significantly enhance the airline's passenger experience through innovative technology trends, resulting in a robust, yet easy to install IFE solution. The new agreement supports flynas' dedication to elevating passenger experience to the new heights.
flynas passengers can enjoy movies, TV shows, music and podcasts, games, publications, a real time moving map, and the ability to provide feedback via a passenger survey. The system is currently offered in Arabic and English languages and can be simply accessed through a web browser using a phone, tablet or laptop.
flynas has the exclusive rights for use of the system in Kingdom of Saudi Arabia, and were thrilled with the speedy rollout (project took less than 4 weeks from contract stage to delivery of the first servers).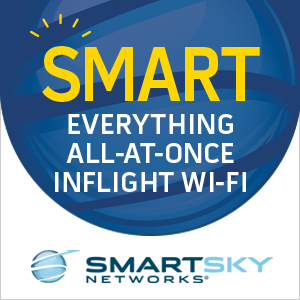 "We're thrilled to partner with Inflight Dublin on this exciting wireless IFE journey. IFE adds to the great value offering onboard flynas flights and will be a key part of our superior customer offering," says Asma Talal Hamdan, Chief Information Officer at flynas. "All the latest content, combined with the seamless technological aspects of the solution, supports our ability to provide unique travel experiences with incomparable value additions, digitized solutions and enriched on board experiences."
Everhub wireless system is a one-stop shop for all things IFE. Consisting of certified hardware, a versatile control centre and user-friendly front-end software. Each box can deliver over 12 hours of streamed video content.
Inflight Dublin Chief Executive Officer, John White, further adds: "We're delighted to be extending our wireless footprint into the MEA region. flynas is one of the leading LCC in the whole region and it makes us proud to be a part of their long-term passengers' commitment."