Lufthansa is experiencing what company senior director, head of product management cabin Paul Estoppey describes as a "teething problem" with Inmarsat's Global Xpress service on the carrier's short-haul fleet.
"We are just working it out. It is not as reliable as we think it is," he told Runway Girl Network at the recent APEX EXPO in Boston.
The reasons why?
"Reasons you would not have seen before, like tail shadowing and wing shadowing which is in hindsight quite easy to understand. It's logical but nobody thought of it because we were all taking the long-haul operation as the example, and naturally over Europe, especially, you have short flights, you have a lot of turns of the aircraft and therefore you have wing shadowings, you have the tail shadowing and we didn't expect that. It's as simple as that. But we have solutions for it."
All parties associated with rolling out GX on the Lufthansa Group's airlines with Lufthansa Technik, are working to fix the problem, confirmed Estoppey. "Absolutely. Everybody is willing to sort it out, and that's fine."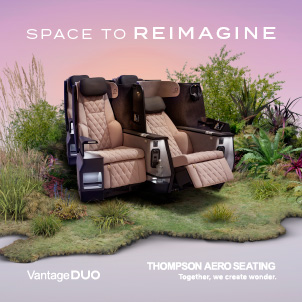 Inmarsat did not provide comment to RGN about the remedy. And candidly, this is the first time an airline has highlighted this particular concern to your author so I'm doing a bit of digging to learn more about how the shadow areas of an aircraft can hinder the transmitting power of the antenna.
On the separate subject of Inmarsat's new strategic collaboration with Panasonic – which will see Panasonic sell GX – Estoppey revealed that the news came as "quite a surprise" to Lufthansa, and that the carrier was seeking clarity on what it would mean.
During the EXPO, Panasonic senior VP,  network operations Ian Dawkins stressed to RGN that airline customers had informed the IFE giant they wanted the choice of GX, in addition to the eXConnect Ku-band offering provided by Panasonic. "A number of airlines have been speaking to us over the last year or so and saying, 'could we ever do something with Inmarsat?' Now again we couldn't talk about it at the time [but] we knew there were a number of customers who would be interested in [whether we] could actually work together.
"So they've been surprised by the announcement, but also very pleased with the announcement because it suddenly opens it up and they're saying, 'when can you start working; can you actually respond to something?' And it's exactly what we're doing."
"It's not about whether Ku is better than GX Aviation, it's saying 'we can offer these' and they're very similar in a lot of ways," added Dawkins, stressing that only 20% of the global IFC market has been addressed thus far.
It's not 100% clear if Lufthansa was among the specific airlines pushing for the GX option with Panasonic IFE. But Estoppey reminded us that Airbus insists on coupling up IFE and connectivity on the A350 in a deeper integration, which forces airlines to buy both systems from the same provider, "which I can really understand", and "in a perfect world, that would be a good solution. But the world is not perfect and somehow or sometimes you have the better opportunity or the better technology, I would say, on the connectivity side … and another better solution on the IFE side from another company."
So as an airline, you would like to do the cherry picking. Simple as that. And if they don't let us, we are mad.
Does Lufthansa think that the Inmarsat/Panasonic announcement will spur any action on the linefit front involving a package that would see Panasonic IFE paired with GX, and factory-fit by Airbus? Estoppey said normally Airbus management "are adult enough and wise enough probably to change the situation as well, as they see that it might not be that big of an issue like they have thought before [on the A350]. I could see why they did it, but probably we proved to them that it's not that complicated to handle it. I think that's the way. That's the proof."
It's fascinating to your author that Lufthansa sees itself as a sort of test case for the Inmarsat/Panasonic collaboration in a sense, though it didn't choose to pair Panasonic eX3 with GX on the A350 during its retrofits of the twinjets at Lufthansa Technik. Rather, it took delivery with Panasonic IFE and Ku connectivity already installed.
Is the Panasonic Ku service performing in the way that Lufthansa would like?
"The newest system? Yes, sure. I mean there are always problems. That's for sure but that's life and we have to sort it out. But overall I would say it's a good system," responded Estoppey.
Importantly, the Lufthansa executive believes "both systems will stay in the airline business … Ka is just a new thing that's always nice, and obviously it's a little bit cheaper but if it works out like they think it should – everybody's flying it – we would need both systems, Ka [and] Ku. That's my belief and then you have the maritime things as well, the big ships and there is space for everybody."
He added:
I don't believe that we just go in one direction.
He comments are in sync with those shared by Intelsat following the Inmarsat/Panasonic announcement. Intelsat VP and general manager, mobility Mark Rasmussen told RGN: "All spectrum is precious because it is limited. Ku-band is available today and will be in the future. To state that a frequency will not be used makes the assumption that consumption will be limited, which is not what is happening."
Certain stakeholders opine that Lufthansa is the only Airbus customer with the flexibility to pressure the airframer to linefit cabin equipment that is not in the Airbus catalogue because the airline has the power of Lufthansa Technik behind it, and can install the systems itself.
"I don't think that this is true," said Estoppey flatly. "I think we are in the same boat like everybody else as well. What we have in terms of power is that we can do it on our own and if we say 'we really want to have that' then normally you have to do it in the retrofit. What happens and this … might lead to the wrong impression is that we take the aircraft and then immediately put it on ground in Frankfurt or Munich and change it before it goes for the first flight."
So it's possible that Lufthansa is simply doing so much in the way of greenfield retrofits that people assume it always gets what it wants from Airbus. But it's probably also fair to say that the company is well-positioned to ultimately get what it wants, in terms of PaxEx, in the end.
Related Articles: