Saudi Arabia's Taqnia Space is barreling towards commercial launch of its hybrid Ka/Ku inflight connectivity and television service on Saudia in October, partner SITAONAIR tells Runway Girl Network.
Yet Taqnia Space has also instructed its partners to remain tight-lipped about some of the finer details relating to the so-called UON service until after launch on the country's flag carrier. And during this week's APEX EXPO in Boston, those partners are honoring Taqnia's request.
RGN is seeking to piece together the puzzle, nonetheless.
In the lead-up to UON's service-entry, Taqnia Space this summer announced a new multi-year contract with Eutelsat including incremental multi-transponder wide-beam capacity on the EUTELSAT 70B satellite as well as the fifth HTS spotbeam on EUTELSAT 3B, on which it already operates the four others.
At that time, a Eutelsat spokeswoman explained to RGN that the new pact means that Taqnia Space "has leased the entire HTS spotbeam capacity in Ka-band (5 spotbeams) over EUTELSAT 3B for the development of its inflight connectivity services".
The spokeswoman also confirmed that the  EUTELSAT 70B capacity would support both Ku connectivity and live television. "We provide satellite capacity over MENA, Europe, Central and South-East Asia to contribute to TSC [Taqnia Space] aero platform to be utilised as a part of Taqnia's global connectivity package called UON," she added.
Yet when asked how the UON service performed in ground testing with the Eutelsat service, I was referred back to Taqnia Space.
Saudia is a long-time customer of SITAONAIR's L-band-supported Internet connectivity service. Given the fast pace of development on the UON program, it seems logical to assume that SITAONAIR's standing relationship with Saudia – and its inherent understanding of the carrier's needs – has greatly helped Taqnia Space on the program. And indeed, Taqnia tells PaxEx.aero that its UON service will go live on a pair of A320s shortly.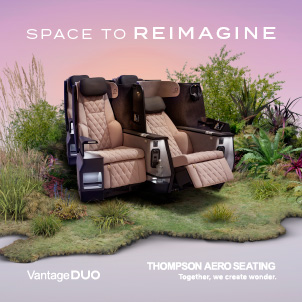 If and as Saudia migrates its already-fitted L-band aircraft to the new UON service, with the aid of SITAONAIR, your author is curious if the SwiftBroadband channels used to support connectivity on Saudia's aircraft will be deployed for other services, either in the cabin or the cockpit. And naturally, I wonder if there is a timeline for migrating all L-band cabin connected Saudia aircraft serviced by SITAONAIR to UON.
Will SITAONAIR serve as a formal service provider on this project, as it has done with the L-band-based Internet OnAir service on Saudia, or will that role change in any way? My curiosity also extends to the hybrid antenna. Does SITAONAIR see applications for this type of service outside of the Saudia deployment? A number of companies offering hybrid antennas, including Gilat, believe dual-band Ka/Ku is the wave of the future as it allows operators to use the most relevant satellites for a given region. SITAONAIR is directing all inquiries to Taqnia Space, saying the firm will discuss details post-launch.
Using their personal devices (laptops, tablets and smartphones), Saudia passengers are expected to be able to enjoy live television and connect to broadband Internet via the UON service. They will also be able to access 3.5G cellular voice or data services on aircraft equipped with the connectivity solution. SITAONAIR – with prowess in inflight mobile connectivity – is guiding development of the cellular services.
In addition to SITAONAIR and Eutelsat, partners on the UON program include Japanese design and engineering firm Jamco, satellite technology provider iDirect, and software development company Axinom, whose smart traffic management technology is enabling Taqnia Space to incorporate live television streaming options to its offering.
Taqnia Space clearly has global aspirations for UON, as evidenced by the messaging on its website, and in press releases. "Additional Ka HTS capacities and coverages will be added to Taqnia Space Aero network when launching two new Saudi satellite missions, SGS-1 & 6D which will be utilized by Taqnia Space to provide commercial and government Aero services over Europe, Africa, and MENA regions," states the Saudi Arabian firm. They join a crowded field, which sees Inmarsat, Viasat and Thales scrapping it out on the Ka-band connectivity front, whilst Gogo offers its Ku-band-supported 2Ku solution, and Global Eagle focuses on regional connectivity deployments. Panasonic continues to serve its legacy Ku customers, but will also be able to sell Inmarsat GX to new customers per a strategic agreement announced last week.
Others are, of course, seeking to edge into the space, with a teaming of Yahsat, Etihad Airways Engineering, Hughes Network Systems and Carlisle Interconnect working on their own new IFC service, which appears to be taking the dual Ka/Ka approach.
Taqnia Space has not responded to RGN's requests.
Related Articles: