Satellite operator Intelsat is a step removed from the commercial aircraft flight deck in that its Ku-band satellites generally support broadband connectivity in the cabin. But as airlines look to drive operational benefits from these pipes, the company is "starting to take a step forward" into the cockpit in collaboration with its service partners.
Intelsat's partners include Gogo, Global Eagle and Panasonic Avionics, and together they now count 2,865 Intelsat Ku-transmitting aircraft across more than 60 airlines. While their main focus has been to provide passengers with the Internet, Ku connections can help pilots avoid bad weather and optimize flights by powering real-time electronic flight bag (EFB) applications, including live satellite map solutions.
Moreover, while Iridium and Inmarsat's narrower but nonetheless safety-qualified L-band links support ACARS transmissions in the cockpit, ACARS communications management unit (CMU) changes which would allow simultaneous routing across an ACARS data link and a non-safety IP data link (such as Ku) – using rules to segregate messages – are starting to be worked on, confirms industry consultant and "satcom guru" Peter Lemme, who helps develops standards for aero.
That means that a satellite capacity wholesaler like Intelsat – and indeed other satellite operators which are not taking a direct approach to provisioning inflight connectivity – can, by default, end up supporting some forms of comms in the cockpit. Intelsat VP and general manager, mobility Mark Rasmussen notes that there are "levels of service and expertise and specialization that are required" to support cockpit communications and Intelsat's partners and third parties are focused on ensuring they adhere to these requirements.
"[Our] partners have strong reputations in that space," he tells Runway Girl Network. "That's essential as we look at this business. Partners are really fundamental to delivering service whether it's Internet connectivity for the cabin or operational applications in the cockpit."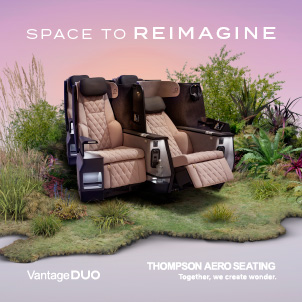 While Intelsat has every intention of remaining a wholesaler, Rasmussen nonetheless believes the roles of the different players delivering service to the cockpit will evolve.
Intelsat's work holds relevance on the flight deck in other ways. FAA officials this spring tapped the firm's wholly own subsidiary, Intelsat General, and a team of companies to develop and operate a satellite payload to aid aircraft navigation, particularly precision approaches to airports without dependence on ground-based infrastructure.
The new payload will be part of the FAA's Wide Area Augmentation System (WAAS), which has been operational since 2003 and already features Intelsat as a partner. WAAS corrects and enhances information provided by Global Positioning System (GPS) satellites to give commercial and civilian pilots more precise approach and departure guidance.
"First of all, the FAA deal is a good one for us and it's really kind of a refresh of a relationship we've had with the FAA. We've been providing this kind of a payload for a number of years so this is a refreshed payload for a similar application," explains Rasmussen. But because WAAS enables the aircraft to have even more precise navigation information using the GPS system, it touches the cockpit. So Intelsat is a cog there.
"I would tell you the cockpit is very interesting to us as a business opportunity because of the strong value of operational apps that airlines can deploy. That's a segment that evolves at its own pace. They don't do things willy-nilly or knee jerk as you know, but over time we think will be an important business and apps there," says Rasmussen. These will  help "drive hard savings" for airlines, enabling that service "to be a nice business", he adds.
Related Articles: