When airlines began adopting all-in-one portable wireless entertainment solutions, the initial contracts being sought were roughly five years in length, says Jan-Peter Gaense, head of passenger experience, products & solutions at BoardConnect Portable provider Lufthansa Systems. Now, he says, airlines are asking, "Oh, can we do it for two or three years?"
The reason for the change is that airlines are using battery-powered, carry-on-board portable wifi boxes as a stop-gap measure until they're in a position to adopt an installed inflight connectivity solution. And those installs are expected to happen sooner rather than later.
Though the contracts are shorter, Lufthansa Systems continues to see nice demand for BoardConnect Portable, with Gaense telling RGN that the company has secured a few new undisclosed airline customers for the solution, which streams cached entertainment content to passengers' own devices. Among the factors driving continued interest is that Lufthansa Systems offers an attractive upgrade path to live inflight connectivity.
Airlines can "use the portable now, once you go for connectivity we take the hardware back for free from you, or buy it back if they bought it and move our software to the [connectivity] installs that we supply together with Inmarsat and Lufthansa Technik", explains Gaense. Those installs, branded by Lufthansa Systems as BoardConnect Plus, are powered by Inmarsat's Global Xpress service.
Lufthansa Systems is also a vocal fan of the European Aviation Network and will support any trials of the hybrid ATG/S-band system undertaken by Lufthansa Group airlines. So when an airline requests a 2- or to 3-year contract for BoardConnect Portable, says Gaense, "We say, 'yes of course' and then we work with you and Inmarsat to give you connectivity, which actually fits well with our WAP upgrade story."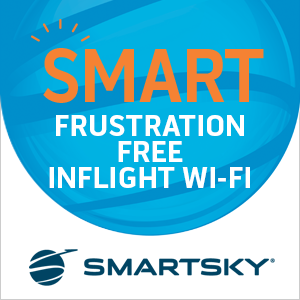 Other portable wifi specialists are also enjoying strong take-up, with AirFi today announcing it has reached over 100 million passengers annually since introducing its portable solution in 2014. Immfly, which is supplying a new digital IFE platform to Lufthansa and Turkish Airlines joint venture SunExpress' Boeing 737-800NG and MAX fleet, admits it is preparing airlines for the migration to full onboard Internet, saying it looks forward to working in collaboration with major connectivity players.
"We equip our clients with thorough knowledge of their passengers and a faster product deployment that is compatible with next technology in order to minimize the connectivity investment," says Immfly in an online statement.
One IFE option that is both attractive for airlines who haven't yet taken the cached streaming plunge, and to those looking for an upgrade from the carry-on-board BoardConnect Portable solution, says Lufthansa Systems' Gaense, is the STC-free Portable Power & Safe offering, which powers the portable from the aircraft power, and was developed by Lufthansa Technik.
Explains Gaense:
When we started the segment of portable IFE, everyone was so happy [expressing] 'oh it's battery operated I don't have to do anything to the aircraft'. Now that we have been doing it for a while, we see that airlines are getting increasingly worried about the logistics because it is a pain and they do want something that is touch-free, still cheap, still efficient.

And pretty much every airline we spoke to is really interested in the [Portable Power &] Safe, saying 'oh you know what, if I only operated for a few years, Safe actually pays off because I don't have to operate the batteries anymore. And with the way we designed the system where we have an automated modem that identifies even on a portable solution that you're on the ground, it really becomes a touchless solution for an airline; just leave it in there, don't worry about it. Crew doesn't have to do anything about it anymore.

It makes it really simple and it's almost like you have a fixed install. And there, the guys from Lufthansa Technik really helped. That is really where the group synergies come to life. We are part of the Lufthansa Group. We've got Lufthansa Technik, we've got Retail inMotion. We're on message together now. It is our unique selling point. It is the one thing that no one can take away. Technology can be copied. Our competitors will follow us, will try to copy what we do, will try to get ahead. And realistically they can because it's just technology but what they cannot copy is the synergies and the capabilities we have as a group together. Especially with the Retail inMotion guys [being] really awesome on retail and Lufthansa Technik and all the stuff that we are doing.
And what about the fully retrofittable, traditional BoardConnect wireless IFE solution, which requires supplemental type certification (STC)?
"What we don't see is a lot of demand for the fixed install right now," admits Gaense.
Related Articles: