Within close-knit inflight entertainment and connectivity circles, global satellite operator Telesat's forthcoming low earth orbit (LEO) constellation of Ka-band satellites is seen as being among a small group of viable prospects for non-geostationary-orbit constellations.
This isn't a revelation to Global Eagle, which has become the first major IFEC stakeholder to announce a collaboration with Telesat after a comprehensive review of the various planned NGSOs. Crucially, the arrangement with Telesat includes user terminal development plus inflight and at-sea testing of hardware that is compatible with the LEO.
For aviation, Global Eagle will test its newly developed mechanically steered Ka-band antenna over Telesat's recently-launched Phase 1 LEO satellite. This news struck your author as intriguing, given that some electronically steerable antenna makers see mechanically steered antennas as less than ideal for LEO communications.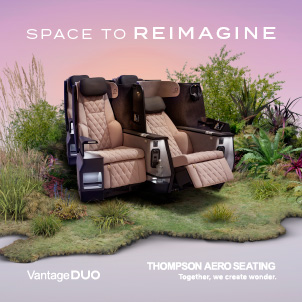 In an interview with Runway Girl Network, Global Eagle CEO Josh Marks acknowledged that the challenge with any LEO network is the inter-satellite links with the ground segment, and that aviation antennas will evolve over the next five years. When Global Eagle goes into production with hardware for the Telesat LEO, "we'll probably be using the next generation antenna", he said.
In the meantime, however, Global Eagle will roll out its Qest-made Ka-band antenna – which is compatible with Global Eagle's current installation architecture and supplemental type certificates – and will treat the Telesat LEO as an upgrade path for Ka-band connectivity customers coming online "in the next year or two", said Marks.
These operators will use Ka-band GEO satellites, but can also "benefit from LEO architecture over oceans and high latitudes so even those buying mechanically steered will be able to benefit" from the advantages of low latency, high throughput and global coverage that the LEO constellation will bring to the table.
In short, the Telesat LEO can help fill the gaps in the Ka satellite coverage map. And because the maritime and aero routes that Global Eagle wants to support via the Telesat LEO are not likely to be the primary markets where Telesat will sell, Global Eagle will be helping to fill the gaps for Telesat to boot, said Marks.
Asked if there is any exclusivity to the relationship with Telesat, Marks said, "What's important to us is we have influence over how these systems are developed, particularly ground segment architecture." He added that Global Eagle wants Telesat to have relationships with other partners.
Telesat reports that its LEO project plans are "moving forward aggressively" with the start of global LEO service targeted for 2021.
Traditionally, Global Eagle has served airlines with its Ku-band satellite-supported connectivity and live television solution. Southwest Airlines and Norwegian are among its high-profile customers, with the former announcing it has bolstered its content offering today.
But even as it pivots to support Ka, more Ku connectivity installs are in the cards. In the third quarter, Global Eagle will begin installing on an as yet undisclosed European customer, using Intelsat high throughput satellite capacity. Industry is speculating that Air France is the customer. However, this has not been confirmed or announced by any party.
An Air France spokesperson told RGN recently that the carrier plans to soon announce the winner of its inflight connectivity RFP for the A320 family of aircraft.
Meanwhile, now that India is lifting its ban on inflight connectivity, Global Eagle expects to be able to make its Ku connectivity service available to passengers aboard some of Jet Airways' Boeing 737s in the fourth quarter, said Marks.
There is still work to be done, including receiving final confirmation from the Indian government as to whether non-Indian vendors can source non-Indian satellites. But the wheels are in motion. "Remember, we do have satellite coverage over the region because we serve flydubai," noted Marks.
Related Articles: