Arycom, a São Paulo-based provider of satellite voice and data solutions, recently announced plans to crack into the inflight connectivity space in the United States, with the business aviation sector serving as its entry point. Now founder and CEO Svante Hjorth tells Runway Girl Network that the firm is on the path to becoming a service provider for Inmarsat Global Xpress (GX).
For the aviation industry, Arycom's portfolio presently includes "data connectivity & messaging, high-speed broadband Internet, voice (telephony), hardware retrofit, flight planning & flight safety (Datalink), GeoTracking, ACARS, and mobile apps & tools", says Hjorth. The majority of Arycom's current client roster are business jet owners in Brazil.
Already a service provider for the Inmarsat SwiftBroadband (SBB) aeronautical service, Arycom is "actually already in the process of becoming a provider of GX in Brazil and the US", he reveals.
Separately, "as a premier Service Provider of Iridium, we will provide the portfolio of Iridium NEXT services once available. We see a big potential for Iridium NEXT in the markets we currently serve, and new ones around the corner."
The US Federal Communications Commission (FCC) has granted an International Section 214 Authorization to Arycom. With this authorization, commonly called an International 214 License, the firm "can now provide telecommunications services to and from the United States, including telecom services such as private lines, switched long distance, prepaid services, calling cards, and VOIP services," notes Hjorth.
"For Arycom specifically, this means we can now sell satellite communications services to and from the United States, as well as all our related value added services."
He adds:
In the United States, Arycom intends to initially focus on the business aviation market to meet the burgeoning demand for inflight data connectivity. From basic data connectivity and messaging to high-speed broadband Internet, telephony, flight planning and flight safety and geotracking, Arycom offers a broad range of reliable communications solutions to meet the needs of any airline and business aviation customer.
Arycom's Miami and Atlanta offices will serve as its bases of operation. "I believe some of our first customers in the US will be subsidiaries, affiliates or partners of customers in South America, who need local support all over the Americas, be it in English, Spanish or Portuguese," says Hjorth.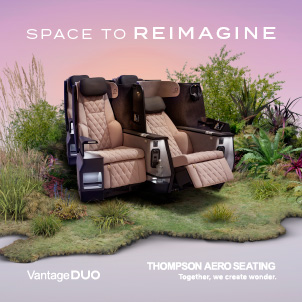 Arycom's foray into servicing the US market comes at time when Inmarsat is seeking to gain traction for GX in the commercial and business aviation sectors. Iridium NEXT is also expected to attract strong take-up in bizav in the US. "The appetite and market demand for inflight connectivity is growing strongly, both in commercial and business aviation. With our new US reach, we are able and eager to meet that demand and support customers across the whole of the Americas. In the near future, we are planning to expand our presence to Europe as well. Stay tuned."
Arycom's pivot to the US also arrives at a time when Brazil continues to grapple with significant economic doldrums. Even so, Arycom sees opportunities in the Brazilian market, including in aviation. "The Brazilian economy has suffered over the last few years. There has been and continue to be political instability in the country; there have been losses due to the depreciation of the Real and the general slowdown of the economy. A lot of companies are struggling, but that doesn't mean there aren't niche markets that are growing," suggests the Arycom chief.
"The aviation industry in Brazil is at a record low currently, but I'm sure it will come back step by step as the economy improves. Arycom has used the time to enter into new partnerships and increase our portfolio and reach within aviation during the recession, and is now very well positioned once the market starts to pick up again."
Related Articles: