Teledyne Controls and Avionics Support Group, Inc. (ASG) have signed a joint marketing agreement to promote Teledyne's Aircraft Interface Device (AID) solution, GroundLink® AID+, with ASG's proven range of patented Electronic Flight Bag (EFB) mounting and power devices to deliver a complete connectivity solution.
ASG's range of mounts support several different sized cradles and allow users to select whichever tablet they choose for their EFB hardware. The company is the FAA PMA-approved OEM of the Constant Friction Mount (cfMount™), currently used by some of the world's largest airlines.
Teledyne Controls' GroundLink® AID+ enables airlines to connect tablets to the GroundLink® Comm+ unit, for all flight phases, wired, or wirelessly via the AID+ Wireless Access Point (WAP).
Murray Skelton, Director of Business Development and Strategy at Teledyne Controls, sees advantage in delivering a complete 'package': "Between the two companies, airlines can now power and charge commercial tablets and crew devices and connect those devices inflight with an aircraft's existing onboard data systems to significantly enhance the management and the exchange of information between the aircraft, flight crew and the ground."
Hugo L. Fortes, Vice President of Avionics Support Group added: "By teaming with Teledyne and its GroundLink® AID+, it provides our customers with a world class connectivity solution starting with our patented EFB cfMount™ and Power/Ethernet solution right through the ability to tap aircraft data for cockpit applications."
The GroundLink® Comm+ unit, which has been typically used for automated download of flight data and later for electronic distribution of software parts and databases across the fleet, can also provide complete AID capability, by utilizing its on-ground 3G/4G IP connectivity for updating Electronic Flight Bags (EFBs) and crew devices, while also providing interfaces to aircraft data and communications systems such as the FMS and ACARS, as well as Broadband SatCom.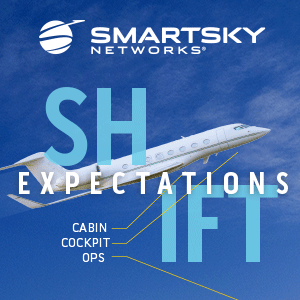 The ACARS proxy in particular allows multiple EFBs to send and receive ACARS messages, supporting pilots with ground and air Flight Operations communications, as well as the distribution of flight documents and load sheets.
Crucially, the technology provides AID functionality without having to install a separate AID unit. And with more than 10,000 GroundLink® units already flying, it is an easy transition for those with the technology already installed, protecting their legacy investment.
"The technology not only helps to coordinate and manage information across tablets, but it also provides on-aircraft data storage, eliminates manual data entry errors, and provides internet access while on the ground," Murray added.
The latest announcement reflects a move by an increasing number of airlines to equip their flight crew with either Windows-based tablets or Apple iPads for use as EFBs, and supply the maintenance and ground crews with devices for use as Electronic Technical Logs (eTechLog).