If major aircraft avionics manufacturers are in any way fazed by the news that Boeing is forming an in-house avionics group which will compete with them, they're not expressing it.
Rockwell Collins and Honeywell took Boeing's revelation in stride, with the former saying in a statement that it was "well aware that this is a long-term strategy for Boeing and do not anticipate any impact to our business in the foreseeable future".
"We continue to enjoy a strong, collaborative relationship with Boeing on its current programs, and remain committed to working together to deliver innovation, quality and value to meet its customers' needs," continued Rockwell Collins. It shares ended a low note today.
Honeywell, meanwhile, emphasized that it "engineers and manufactures highly differentiated avionics solutions for its commercial, business and defense customers.
"Building on our over 100 years of aviation experience, we will continue to exceed customers' requirements and invest in future avionics technologies that improve safety, efficiency and comfort for passengers, operators, and our aircraft manufacturing partners."
NEW COMPETITION
In an internal memo to employees, Boeing revealed that its new in-house avionics unit "will focus on avionics systems such as those designed for navigation, flight controls, information systems and other core avionics". It said these activities will reduce cost and provide "higher quality systems for customers", and that "vertically integrating these avionics systems also will allow Boeing to tap into the growing services aftermarket".
Neither Rockwell Collins nor Honeywell responded to RGN's question concerning whether Boeing's news changes their R&D investment plans over the next five years. And Thales, which has some placement on Boeing aircraft, declined to comment.
But industry observers are naturally wondering if Rockwell Collins' decision to diversify into aircraft interiors with the recent acquisition of behemoth seatmaker B/E Aerospace was driven in part by the knowledge that the creation of Boeing's avionics unit was forthcoming.
Makes me wonder if Rockwell didn't see this coming, justifying the diversification into seats.

— Seth Miller (@WandrMe) July 31, 2017
Rockwell Collins has remarkable positioning on Boeing aircraft, having won a number of significant avionics contracts over the last several years. In its own words the firm "has standard flight deck positions on all next-generation Boeing aircraft. The 737 MAX marks the company's largest contribution to date on any single-aisle aircraft with large format displays, flight controls, communications, navigation and surveillance systems" not to mention optional head-up guidance system (HGS) and weather radar systems, plus passenger seating.
The 787 Dreamliner, meanwhile, includes Rockwell Collins' large format displays, pilot controls, dual HGS, integrated surveillance system, core network, communications, and other systems as standard fit. And last year, Boeing selected Rockwell Collins to provide touchscreen flight displays for all five flight deck displays on the Boeing 777X.
Rockwell Collins also offers high-bandwidth connectivity for Boeing aircraft (Norwegian is a notable customer; Rockwell Collins packaged avionics with connectivity as part of that deal). The service is powered by Inmarsat's Global Xpress (GX) Ka-band satellites and Honeywell's JetWave terminals, though the linefit offerability status of GX across Boeing aircraft types is presently unclear.
CONNECTIVITY CONSIDERATIONS
Boeing famously exited the service side of Ku-band inflight connectivity when it shuttered its in-house Connexion by Boeing unit at the end of 2006. The airframer's exit from the market created opportunity for a variety of companies to fill the void left by Connexion, which boasted Lufthansa and other airlines as customers.
Now that avionics manufacturers are looking to exploit these pipes on the flight deck, one wonders how broadband connectivity will factor into the in-house avionics systems produced by Boeing.
After all, using a broadband connection to, in essence, put Boeing's airplane health management on steroids has long been a dream for Boeing, which had earlier hoped that Connexion by Boeing would be able to cheaply and efficiently provide a continuous stream of data to airlines during an entire flight to provide advanced diagnostics and prognostics to drive predictive maintenance.
This evening, Boeing declined to discuss broadband connectivity as it pertains to its future avionics.
In 2014, Boeing was firm on the point that it would not re-enter the service side of connectivity, with the airframer's then director of business development for wideband communications systems, Jerry Hopp, telling RGN, "I don't envision getting into the service business again. Hopp previously worked as government sales director for Connexion.
Still, given today's news, the evolution of electronic flight bags (EFBs) and avionics, and the fact that Boeing both builds the satellites to support connectivity and has been edging into parts of the commercial airline connectivity game – for one, Boeing Defense, Space & Security was contracted to build a Ku-band phased array antenna for IFEC giant Panasonic – perhaps we can be forgiven for asking the question.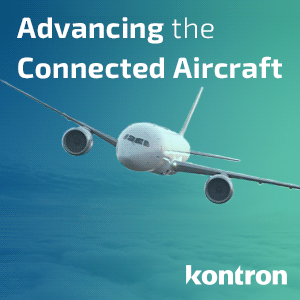 Meanwhile, Boeing's foray into avionics isn't the first time the company has shown a serious desire to gain a firmer foothold in the sector. Its decision to jump in now is "is tantamount to an admission that Boeing made a mistake 14 years ago" when it dissolved an in-house organization called Boeing Commercial Electronics as the significantly-outsourced 787 Dreamliner program was launched, reports the Seattle Times.
At present, Boeing produces avionics equipment such as vehicle management systems, remote data/remote interface units, secure computing systems and signal intelligence systems for its commercial and government systems. The new enterprise avionics organization "will incorporate that work in addition to its plans for new products for all three business units", according to the airframer.
Boeing aims to gain ground quickly. Its current avionics team, which comprises 120 employees, is conducting its design and engineering work at existing Boeing sites. It plans to expand to 600 employees when fully staffed in 2019. And it is targeting entry-into-service for its first systems in the next decade.
Related articles: