When Boeing signaled that it wanted a dual-satcom solution for cockpit communications and safety services on the 777X, Thales stepped up to the plate. Under a technical services agreement with the airframer, the French multinational corporation has been developing a so-called FlytLINK Duo multi-service L-band solution to support both Inmarsat SwiftBroadband and Iridium transmissions, offering "diversity and redundancy" to operators and the ability "to delete a second HF radio".
"We decided as a company to invest in next generation systems for both Iridium and Inmarsat," says Thales VP, head of commercial avionics Peter Hitchcock. "L-band is so important for aviation that you've got to do both because if you believe in a software defined future, we believe it's both. So we have some common modules for the two [Inmarsat and Iridium]. We are not buying somebody's modem and putting it in a box."
Thales sees the FlytLINK Duo offering as a powerful combination. "We are not here to say one [aero service] is better than the other. We exploit both to the full potential. We think they are really valuable as they are protected [spectrum for aviation]," says Hitchcock.
RGN first learned of Boeing's dual-satcom requirement during an interview with Thales competitor Cobham Satcom, whose marketing director Willem Kasselman said the airframer wants two satcom systems on the 777X "that are not similar so that they have redundancy if one satcom system fails. And the reason they want that is the polar coverage Iridium [provides]. And they expect to get permission from ICAO to reduce the number of [HF] radios" which are notoriously slow, but work as a back-up. This would also drive weight savings.
Though Cobham could not immediately meet Boeing's requirement as an early supplier on the 777X, it expects to offer a dual-satcom solution in the 2020 timeframe "and we surely will go back to Boeing and see if we can at least secure a supplier position on the 777X".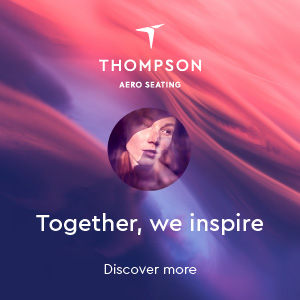 Meanwhile, Thales' march towards next generation architecture for flight deck comms continues apace. The first application is a nextgen Inmarsat terminal under development now.
"That is coming to market and it should be around 2019, 2020. That is going to be BFE selectable by airlines. So we start to see future architectures and future software radios coming together," says Hitchcock.
Also in the works, the TopFlight Satcom (TFS) NG is a multi-waveform satcom terminal supporting Inmarsat Classic, Inmarsat SwiftBroadband, IRIS and Iridium NEXT. Even further out, Thales is headed to integrated modular communications for all – ATM and connectivity on board. "We think this is where the market is headed," says Hitchcock.
Related articles: