When he was 17, my son Sam took a freelance job reviewing car racing games for the Wheels section of The New York Times. Sometimes in the evening when I would tell him to stop spending so much time in front of the monitor he would reply, "Ma, I'm working here."
Little did I know that as Sam and millions of other adolescents around the world were gaming, the were test-driving and fine-tuning the computer graphics that would become important tools in virtual reality. Today that technology is being used to cut costs, save time and understand better how airline cabin interiors will work in actual reality.
"The recent quality of what's available with virtual reality, it's all thanks to the video game industry," said Glenn Johnson director of the design studio at Rockwell Collins Interior Systems, formerly B/E Aerospace.
Engineers at Rockwell Collins have been using some virtual reality in their design process for a while but two years ago, it started sharing products still in development with its clients.
"In the past, what you would do is show renderings, a nice glossy picture, but that's two dimensions," Johnson explained. The customers wanted to know "what it looks and feels like". With VR, the executives were reaching for their shoes, for the oxygen mask, the overhead bin, the Nespresso machine the company keeps bragging about, trying to see how easy these things were to reach.
"What've we've been able to do is have the marketing teams and the people responsible for the on board product actually see if they could fit their shoes in the show stowage and normally we wouldn't be able to do that," Johnson said.
At a demonstration for journalists at the company's Winston-Salem headquarters, Johnson and David Balfour, a visualization specialist, strapped the goggles on my head and sat me in a cardboard, economy-sized seat. To anyone looking, I was sitting in an empty room. But through the goggles, I was seeing the inside of a widebody airliner. I could sit or I could stand. I could walk around and explore. I headed to the galley. The only thing missing was the smell of the Nespresso.
I thought I was having the top of the line virtual reality passenger experience, but I was wrong. To collaborate, multiple people need to explore the cabin together. And if you're Johnson and Balfour you're thinking something like, "if the experience is virtual, why does everyone even need to be in the same place?' so they created a multi-player, multi-location environment.
"With a computer powerful enough to run virtual reality, they can put their headset on anywhere in the world, Johnson told me. "Our customers can walk around and view our product and we can discuss the cabin with them, talk about different aspects of the product as if we were all together."
One can see how this would cut down on attenuated revisions and changes late in the process. Sometimes, Rockwell designers discover a great idea on paper isn't so great in (virtual) reality. Other times, customers are won over by an idea they might not have been enthused about initially.
Balfour told RGN that, at a design workshop at the Winston-Salem office, two airline clients were in separate rooms but exploring the same cabin together. There was a lie-flat bed and something about it caught their interest so they gave it a try. Balfour tells the rest of the story.
"These two guys were in totally separate spaces but they could see each other and talk to each other," Balfour said. "They were having a conversation in virtual space lying next to each other. What was going on looked strange but they felt quite comfortable in virtual reality."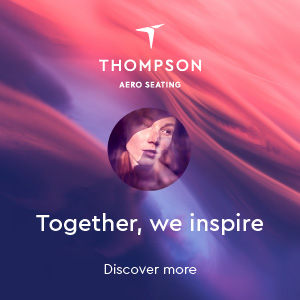 After exposing customers to an experience so real, they're exchanging pillow talk in a computer-generated pseudo seat, it seems contradictory to suggest that another benefit of virtual reality is heightened security for proprietary work. But the two men claim that is the case. The VR tour is memorable, but there's no actual evidence when it's over.
"There are no photographs and no mockups," Johnson explained. "It's a controlled experience."
While Rockwell Collins executives believe no other airline interiors company is using VR this extensively, increasingly aviation-related companies are hopping aboard.
This May, the International Air Transport Association (IATA) demonstrated its VR training for ground handlers and it is working on variations on that theme for aviation security and airfield driving training, according to Frederic Leger, director of airport, passenger, cargo and security products at IATA. There are many applications outside of aviation as well.
After college, my son Sam went to work for Ford Motor Company where virtual reality goggles get a workout with engineers and designers who are testing concepts before building prototypes.
Perhaps if I had done a little gaming with Sam a decade ago, I might have seen that all the virtual driving he was doing was taking us – by ground and by air – to a whole new reality.
Related Articles: