11:00pm: Stelia debuts new compact staggered Opal business class seat
The compact staggered business class seat — hitting 40" of pitch in an 80" pair — is one of the breakout stories of AIX 2017. Stelia's is called Opal, and it looks great.

10:30pm: Panasonic goes wide with inflight entertainment screens
Futureproofing the premium class airline monitor — and appearing soon in the pointy end of a Boeing 777-300ER near you — is Panasonic's massive new inflight entertainment screen.

10:15pm: Aviationgate offers used 360° seat configurator
If you're an airline on the hunt for a refurbished set of seats, you might want to see how they'd look in your corporate colours. Aviationgate has some options for you.

10:00pm: The future hits AIX with Stelia augmented reality iPad
One option for airlines to configure a seat: an AR iPad (which we've seen working seamlessly outside the wifi congestion of AIX), allowing them to make a huge variety of changes and inspect them up close.

9:30PM: Mary Kirby discusses emerging trends at AIX

6:44pm: Panasonic ready to roll with Southwest connectivity
Better performance is coming sooner than previously expected to Panasonic Avionics' Ku-band inflight connectivity platform. The company's new modem technology, built in partnership with Newtec Satcom, will be in production in July 2017 as PAC delivers the first Global Communications Services (GCS)-configured aircraft to Southwest Airlines.
The Southwest implementation will also include significant upgrades to the system software architecture, affecting content loads, advertisement infrastructure and other factors, according to PAC's David Bruner. This is in line with PAC's efforts to move its Zero Touch platform forward.
Read more about the Southwest/Panasonic implementation timeline in RGN Premium. 

6:30pm: A turboprop airframer with 18″ wide seats? ATR explains its collaboration with Geven 

6:15pm: Astronics introduces Mila reading light
When it comes to premium cabin seating every detail matters. Astronics seeks to make a difference in the accent lighting area, introducing its Mila reading light to the market during the show. The LED reading light, designed in conjunction with JPA, offers a range of beam colors. Angles and positioning are easily adjusted through a rotating bezel. The product is expected to be available in Q1 2018.
The real innovation comes in the middle of the light, with mood lighting emanating from the center of the light and a touch interface allowing passengers to configure the brightness and color tone via tap or swipe motions. The halo of light can also be tied to the IFE system, allowing for flight attendant call or DND integration. The kit is only 39mm deep by 88mm in diameter and supports both 12V and 24V, making it compatible as a retrofit in many existing premium cabin seats.

3:02pm: Recaro's stand at AIX is bursting with new innovation

10:30am: SmartSky continues its push towards commercial service
Diligently working to bring 4G LTE inflight connectivity to market, SmartSky Networks operated a successful test flight on its Cessna Citation Excel for early adopter customers this past January and continues to grow its test network to support further testing.
Seven towers are currently active with the SmartSky kit across three geographies. The original two towers in Florida are joined by a pair in the mid-west and a trio around the New York City tri-state region. The NYC placement will allow the company to soon demonstrate functionality in the high-RF area, a common challenge skeptics have raised regarding the unlicensed spectrum operations.
And don't expect that SmartSky is only targeting smaller aircraft with its services. The company also revealed that it is actively pursuing STC for a Boeing BBJ with an unnamed early customer.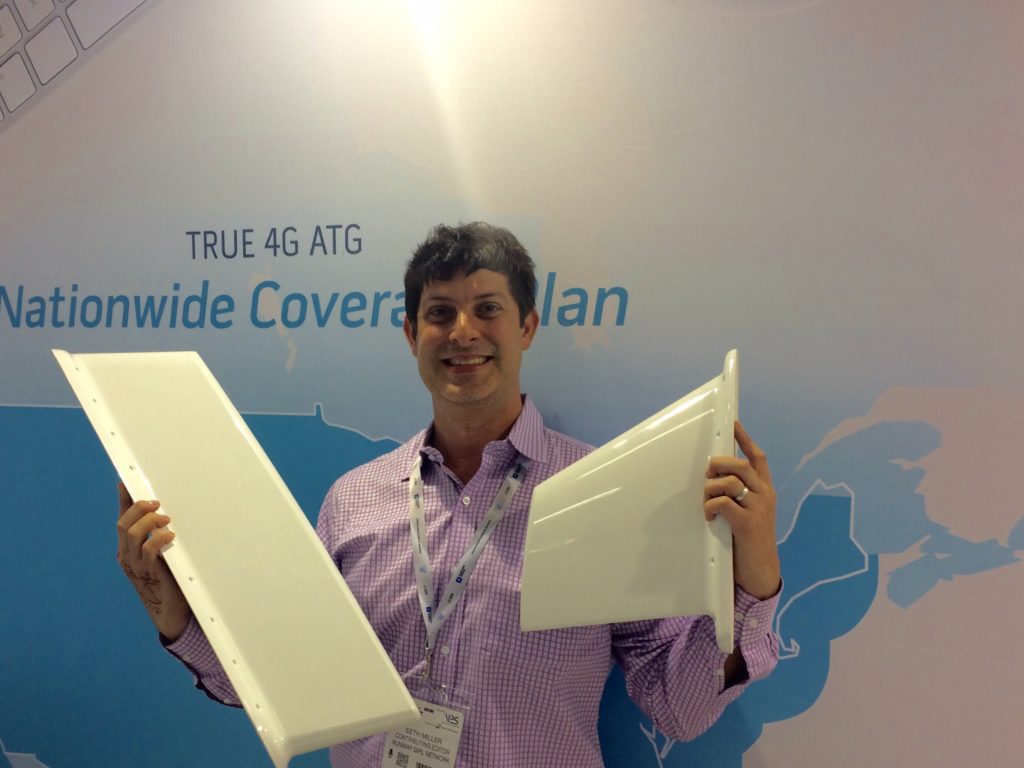 These two antennae combine to deliver the SmartSky service.

9:00am: Reed Exhibitions, APEX announce long-running expo co-location pact 
Airline passenger experience industry stakeholders will rejoice on learning the news that Reed Exhibitions, the organisers of the Aircraft Interiors Expo (AIX), and the Airline Passenger Experience Association (APEX) have forged a strategic co-location agreement for their fall expo event in coordination with the International Flight Services Association (IFSA),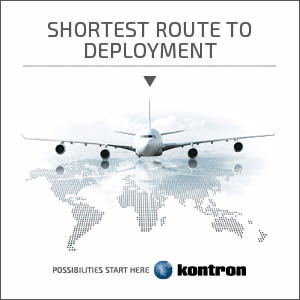 The long-term arrangement will not only see APEX, IFSA and AIX all together in the same location in Long Beach, California in September, but also "every show that we have booked space", APEX CEO Joe Leader tells Runway Girl Network.
"There is not a year cut off, so right now every single show we have booked we have together so that includes Long Beach, Boston and Los Angeles."
"We are 96% sold out for expo. It's a wonderful feeling this early on," he adds.
Katie Murphy, senior exhibitor director at Reed Exhibitions, tells RGN that her customers "have been saying for a number of years, giving me feedback to please try to co-locate" the AIX Americas show – which is traditionally held in Seattle – with APEX.
Runway Girl Network is among the APEX members that have long seen the benefit of such a collaboration.
Murphy adds that Leader's contribution has been key to cinching the deal. "I think that Joe Leader coming on board as CEO of APEX really helped to develop the relationship with Reed Exhibitions."
Leader explains the importance of the pact in our interview below.

7:55am: With smart materials engineering, Boltaron sticks cups to the tray table
One of the joys of the Aircraft Interiors Expo is delving deep into the science that improves what we see on the plane every day. Today, it's Boltaron and the genius engineering that stops that glass of water (or something with a greater propensity to stain!) sliding off the tray table and into your lap.

7:53am: Mirus isn't resting on AirAsia X laurels with new longhaul seat options
It might not be surprising that AirAsia has picked its A320 seatmaker Mirus for refit and new shipsets for its longhaul AirAsia X widebody service, but it might surprise you how many options Mirus is engineering into its seats — and, no, these aren't the sub-17" seats AirAsia X will use, they're 18" demonstrators to entice other airlines to purchase Mirus' seats.

7:50am: What makes a seat? Mirus goes back to carbon-fibre basics with futuristic concept
A theme surrounding this year's Aircraft Interiors Expo has been looking to the future, and Mirus is doing just that with its all thought-provoking carbon-fibre concept. It'll never fly like this, but with pride of place between the Aircraft Interiors Expo and its co-located catering sibling WTCE, it's a great way to start a conversation about the #PaxEx of 2030 and beyond.

7:50am: Thales' new Avii remote control is clever

7:40am: Throwing around a cushion for Pitch's super-lightweight, 28-inch seat
When a 28" pitch seat is as — or more — comfortable than the competition at 30", it's time to delve a little deeper into the tech side of things. Contributing Editors John Walton and Jason Rabinowitz go deep with seating company Pitch!

7:30am: IFPL gets serious about upgrade path for USB 1 Type-A to USB 3 Type-C
The airline interiors industry needs to do some serious work to prepare itself for the transition from USB 1 Type-A to USB 3 Type-C in the cabin. IFPL has a plan for that.

7:00am: Satcom Direct unveils "nice" new box-swappable media server
Replacing the "USB sneakernet" content update path is Satcom Direct's new nicemedia media server — battery-free, and intended to be full-box-swapped whenever a customer needs to add new media to the aircraft.
Related Articles: